🗓️
April 5, 2023
By ✍️
Jaysukh patel
Save more during shopping with smart think, use these Best Shopping apps for iPhone/ iPad ready to use. Thanks to modern technologies which saves a lot of time and energy. One of the best gadgets is our smartphone through which you can access the world. Online shopping is increased gradually in a few past years, and still, the online market is growing. Yeah, when you go shopping in stores is fun but after a lot of hard work in office or home attracts you towards online stores.
Some of the favorite apps like Amazon are the first choice of people, but except these apps, we are going to introduce some other best shopping apps. All such applications are best and offer a considerable discount even on regular days. So let's start shopping with less effort and great discounts.
Best Shopping Apps for iPhone and iPad: Compare price and Get substantial Discount on the last minute
---
>1: Groupon: #1 Discount finder and Price comparison iOS app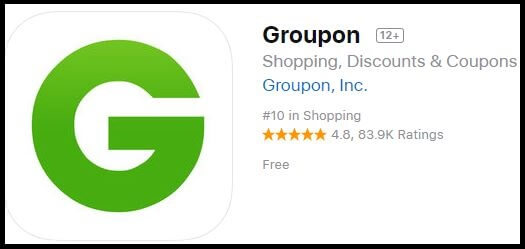 Groupon is the excellent station whether you are looking for gym, restaurant, massage, clothes or hotels to get all these deals at low cost. Discover and buy the products from Groupon and save up to 70% on local sales. Browse the coupons and discount on pizza, spas, yoga studio, electronics, beauty products and much more and select the best deal for you. Till now we have seen a variety of apps but their limited to fashion and some utilities, none of the above apps will offer you all around service like Groupon.
Download: App Store
---
>2. Canopy – Big Deals on Shopping
Amazon is a huge online website, and so sometimes it is a bit difficult to find your product. To resolve this issue, Canopy came into existence. Canopy helps you to browse products which are available on Amazon. It allows you to shop the products by categories and companies to find items accurately and fastly. Create an account on Canopy and start browsing wherever you left, to save products, get recommendations and much more. If you love Amazon, but due to some problems you are not able to get products Canopy is best for you.
---
>3. Flipp-Weekly Shopping: Money Saving iOS app
Flipp is a weekly shopping app which is saving around $5 to $100 is weekly grocery sales. All the necessary things are available on Flipp with incredible discounts and coupon offers. Anything you want to buy search and get delivered to your doorstep. You can add coupons directly to the Flipp and use them while you check out that product and get instant discount. Receive latest updates about deals, new offers and deduction in price from retailers.
Download: App Store
---
>4. Slickdeals: Coupons and Shopping – Shopping with Ease
Looking forward to receiving discount updates from various stores, Slickdeals will complete your desire. Slickdeals is the most adaptable app by the peoples where you can share, check rates, discover stores and products and shop the best with more benefit. It will show you when Kohl is offering a discount, Groupon has an excellent restaurant deal or freebie or coupon, and everything will be flashed on the front page of the website. Active users are taking full advantage and saving much money from Slickdeals, it your chance to save money.
Download: App Store
---
> 5. ShopStyle: Fashion & Lifestyle – For Shoppers online
Are you looking to try app a new for online shopping, Shop Style is the best one we have got. From clothes to sneakers of every latest trend and design is available here with super discount. Even you can search the stores and set price alerts to get the item at a low cost, and you will never miss any single deal. Buy deals without sole risk of money or product from thousands of trusted stores over the world.
Download: App Store
---
>6 – Giftagram: Gifting Made Easy
If you are looking to send your best wishes to friends, colleagues, parents or anyone Giftgram will achieve for you. Giftagram is a place from where you can send gifts to anyone without even entering the address of that person directly from contact. This app integrates the connection, and with this facility, you can set birthday reminders. No need to go for buying gifts in the malls and waste time to download the app and give surprises to your close ones.
Download: App Store
Above all is Qualified Money-Saving and best Shopping apps for Android and iOS running on iPhone.