🗓️
August 22, 2023
By ✍️
Jaysukh patel
Dictation or Speech to Text is a valuable and convenient feature of the iPhone. After a long day at the office, it's tough to keep fingers on the keypad when someone wants to chat. But still, we can't ignore our beloved ones, so we take the help of the Dictation feature of the iPhone. It reliably types our speech in no time.
Besides, if you want to type a vast paragraph, the Dictation microphone is helpful at that time. Unfortunately, like any other software issue, the Dictation sometimes stops working on iPhone spotlight search or on Keyboard. If you are facing Dictation not working on your iPhone, then continue to read the troubleshooting and fix it.
Fix Speech to Text not working on Any iPhone
Solution 1: Make Sure Dictation is Enabled on iPhone
When Dictation not working on iPhone, the very first setting to be checked is whether dictation is enabled or not. If dictation is turned on, disable and re-enable it after restarting the iPhone.
Open the Settings app.
Scroll the screen to General.
Now tap on Keyboard appears between Date & Time and Fonts.
Scroll to Enable Dictation; please turn the toggle green next to the Enable Dictation button.
A pop-up comes; let's again tap on Enable Dictation to confirm.
That's it. Now go back to the Home screen.
After enabling Dictation on the iPhone, you can also set the Dictation Languages. It may be that dictation stopped working on your iPhone because you were not using the same or Not Selected Primary language while dictating as the selected Dictation Languages.
How to Set or change Dication language
Go to Settings > General > Keyboard > Dictation Languages > Choose Primary Default Language from the Available or Added Language to your iPhone.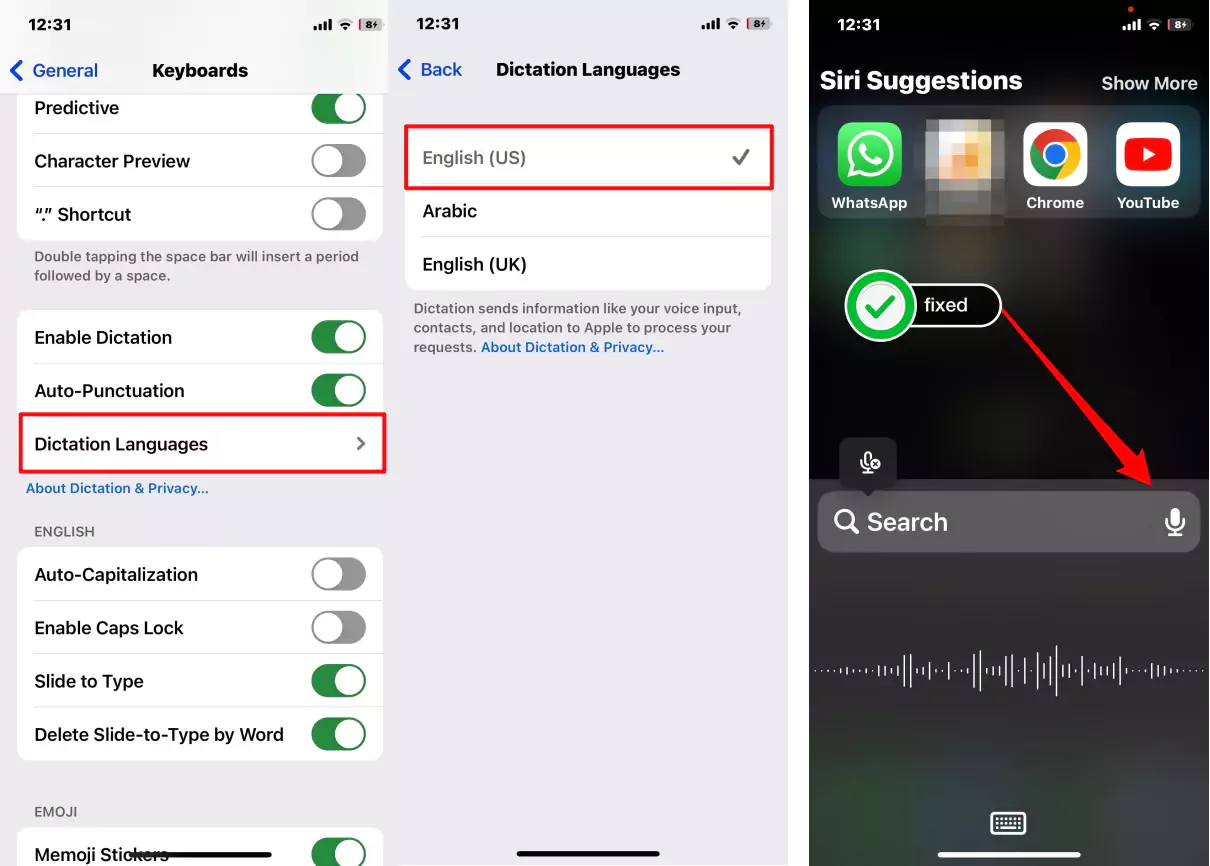 Now, Check the issue is fixed after iOS Update.
Is your Microphone missing from iPhone Keyboard? Here's how to re-enable or Add a Dictation/Microphone Option.
Solution 2: Disable Screen Time Restrictions for Siri & Dictation
Screen Time is a great feature that lets parents control their child's daily usage of the iPhone and iPad. But, if screen time is enabled, it could disturb you with issues like dictation not working on iPhone.
Go to the Settings app on your iPhone.
Tap Screen Time > Content & Privacy Restrictions.
Open the Allowed Apps option.
Turn ON, Siri & Dictation.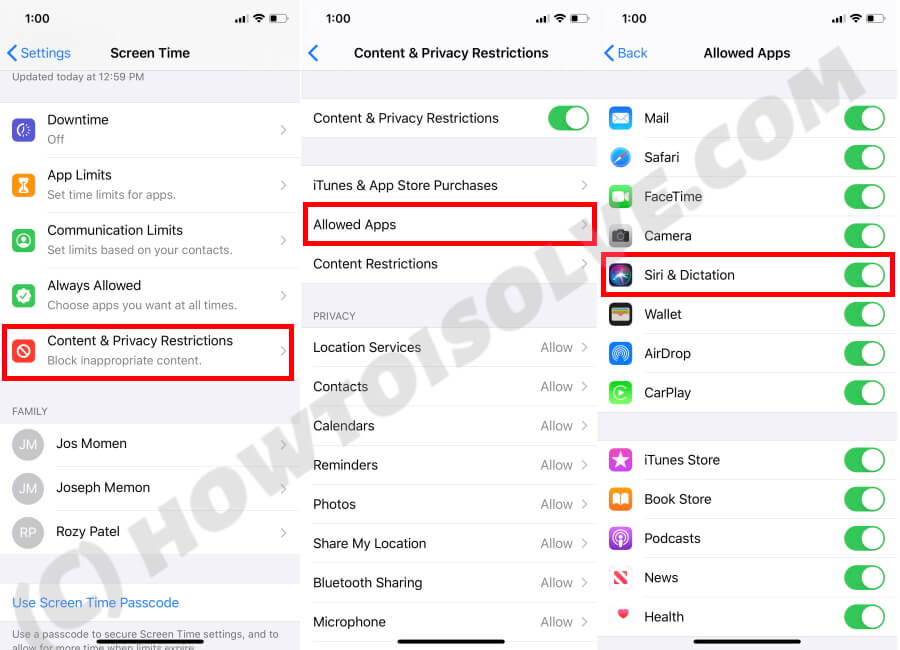 Another solution to remove restrictions is to disable the Content & Privacy Restrictions. It is to be noted that turning off Content & Privacy Restrictions will remove restrictions from all the apps/features, including Siri & Dictation.
Settings > Screen Time > Content & Privacy Restrictions > Disable Content & Privacy Restrictions.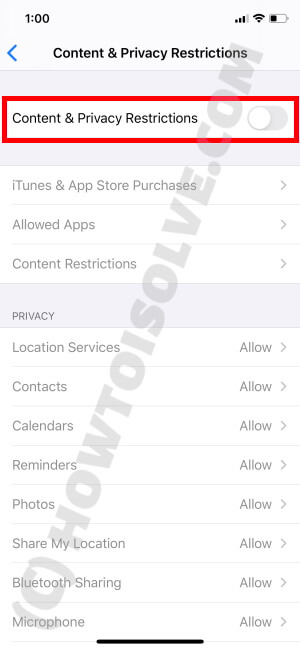 Solution 3: Check Microphone is working or not
If there is any hardware issue with iPhone's microphone then dictation will not work and there's no meaning in following this long tutorial. Your iPhone has three microphones at different locations, as you can check out our article on Where is the Microphone on iPhone.
Test each microphone one by one; for instance, the bottom microphone, and the microphone in the ear-speaker can be analyzed by calling someone. The third microphone is near the rear camera of the iPhone, to test it, record videos on your iPhone.
Solution 4: Remove & Add Apple Keyboard
Deleting and adding the Apple Keyboard have fixed dictation not working on iPhone many times. Try your luck in fixing the keyboard issues on the iPhone.
Open the Settings app.
Go to General > Keyboard.
Tap on Keyboards.
Tap Add New Keyboard. Select any third-party keyboard if it is installed or choose a keyboard of another language.
Now, get back to the previous screen and remove Apple Keyboard. To do so, swipe left and tap Delete. Or tap Edit > Red mark near to Apple Keyboard > Done.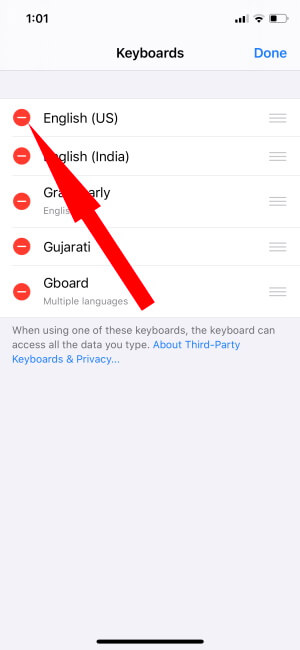 Restart the iPhone and again follow the steps from the beginning to add Apple Keyboard.
Solution 5: Disconnect Headphone
Most of the time, our iPhone gets stuck in Headphone Mode, and we were wondering why there is no sound on iPhone or Apple Music not playing songs. If dictation not working on your iPhone, then make sure your iPhone is not stuck on headphone mode or you have not connected any headphones while using dictation on your iPhone. Here's how to disconnect headphones from iPhone,
Open the Settings app > Bluetooth > Tap on (i) next to the headphone name > Forgot This Device.
Solution 6: Reset Network Settings
The dictation feature may require an internet connection to convert your speech to text. In that case, if your iPhone's internet connection is not working or responding, it's time to reset the network settings of the iPhone. While Reset Network Settings, all the Wi-Fi passwords, Internet Settings, VPN, and APNs, will be restored to default. So keep a backup of all this information if needed.
Steps to Reset Network Settings
Step #1: Open "Settings" App.
Step #2: Open "General" and then scroll to "Transfer or Reset iPhone".
Step #3: Lastly, tap "Reset" > "Reset Network Settings" > Enter your iPhone Lock passcode and Try after Reboot once. This Process won't erase other important settings, Media, Messages, and more.
Scroll down and select Reset Network Settings. Confirm Reset.
Wait for a while, until the iPhone restarts.
Solution 7: Factory Reset your Apple iPhone
The last workaround is always, relentless, as it takes you to the Apple Genius Bar or you have to Factory Reset iPhone. Restoring the device to factory settings deletes all the data, including personal data, customized settings, downloaded applications, and more. Make sure to back up the iPhone before the factory reset it.
Jump to the Settings app.
Go to General> Click Transfer Or Reset iPhone.
Select Erase All Contents & Settings.
Click Continue and Enter Passcode for This iPhone
Now follow the on-screen instructions.
Within a short time, the iPhone will reboot as new, so set it up.
Keyboard dictation not working DUE TO a HARDWARE ISSUE
Many users reported keyboard dictation not working simultaneously, can't hear on call on speaker mode, and voice memos won't recording, Siri hearing broken.
If you face this kind of symptom on your device, that means the audio chip failed. It occurs in most cases due to falling down the phone.
I suggest Visit the nearby Apple Store. And inform them of your device problems; perhaps Apple won't repair Audio IC because it is a crucial part of the device motherboard. In this situation, you will have to go to a third-party store to repair that offers good expertise.