Last Updated on Sep 19, 2023
Every year, Apple releases significant iOS updates for the iPhone, with new features and system settings tones. There are two ways to update the iPhone, wirelessly and via PC. While updating iPhone to iOS 17, several users have reported that iPhone stuck on attempting a data recovery screen with the Apple logo after the iOS update. However, once the iPhone attempting data recovery screen shows up, it takes few attempts to get the iPhone back to the normal screen.
Mostly while updating iPhone wirelessly, this type of error occurs, and to get rid of them, you would need to try few workarounds, and if that doesn't work, you'll need to reach out to the nearest Apple Store for quick assistance. However, before going there and wasting time, give it a try to our solutions; it already fixed the issue for some people.
Fix iPhone Attempting Data Recovery Screen after iOS 17 Update
Solution #1. Force Restart Your iPhone [101% works]
After the software update, iPhone stuck on Attempting Data Recovery Screen with an Apple Logo with a loading bar on the white screen; in that case, the first workaround is to force restart the iPhone. Force Rebooting iPhone closes all the programs and applications running in the background, which helps iPhone boot freely, without firmware crashing.
For iPhone 8 or later: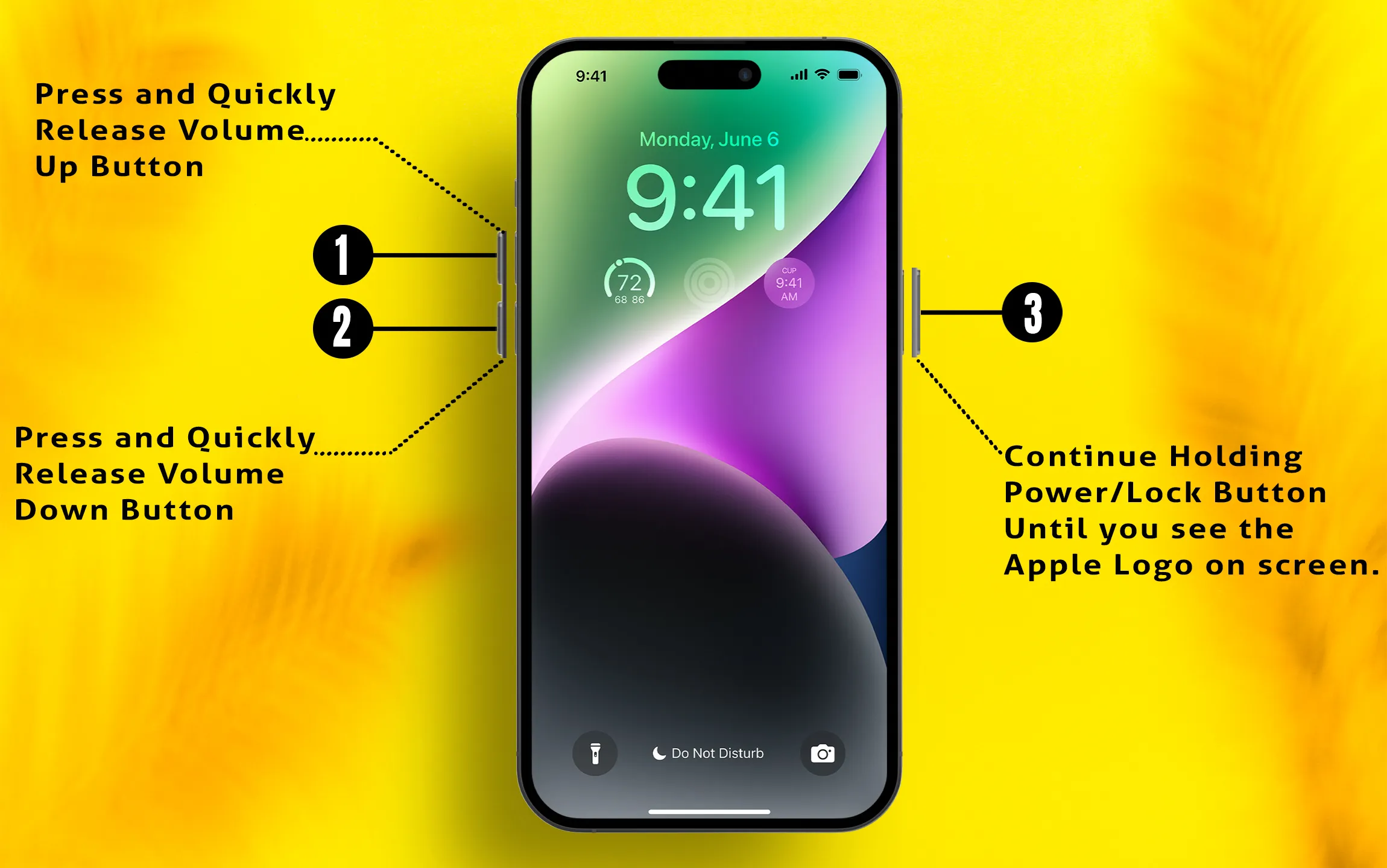 Press and quickly release the Volume Up button.
Press and quickly release the Volume Down button.
Press and hold the Power button until the Apple logo appears.
Unfortunately, For some users Force reboot does not work attempting data recovery white screen. in this situation, you will have to follow the next suggestions that are given below.
Solution #2. Put Your iPhone Again in Recovery Mode Manually.
Force restarting the iPhone didn't fix the iPhone freeze on Attempting Data Recovery Screen? Now, let's give a try to put the iPhone in recovery mode using iTunes. First, though, you'd need a PC with the latest iTunes app installed to Restore or Update the iPhone via recovery mode.
Quit all the apps on your PC, including iTunes.
Connect iPhone to the PC via cable.
Now launch iTunes.
Force restart iPhone referring to the above steps.
iTunes will show a pop-up asking you to Restore or Update the iPhone.
Click on Update and follow the on-screen instructions. To Get your iPhone without data loss.
if you go with the Restore button, then your phone will be wiped and you lose your all data, in case you haven't any fresh backup.
Solution #3. iPhone Attempting Data Recovery How Long
How long iPhone stuck on attempting data recovery screen? it depends on your device storage unit, According to my experience my 256GB iPhone 12 Pro Max was stuck on Attempting Data recovery screen with a white screen and black apple logo with a loading bar. My iPhone took 1 hour and 15 Minutes to give back my Phone with a smoothly run condition.
Note: – I Suggest do maximum wait and don't buy any third-party tool to repair this though issue. By chance, if your issue not solving, you should book a genius bar appointment and visit the nearby Apple Store (if you are from the USA, Uk, Canada, or Australia); other county users will have to contact Apple Store which is authorized by Apple.
why does my iPhone keep saying attempting data recovery? iPhone attempting data recovery loop is quite embarrassing since it won't let you access the iPhone. And there's nothing to worry about when iPhone is stuck on attempting the data recovery screen. Using iTunes, this error can be fixed, but you might have to restore the iPhone to factory settings.
Update iTunes and close all the applications.
Connect iPhone to the PC via lightning cable and open iTunes.
Now follow the steps to force restart the iPhone while it is connected to iTunes.
Don't release the button until the Connected to iTunes screen appears.
Next, select Restore or Update on iTunes App.
Go with Update; iTunes will try to reinstall the iOS without removing any data. Let iTunes download the Update. Wait for 20-30 minutes, and if it takes more than that or connects to the iTunes screen disappears, you have to force restart the iPhone and follow the same process again.
If it didn't work, then connect with the Apple Support team to get it resolved.
Solution #4. iPhone Attempting Data Recovery Passcode
iPhone attempting data recovery passcode is nothing, but you have to exit the data recovery mode from iPhone if it is stuck. Often using iTunes is recommended, but we always tell people to start with a simple restart, as if it is a minor issue, it will get resolved, and you will save time. Lastly, iTunes is the only option left to get rid of attempting data recovery mode on the iPhone.
Solution #5. Attempting data recovery iPhone iOS 17
Attempting data recovery iPhone after Update? Recently, Apple rolled out the major iOS 17 update for compatible devices. With that Update, many iPhone users have reported attempting data recovery issues, that won't let you update or use the device. Many third-party tools are offering services to fix attempting data recovery mode; before approaching them, try fixing the issue with iTunes, which we have already mentioned above.
Solution #6. Attempting Data Recovery iPhone failed [What to do]
While updating iPhone to the latest Update, you may face many different types of issues if you're out of luck. Usually, it doesn't happen, but it's the worst case if you've encountered the Attempting Data Recovery Screen error iOS 17.
First and foremost, the solution is to force restart the iPhone to fix the iPhone's attempting data recovery screen. We've already mentioned the steps to force reboot the iPhone, no matter which iPhone you own.
A simple restart doesn't bring any resolution, then take the help of iTunes, and when you do so, iTunes will give you two options, Update and Restore. Of course, you will go with Update since no one wants to restore the iPhone and erase all the data, so try Updating the iPhone and if it doesn't work, then Restore the device. Unfortunately, it will delete all the data from iPhone; you can restore the backup if you have one.