🗓️
November 28, 2023
By ✍️
Jaysukh patel
Are you facing why is one Airpod louder than the other? Or is your Apple AirPods volume is too low when connecting to iPhone or iPad or Mac and even AirPods volume is low when used with Android phones? I have experienced the same problem, particularly while listening to songs on the Music app on the iPhone. Even in a peaceful environment, I couldn't hear the music on AirPods.
Whether AirPods are too low on iPhone/iPad or AirPods Volume is low on Mac or Android, we have shown every possible troubleshooting to fix AirPods Volume issues.
Fix why is one of my airpods louder than the other on iPhone, Mac, or iPad?
Here are all the related fixes to try when you encounter AirPods Volume is too low when connecting to the iPhone and iPad. This solution 100% works to resolve one Airpod louder than the other.
Solution 1: Check Audio Balance
First of all, you should check the Audio Balance of the AirPods is correct. When either one airpod quieter than the other then it might be possible that someone has mistakenly changed the Balance settings of the iPhone and AirPods. The Audio Balance should be kept in the middle so that both right and left AirPods could deliver equal sound.
Step #1: Go to the "Settings" app on the iPhone.
Step #2: Scroll down and tap "Accessibility".
Step #3: Tap "Audio/Visual".
Step #4: Make sure the Pointer under Balance is in the middle.
Audio Balance is perfect but still, AirPods or AirPods 3rd Gen, Airpods 2 have one airpod is louder than the other or low volume. Let's move on to the next workaround.
Tips: Set the Correct EQ
iOS and iPadOS have too many built-in EQ settings that use the music app installed on your iPhone or Apple Music itself. So the users are getting dramatic improvement on Music volume when they set the correct EQ for music from the below settings, which gives direct improvement as AirPods pro music booster.
Open Settings app on iPhone > Scroll to Music > Choose EQ under Audio section > scroll the screen select Late Night or Try alternate.
For the Spotify Music app:
Open Spotify Music app on iPhone > Tap on Settings [Gear icon] > choose Playback > Equalizer> Try Different EQ and set the correct boosted once.
Solution 2: Turn Off Reduce Loud Sound on iPhone or Apple Watch
Reduce Loud Sound allows users to limit Music and Call volume that prevent hearing loss. We have Individual settings for Apple Devices like iPhone, iPad, and Apple Watch. So you have to check whether Reduce Loud Sound is Enabled or Not.
We can Limit Output Sound from 75 decibels to 100 decibels from iPhone and Apple Watch Settings. Follow the Below Steps on your iPhone/iPad Or Apple Watch.
On iPhone,
Open Settings app on iPhone/iPad.
Scroll to Sounds & Haptics.
Now, Scroll to Reduce Loud Sound under the Headphone Audio section.
Disable the toggle for Reduce Loud Sounds, Also we can manage the Sound Level according to our Requirments. and Increase Headphone Volume on your iPhone.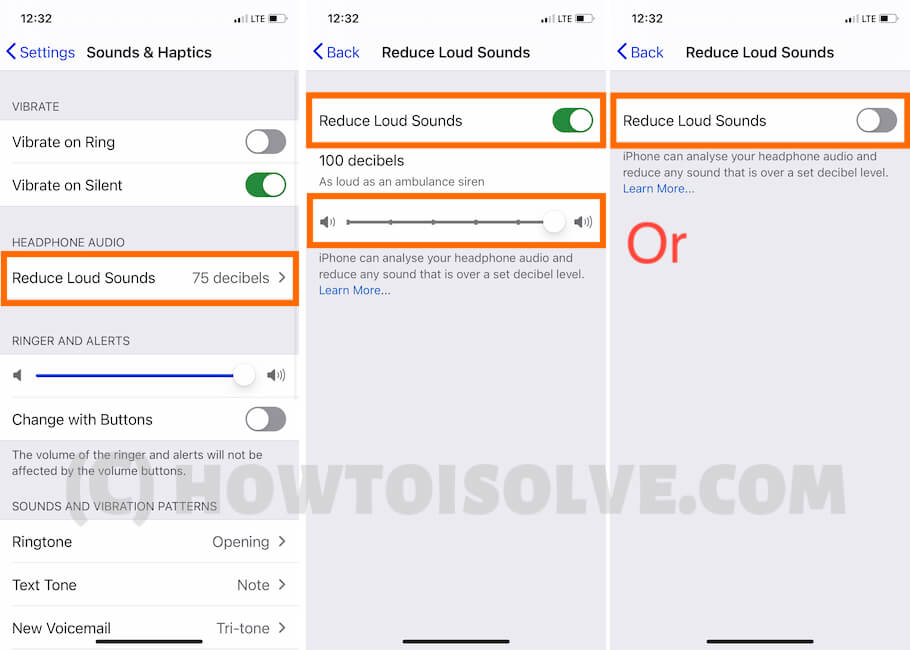 That's it.
On Apple Watch,
Press the Digital Crown button and move to your Apple Watch Home screen.
Next, Scroll to Sounds & Haptics.
Now, Scroll to the Reduce Loud Sound option and Tap on it.
Here we can enable/Disable reduced loud Sound, Manage the Volume level, and Give a limit that prevents hearing loss while your Airpods or Other Headphones are paired with an Apple watch for music or call time.
That's it.
Solution 3: Restart Your Apple iPhone or Android Device or PC/ Mac
Force restarting iPhone or iPad could fix one airpod is quieter than the other, if it is a minor system glitch. For iPhone and iPad we have mentioned the way to force restart, however, if you are using an Android phone and facing volume problems with AirPods then check the official method to force restart your Android phone.
iPhone 8 or later and iPad without Home button,
Press and quickly release the Volume Up button.
Press and quickly release the Volume Down button.
Press and hold the Side/Power button until the black screen appears on the phone.
iPhone 7/7Plus,
Press and hold the Volume Down button and Power button until the black screen comes on screen.
iPhone 6S Plus or earlier and iPad,
Press and hold the Home button and Sleep/Wake button and release when you see the Apple logo.
Solution 4: Refresh Bluetooth Connection
Multiple operations and background apps running on the iPhone and iPad can overload the system software and result in connectivity issues like this. So it is suggested that you refresh the Bluetooth connection as well as close all the background applications on your iOS device. Refreshing the Bluetooth connection refers to turning the Bluetooth off and on.
Settings app > Bluetooth.
Toggle off the Bluetooth, restart the iPhone, and thereafter enable Bluetooth.
---
Get more Apple Airpods troubleshooting videos on our YouTube channel Howtoisolve.
---
Solution 5: Reconnect AirPods to iPhone/iPad
Just like bracing the Bluetooth connection, it's time to do the same for AirPods to fix Low Volume on AirPods. Do not unpair the AirPods, simply disconnect from the respective iOS device and then reconnect it.
Step #1: Open the "Bluetooth" from the "Settings" app.
Step #2: Tap on the info mark next to the connected AirPods.
Step #3: Select "Disconnect".
Now, play songs at a loud volume without connecting to any Bluetooth speaker. Again turn down the Volume and it's time to connect the AirPods to the iPhone.
Settings app > Bluetooth > Tap on AirPods on iDevice.
Wait for a second, and AirPods will get connected to your iPhone. After attempting the above trick still your one airpod louder than other? Please go with the next clue.
Solution 6: Check for Updates
Why is my left airpod louder than my right? Usually, AirPods update automatically and even Apple has not given any settings to manually update AirPods to date. All you have to do is keep your AirPods and iPhone nearer. Besides, the iPhone must be connected to an internet connection. Here's how to do it,
Step #1: Put the AirPods back in the Charging case.
Step #2: Connect the lightning cable to the Charging case to charge.
Step #3: Ensure the iPhone is connected to the internet and nearer to the AirPods.
Solution 7: Clean the AirPods
AirPods getting quieter or do you experience muffled sound? Maybe, the AirPods got some debris and dust or earwax on the opening which is why AirPods Volume getting too low.
It's time to bring a soft brush and start cleaning the AirPods. Cleaning AirPods isn't that easy, any incorrect movement while cleaning could damage the AirPods. For your reference, prefer the below video tutorial or Apple document.
Fix one of my airpods is louder than the other on Mac or MacBook
If the AirPods' volume is quiet while playing songs on Mac/MacBook, consider the probable tricks to make AirPods louder.
Solution 1: Disconnect AirPods from Mac and Pair to iPhone
One of the users with the same problem of AirPods volume is lower on MacBook Pro has eliminated the volume issue by disconnecting the AirPods from Mac and connecting to the iPhone. We recommend you to do the same, if you have iPhone or iPad then connect the AirPods after disconnecting from Mac, or else you could try an Android phone. If everything is perfect then, AirPods may start work normally.
Step #1: Go to the "System Preferences" and open the "Bluetooth" options on Mac.
Step #2: From there "Disconnect" AirPods.
Solution 2: Check the Volume Level on iTunes
AirPods sound is low while playing songs on iTunes if this is your problem, make sure the Volume Level on iTunes is up. iTunes has a separate volume control on Mac or MacBook. Here's how you can increase the Volume on iTunes,
Step #1: Launch the "iTunes" on Mac.
Step #2: Play any song or start the radio.
Step #3: At the top screen, you will find the control bar of music like Stop, Start, Forward, Volume, etc options. Drag the Volume Slider towards high and check if AirPods volume is been restored to full or not.
Solution 3: Check Volume Settings on Mac
When we connect any external speaker with Mac, it shows two tabs like Input and Output. Here we are connecting AirPods, so Mac will show AirPods in Input as well as Output. After connecting AirPods to Mac, select the Input tab, increase the output volume.
Step #1: Go to the "System Preferences" on Mac.
Step #2: Click "Sounds".
Step #3: Make sure AirPods is listed under "Input Devices".
Step #4: Now you have to drag the slider of Output Volume to the right side to increase the AirPods Volume.
AirPods Low Volume Issue on Android
As long as I know, people who have both Android and iOS phones, connect AirPods to iPhone and Android phones frequently. You should be thinking that AirPods are not specifically designed for Android phones, and yet we are using it with Android phones and so the AirPods Volume isn't that great on these phones. You are absolutely right, but here are some steps that you should follow to fix low-volume issues when using AirPods on Android.
Step #1: Open the "Settings" on your Android phone.
Step #2: Locate and tap "System" or "About System".
Step #3: Find "Build Number" and tap seven times constantly on the Build Number.
Step #4: Developer Mode will be automatically activated.
Step #5: Get back to the Main Page of the Settings app.
Step #6: Search and open the "Developer Options/Mode".
Step #7: Scroll down and turn on the switch of "Disable absolute volume".
I hope, this guide helped you to fix Your Apple Airpods Low Volume issues. having any trick which through you got volume boost on your Airpods and that not mentioned on our page? then kindly share with us in the comments and be helpful for others, Thank you so much!!