🗓️
November 28, 2023
By ✍️
Jaysukh patel
Today IPL 2021 Season Starts. Hotstar streaming better source to Live Match, Movies, Live News Update, Disney+, and Sports. HotStar – an official Digital Streaming partner gets massive traffic and so that many users reporting various problems including HotStar App Won't open, HotStar App Crashing iPhone, HotStar not playing Videos and it showing a black screen when I click on any video. If you're facing a Video Playback issue, Don't Worry, keep patience, and follow my given workarounds. I hope that this tutorial will resolve you to get rid of your today's complaint concerning HotStar App Not working, This Version of Hotstar is no longer Supported (Number 3 Tips helpful for me) on iOS or Android Device.
Why doesn't my Phone HOTSTAR App Play Video? So before getting started with a solution, we should check out the certain symptoms that affect the HotStar App service. Old App Version, insufficient Storage space makes your device hang, Poor Wi-Fi connectivity or cellular data plan expired, Router issue, or might at your workplace you're using a restricted network that blocked many sites and maybe HotStar site one of them, HotStar Service might under maintenance or streaming not available in the region. Don't worry, you can try HotStar App Alternatives to watch live IPL on your iOS and Android smartphones.
Related Fix: Playback error! On Hotstar error Code: 100000- 3321: iPhone/iPad
Are you Watching the Live Streaming Hotstar App? HotStar Not playing Video? Try following terms
Just Note: You can access the HotStar video streaming service online on the Web browser and Application. It means, HotStar won't play video on the browser then you should switch on Application, or in case HotStar App video not playing then you can move to a PC/ Mac browsers such as Safari, Google Chrome.
You Should have Both App and iOS/iPadOS Updated to the Latest Version of iOS. Follow the below steps to Update your System and App.
1) Update your Hotstar App from App Store on iPhone/iPad
2) Update your iOS device
You can also update your iPhone to the lateset version because Outdated iOS will not compatible with the Latest Hotstar app.
Go to the Settings app > Tap General > Click Software Update > Download and Install if any Update is available. The latest iOS 14 OTA update available worldwide.
3) Delete and Re-Install Hotstar App [Must Need] –
Found Helpful
Sometimes Core Update in App Doesn't Overrddie iOS file system, Even After hard Reboot the Device. In that case, We have to Re-Install Hotstar App on your iPhone. That Means Delete or Uninstall App from your iPhone/iPad screen and Download a Fresh copy of Hotstar on your iPhone from App Store.
Find Hotstar App on your iPhone home screen > Touch and Hold on App icon "Edit Home Screen" > Tap on "X" Mark To Delete the app.
Now, Open App Store > Search Hotstar App on App Store > Tap on Cloud icon to Re-Download app. That's it. Once it installed, Open it from the home screen.
Lastly, Sign in to your Hotstar App Using your Mobile number Verification or

Hotstar Login Details

. That's very easy.
Force Quit Hotstar App and Open Again
First Double click the home button (Home button iPhone) or Swipe Up finer to Open App Switcher screen and open the multitasking Screen then Swipe up HotStar App to force close. Now Launch HotStar App back to Watch Video, Movies, TV Show, etc.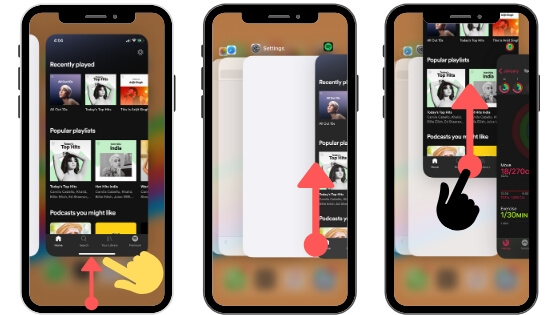 Get more here how to force quit App in iOS
Make sure your phone is connected to Good Signals Wi-Fi Network
If you're watching a video on the Cellular Data plan or Instant HotSpot then in both cases you should run video playback faster with 4G or LTE data.
Might be WiFi Dropping and Disconnecting itself,

Reset All Settings: Reset All Settings required to fix some issues or Software bugs. This option will not Remove or Erase the Contacts, Media files, Apps & Data, Messages, and Mail. This option will Reset the Settings only. Settings > General > Reset > Reset All Settings (Enter passcode) > Your iPhone will reboot once. Enter the WiFi password and connect to WiFi and Try to use Hotstar without any error.
Remove VPN: If your iPhone/iPad installed VPN to access Hotstar in other countries, then you have to Remove VPN or Uninstalled VPN Profile from the Settings. Go to the Settings app on iPhone > General < VPN > Disable VPN toggle and Tap on (i) and Delete the VPN profile from your iPhone.

To change data speed – Open Settings App – Tap Cellular or Mobile – now Tap Cellular/ Mobile Data Option – now you can see an option to change data speed.
Force Restart your Phone
Way to Force Restart For iPhone 11/11 Pro/11 Pro Max/ XR/XS/ XS Max/ X/iPhone 8/iPhone 8 Plus users:
First of all – Press and Quickly Release Volume Up button then
Press and Quickly Release Volume Down Button then
in last Press and Hold Side Button until you see the Apple logo on Screen after Black screen.
For iPhone 7/ iPhone 7 Plus users: Press and hold on the Sleep/Wake (Power) + Volume Down (-) button simultaneously until your Phone Show Apple Logo after screen black.
For iPhone 6S/6(Plus) and old iPhone users: Pressing and holding on the Sleep/Wake + Home button at the same time until you see the Apple logo after the Black screen.
HotStar Video not Playing on the Mobile Browser through? Use bottom Trick to Fix
Fix #1- Cookies for any browser must be enabled
To watching premium content on your Apple phone – Cookies must be enabled on the Web browser. So make sure that Cookies are enabled on your Safari, Google Chrome web browser. If it is disabled, please do turn it On.
Fix #2- Make Sure you're Signed in HotStar service with correct Subscriber credentials
Go to the My Account Section and check your credential details for subscription status. In case, your Payment pending or low balance affected by the HotStar Digital Video Streaming service.
Fix #3 Hotstar Subscription allow only Single Screen Viewing
If you're watching videos as a HotStar premium subscriber and unable to play video playback then you should ensure that you're not playing video from any other device. in more, Flash player needs to be enabled to play video smoothly. If you haven't enabled Flash player then turn on it and retry.
Still, if it doesn't work, then Sign Out of Hotstar from all the devices and sign in to only one device, this should do a trick.
Fix #4: Delete Cache and History
Go to the Settings app.
Scroll down to the Safari.
Tap Clear History and Website Data.
Read the instruction and confirm Clear History and Data.
Hotstar Not Working on Safari MacBook, Mac?
Clear Cache and Delete History
Sometimes a bad cache file can make the entire Safari browser corrupted, in that case, you can delete the cache and history of the Safari browser and give it a fresh start.
Launch the Safari app on your Mac.
Click on Safari on the top menu bar.
Select Preferences.
Choose the Advanced
The checkbox of the Show Develop menu in the menu bar.
Exit the Preferences
Now, click on the Develop option in the top menu bar.
Then, Empty Caches.
If it doesn't fix the problem, then you might need to delete the browsing history.
To do so, click on History on the same top bar and Clear History.
For further assistance, you will have to send an error screenshot from your subscribed email address.
Do you like this post? Don't miss out to send feedback in the comments.