🗓️
November 20, 2023
By ✍️
Jaysukh patel
Concerning the privacy of users, Instagram lets them make their profile private; I've analyzed most of the profiles are private on Instagram, just to make sure any unknown person cannot use your photos or video. While on the other side, the members keep their pages private to increase their followers. Regardless, you can anytime cancel follow request on Instagram in case you don't want to follow or mistakenly sent a follow request, this tutorial will show how to cancel all follow requests on Instagram app.
Instagram can be operated on Web Interface as well as on App, to cancel five to six requests, you won't be bored while following the steps on the mobile app, but if you have a long list of follow requests, choosing PC to cancel them would be a wise choice. Let's start with the tutorial to cancel all the following requests on the Instagram account.
How to Cancel Follow Requests on Instagram Account
Cancel All Follow Requests using the Instagram App
Clicking follow requests using the Instagram app takes less than a minute. Here's how to do it.
Open the Instagram app on your iPhone
Click on the Profile icon at the Lower right corner
Now Click on Humberguer Menu
Go with Your Activity option.
Now, Scroll to last on your iPhone screen. Select "Download your information"
Please Enter your Email ID or Verify your Insta Email
Click on Request Download
Let's Enter the Password on the last screen.
Click on Next.
Click on Done with the request, Download requested page.
Download the File you receive in your Mail inbox, and see the all Follow requests.
Click on the Profile link and Unfollow the pending request one by one.

Copy the username that you want to cancel the following request.
Paste it in the search bar and cancel the following request. Tap on the Requested button.

That's it. Repeat the same step to cancel all pending requests from your Instagram iPhone app.
Way to Cancel Sent Follow Request on Instagram web on Mac computer or PC Desktop
As I said, using Web Interface is recommended if you have more follow requests to cancel, here you go.
1→ Go to your Instagram account and log in to your Web Browser (Mac or PC). Click on the Hamburger menu icon at the bottom left corner.
2→ Select the "Your Activity" Option for the Instagram account.
3→ Under your Activity, Select Download Your Information > Enter your Instagram Email account (HTML) > Next.
4→ Enter your Instagram password.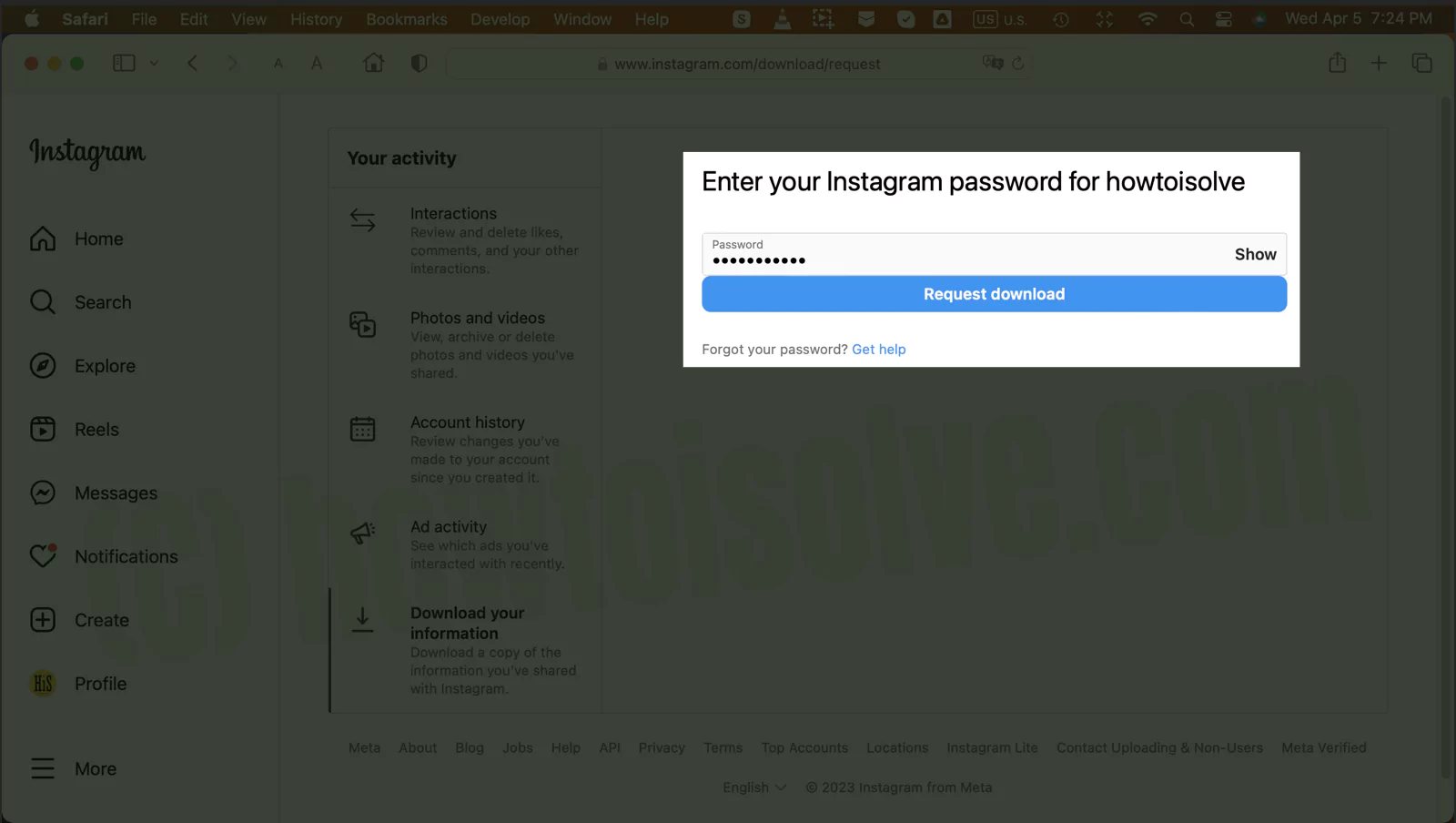 5→ Wait for Download Requested. wait to receive an email with Instagram account data.
Thanks for Visiting! Browse more Up-to-date tips and tricks for all your social app. Request in the comment section for more help from us!