🗓️
November 22, 2023
By ✍️
Jaysukh patel
iCal server Responded with an Error 403? Here's Fix. Generally, you've upgraded your Mac OS, and after that, whenever you'll try to open your calendar or iCloud and sync with something. At that time, you will get either the server responded ''403'' or Access to iCloud is not permitted. But don't be frustrate and don't worry about that. We have got a Solution to overcome the 403 error of Calendar and iCloud with the message "The server responded: 403 to operation CalDAVSetPropertyQueueableOperation". Everybody knows that iCloud is more important for online data storage.
The merit of that you can access your data everywhere in the world. But, one thing is that internet connections must be required. Even you're all the data in iCloud. So, you must have to make it secure. You can do it by enabling iCloud two-step Authentication. Let's back to how to fix the 403 error of Calendar and iCloud after Downgrade or Upgrade MacOS, Follow the beneath step and fix your error 403 and enjoy it.
An error maybe Gmail calendar server issue
it might be Time Zone related [Most of night time error, less in the morning in some timezone]
Steps Mac calendar the server responded with an error 2023
1: Check Apple System Status
Whenever the server error started popping up. Check all the Apple services, including the iCloud service, are down in your region. Otherwise, you have to wait for Up and Ready to use.
Use this link to check Apple System status on your Browser,
USA
https://www.apple.com/support/systemstatus/
2: Turn off and Turn on Calendar Syncing on Mac
Follow the below steps to enable icloud calendar syncing with your Mac. If stuck or have Other issues. Sometimes, the settings are enabled, then Turn off, and Turn on again.
On MacOS Ventura, Sonoma & Later
Step 1: Go to the Apple Logo from top menu > System Settings.
Step 2: Next, Select your Apple ID Profile > iCloud.
Step 3: Click on See All to Find icloud Calendar.
Step 4: Enable the toggle iCloud Calendar Toggle.
Step 5: A Popup will ask, 'Do you want to merge calendars with iCloud?'. Select Merge Options.
Step 6: Once the option is enabled, Done to save the changes.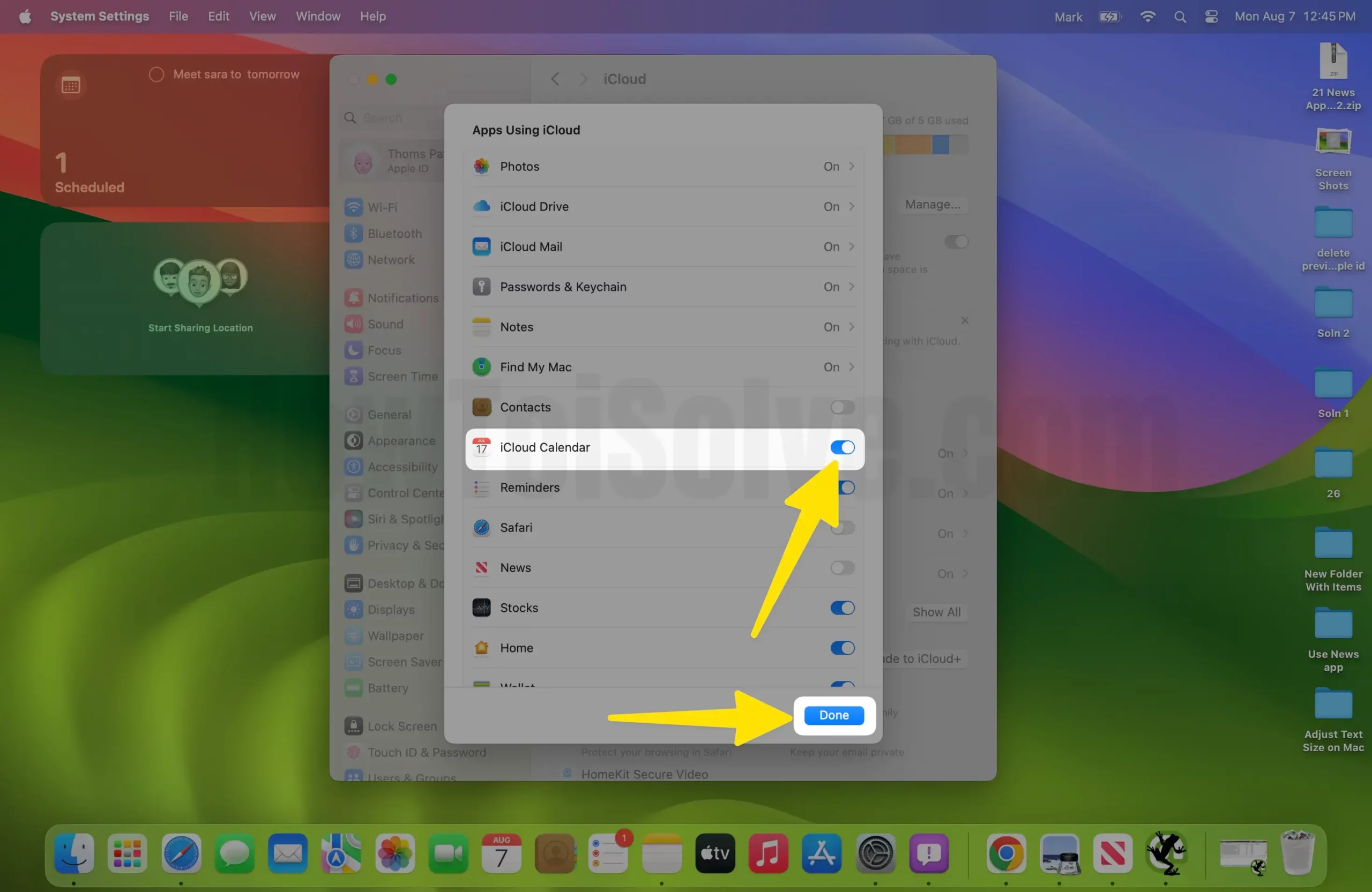 On macOS Monterey & Earlier,
Step 1: Go to the Apple Logo from Top Mac Menu > System Preferences.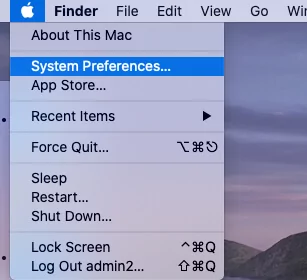 Step 2: Select Apple ID.

Step 3: Select iCloud from the side of the window and Uncheck and Check Calendar.
Older MacOS X: Click on the Apple Logo System Preferences >> iCloud >> Unchecked calendar
Step: 2 – Clear Calendar Cache on Mac
The main cause of these Calendar issues is related to corrupted Mac Calendar Cache files. Re-Build the Calendar cache file after deleting it. Follow the below ways to Perform & Fix it.
First Quit the Calendar app on the Mac. From top Menu, File > Calendar > Quit Calendar.
Force close, Calendar "CalendarAgent" from Activity Monitor. Launch Activity Monitor and Search "CalendarAgent",
Then Select the Process and Force close from the top Close button.
Now, Clear up Saved Cache, and Regenerate.
Open Finder on Mac, From Top Mac Top Menu, Go > Go to Folder
Enter the Commands to Find all Cache files on macOS Big Sur and Later, and MacOS Catalina, High Sierra, and MacOS Sierra.
~/Library/Calendars/Calendar Cache

~/Library/Calendars/Calendar Cache-shm

~/Library/Calendars/Calendar Cache-wal

Delete Three Cache files,"Calendar Cache", "Calendar Cache-shm" and "Calendar Cache-wal" file from the cache folder.
Restart your Mac and Re-open the Calendar app. These all cache files will regenerate and You get fixed your problem.
For macOS Mavericks & Earlier…
if you find the Plist file then, Enter the Commands to Find all Cache files.
Type the Below command and Find the file location one by one. And Remove the file.
~/library/Application Support/iCal

~/library/Caches/iCal

~/library/Caches/com.apple.iCal

~/library/Preferences/com.apple.iCal.plist

~/library/Preferences/com.apple.iCal.AlarmScheduler.plist

~/library/Preferences/com.apple.iCal.helper.plist
An important step is, You have to Restart your Mac completely and Turn it on.
Apple users can access the Calendar app version and Online version on the browser as well. Alternatively, users can use it anywhere from any device.
Step: 3 – Restart PC and Check Again
Now, restart your Mac or PC and again
Go back on, iCloud pref and check the Calendar checkbox [after Enable Calendar, System Restore all fresh files for iCal automatically]
Fix 403 Error On Add & Sync Google Calendar to Mac Calendar
Some mac users reported the issue "CalDAVAccountRefreshQueueableOperation" Returning 403 Error with Apple Kalender and GMail-Account". Follow the below steps given in video guide after the "Clearing the cache explained in Step 2"
Use Online iCloud Calander on Browser
We have the Best Browsers for Mac, use any of them if you are facing issues with the online iCloud calendar with specific browsers like Safari, Chrome, and others. Commonly, Problems accessing Apple calendar on the browser because of an Unsupported Extension installed on your System, VPN, Temporary blocked by the internet provider in rare cases, or Software as well.
Connect to Alternate Wi-Fi
If you're using Safari to open the Calendar and iCloud feature on Mac, and it's showing Error 403 on Google when searching through Safari, try an alternate internet connection. Many users have reported this issue and already got rid of it by switching to Wi-Fi or reconnecting to an alternate one.
Cellular Data on iPhone could show Error 403 on Calendar and iCloud, then also switching to a Wi-Fi network would fix the problem.
Update Browser and MacOS/iOS/iPadOS
Browsing apps like Chrome, Safari, Firefox, etc. implement security policies to ensure the safety of end-users. The same is done from Apple's end, maybe. Therefore, keeping the browsers and macOS, iOS, and iPadOS would resolve this error 403.
To Update macOS,
If you're using Safari on Mac, then updating the macOS is enough, as all the first-party apps automatically update when you update macOS.
Click on the Apple icon.
Select Software Updates.
Click on Update Now
To Update iOS/iPadOS,
Go to the Settings App.
Tap on General.
Select Software Update.
And Download and Install the software updates.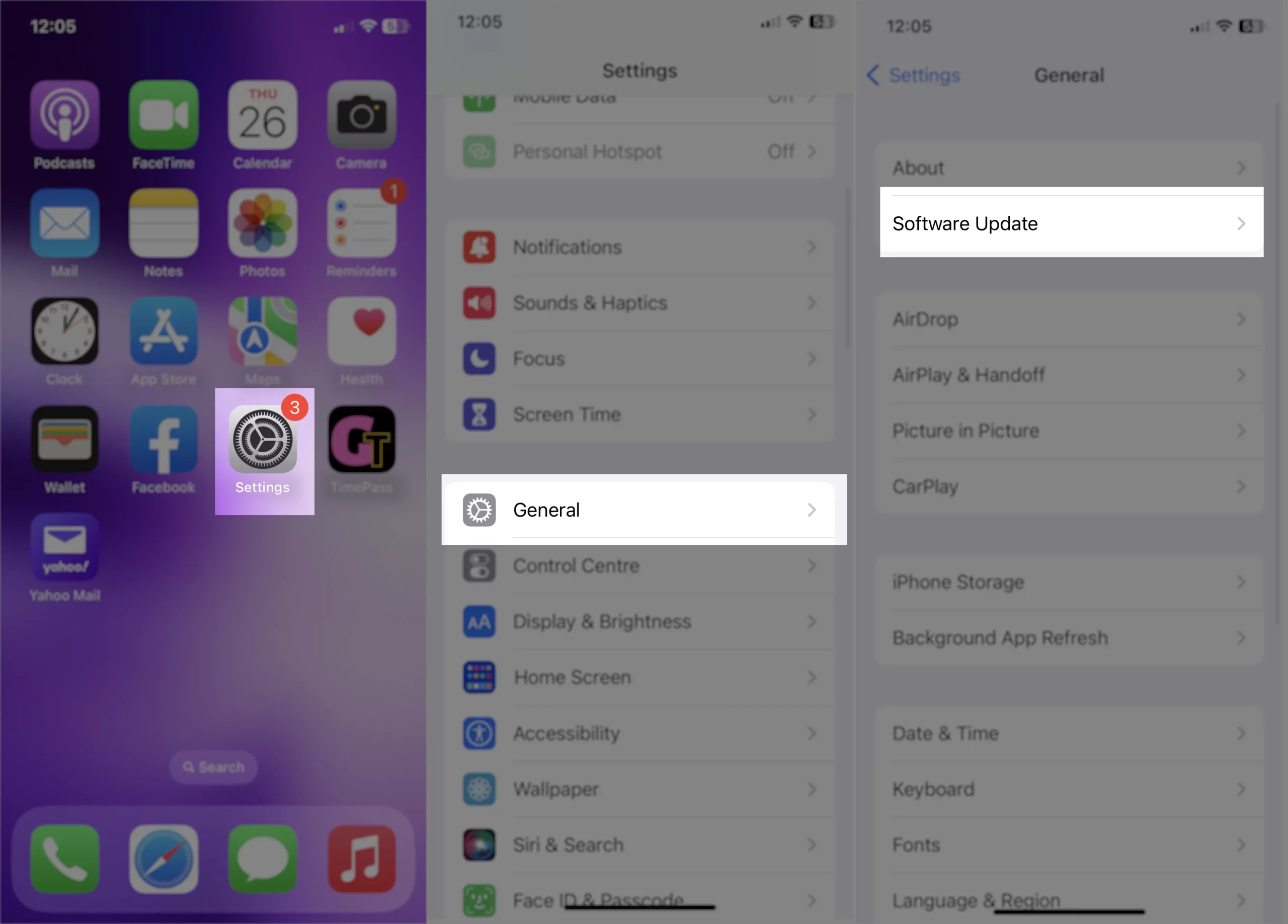 Reset All Settings
Whether an incorrect APN Settings, VPN Settings, or any random error, Resetting All Settings will fix this issue for you. This applies to the iPhone and iPad.
Open the Settings app on your iPhone.
Tap General.
Scroll the screen till the end, click on Transfer or Reset iPhone
Tap Reset.
Select Reset All Settings.
Enter the iPhone passcode and Reset All Settings. In the last, click on Confirm to Reset All Settings.
That's it.
I hope you found the above solution helpful in fixing the server response with an error Apple calendar.
Feedback Report to Apple
Here's the link to send a feedback report about an error 403 on your device.
Now check your problem or fix the 403 error of Calendar and iCloud. You can contact us via text comment if you've more problems or omissions regarding fixing 403 error of Calendar and iCloud. Like it? Share … and yeah,
keep in touch daily on this site to gain more information concerning Apple Devices updates and tips and tricks.