Last Updated on Aug 14, 2023
After a long time or suddenly, you are facing a problem login into your Twitter account on your iPhone's Twitter app. as we know, Twitter is one of the most popular and very secure social networking media on the planet. However, Twitter logging is not successful on your iPhone by showing a message with an Unauthorized or invalid username and password (fix Twitter not log in on iPhone), behind this is one of the security reasons.
Ancient time on your iPhone is one of the main reasons you are traveling from one country to another; the Current time zone is constantly changed, So You have to set your time zone always in update mode. At that time, whenever you move from one region to another, your iPhone gathers time information from the carrier you are currently using on your device.
For security reasons about your activity, present yourself with your current time zone and area when accessing your Twitter account through your iOS device.
Steps for fixing Twitter not log in problems
Step 1: Go to the Settings app on your iPhone,
Step 2: Next, click on the General option.
Step 3: Under this, Enable Set Automatically Date and Time in iPhone.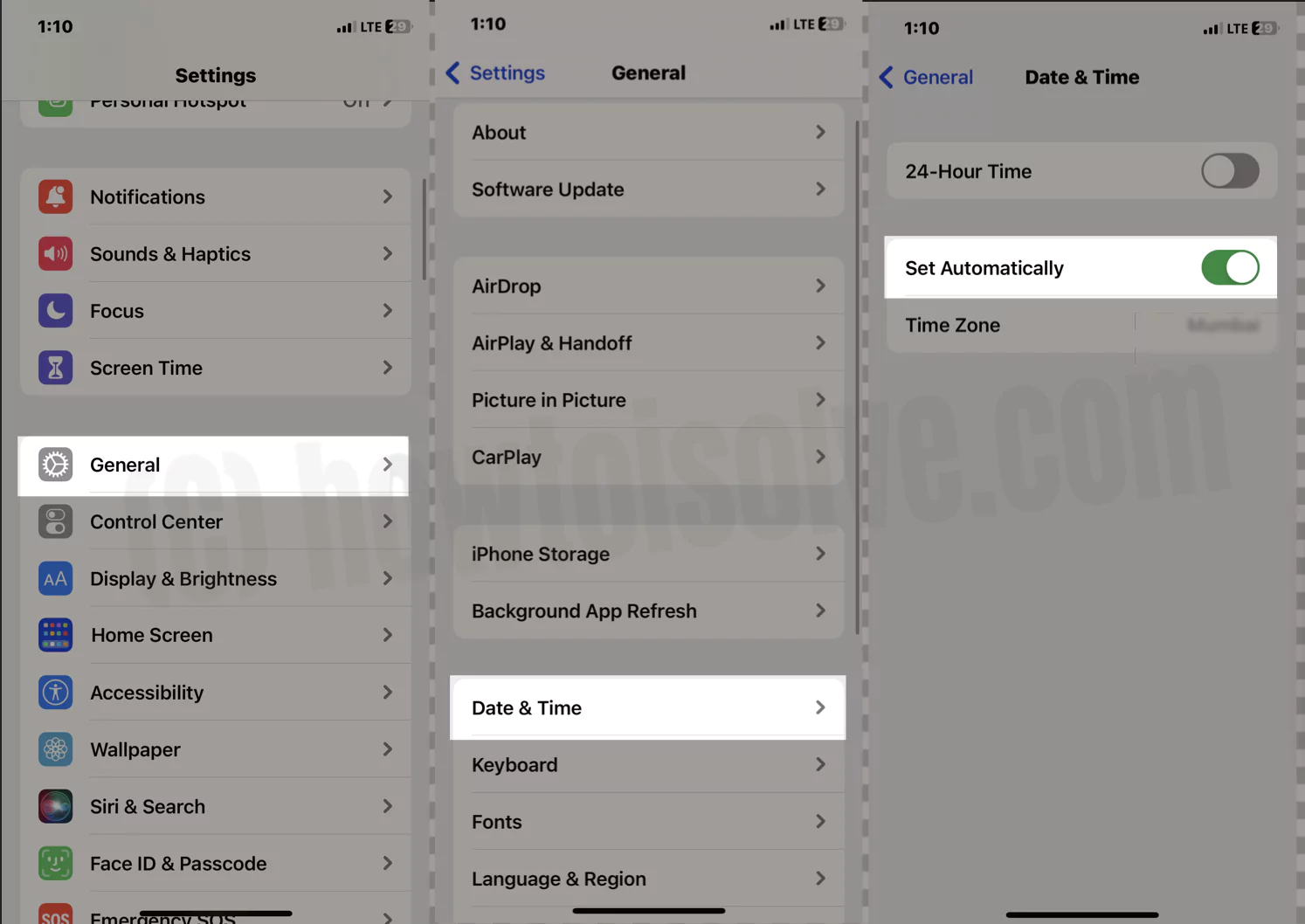 Now, whenever you move to another location, Your device collects all the information related to time, Date, and Geographic area name.
Solution #2. unauthorized or invalid username and password
An outdated version of your Twitter app might be one of the most multiple solutions; most users keep the auto update app on the iPhone disabled. So you have to update or install manually when new updates are available.
So, Please check your app store if the update has been available; then, Update your iPhone Twitter app. Still, are you facing a problem on fix Twitter not log in on iPhone? Share with un comment we will revet the best other possible solution for you!
Solution #3. Twitter App Won't Let Me Log In– Try Changing your Twitter Password
Check the Twitter system outage to your Browser that prevents issues like won't log in twitter account.
Can't remember your Twitter Password? Then don't waste time attempting login with incorrect passwords, as it could lead your Twitter Account to permanent block. Instead, if you are not sure about the password, it's best to reset your Twitter Account Password and re-login.
Visit Twitter on a web browser.
Click on the Forgot Password?
Enter Email, Phone Number, or Password to help Twitter detect your account.
Click Search.
Twitter will ask, How do you want to reset the password? Choose the appropriate option.
And click Next.
Depending on the reset password option, Twitter will send you a reset link, tap or click on that link and reset your Twitter Password.
Solution #4. Disable VPN
Are you using a VPN while accessing your Twitter Account? If yes, disconnect your PC or Smartphone from VPN and try logging in to Twitter. Some websites don't allow users to surf while connecting devices to VPN; it's against their security policies. We don't know what is causing the problem, but try it; it might work for you. Turn Off VPN and open Twitter.
Solution #5. Update Twitter App
Social Apps like Twitter continuously receive updates that bring bug fixes and new improvements that smoothen the app performance. Besides, developers always recommend users to keep auto-update enabled to avoid random issues, and by this, when the device is connected to the Wi-Fi, it will automatically update the apps.
For iOS:
Open the App Store.
Tap on your profile in the top-right corner. or Find the Twitter app in app store, the Twitter app page on the App Store app, and See the Update button if available or pending.
Swipe down to Twitter and update it.
For Android:
Go to Google Play.
Tap on three lines.
Tap My Apps & games.
Find and update Twitter or tap Update All.
Solution #6. Clear Cache & History
Caches are the supportive files that load the websites and apps faster compared to usual; at the same time, they're real culprits and won't let you log in to Twitter. In that case, clear cache and cookies of the Web Browser and Twitter App (only Android); this will remove the Browsing History of a web browser.
How to Clear Twitter App Cache in Android:
Open Settings app.
Tap Apps or Applications.
Select Twitter App.
Tap Storage.
Select Clear cache.
How to Clear Browser Cache:
Open Google Chrome App.
Press CTRL+H.
Click Clear Browsing Data.
Select the period for which you want to remove the browsing history.
Click Clear Data.
How to Clear Safari Cache:
Open Safari App.
Click on History in the top menu.
Select Clear History.
Solution #7. Try Alternate Browser
Clearing browsing history didn't work for you? It's time to use an alternate browser rather than wasting time logging on to Twitter. We do have multiple Browsers already installed on the system; if you're a Windows user, Google Chrome, Firefox, Edge, etc., are the alternatives, whereas options are available for Mac, Safari, Chrome, Firefox, etc.. Load Twitter on another browser and try to log in.
Solution #8. Delete & Reinstall Twitter App
Deleting and Reinstalling Twitter App is one of the most effective workarounds for smartphone users. Uninstalling Twitter deletes all the Twitter App Data and Cache associated with the Twitter App, and that helps out.
Solution #9. Twitter Login Issues Today
Twitter Login Issues? Unable to log in to Twitter? Are you the only one facing Twitter Login issues, or are your friends dealing with this too? The best way is to check the Twitter Status on Downdetector App; it will show the real-time status of Twitter working or under maintenance. If Twitter is working, then refer to the solutions mentioned in this article to fix Twitter.
Solution #10. Twitter Won't Stay Logged In
Twitter won't stay logged in mostly happens while using Twitter on Web Browser. However, Twitter gives you the option in the first place to stay logged in while entering credentials and getting into the account. You might have spotted Remember Me; check the box above the login. Before clicking on the Sign In button, make sure to check the box of Remember Me.
If you don't see Remember Me option while logging to Twitter, clear browser cookies and history referring to the above section and then try to re-login. The same is applicable to the Twitter App. Remove Data and Cache of Twitter App if you have an Android phone and login to Twitter.
Why was I suddenly logged out of Twitter?
Usually, Twitter doesn't behave like this, but if you've experienced this and Twitter suddenly logged out without any manual activity. This happens due to security policies when the account isn't accessed for a long time, and if you're frequently using Twitter but still Twitter logged out suddenly, it must be Twitter's bug. In such situations, you should update the Twitter App.
Why does Twitter keep saying my password is incorrect?
Twitter keeps saying my password is wrong? Unable to log in to Twitter without resetting Twitter Password? Is that the issue you're facing right now? To resolve this, try to login to Twitter in Private Window, or switch to another Web Browser, and if it is an app, then delete and reinstall the Twitter App. Sometimes, Twitter misinterprets the login attempts and won't let you log in without resetting the password, and will continuously show incorrect password errors.
How do I recover my Twitter username and password?
Without a Username, it's a bit difficult to reset the password of your Twitter Account. The username is a primary key that helps Twitter save your data separate from other users. And if you don't remember the password, but Twitter Username is handy, then click on Forgot Password, and enter the Email, Phone Number, or Username where Twitter can send you a reset link. Follow that link and reset the Password.
Why does my Twitter keep saying, oops, something went wrong?

Something went wrong but don't fret — it's not your fault. Let's try again. Is that error you're experiencing while logging to Twitter App? Whether you're reaching out to Twitter on Windows, Android, or iPhone, this type of error usually occurs, and that's only a browser-related issue.
1. Clear Browser Cache
Start fixing Twitter Something went wrong 2021 by clearing browser history and cache. The method varies depending on the browser and operating system, but you can refer to the above section to clear history and login to Twitter.
2. Use Inspect Element
It's time to play with some technical. When browsing on Chrome, you can use the Inspect Elements to delete the layout and only keep the header and use it to log out of Twitter. Visit Twitter on your Chrome browser and right-click anywhere on the screen. Select Inspect. Delete the code until the only Header is left. Click on Log Out.
3. Try Incognito/Private Mode
Private Mode/Incognito Mode doesn't take any help of cookies and cache to load the websites, which helps to remove interference from the cache files while logging to Twitter. You can try this workaround on any device.