🗓️
February 6, 2023
By ✍️
Jaysukh patel
What's an IP Address? IP address is the unique set of numbers assigned to your device. And when the device goes online, that can be used to track your activities over the internet. Mainly used to target ads based on your search result.
But it's necessarily essential to hide the IP address in Safari. And the best part is Apple can hide IP Address using a built-in feature from the trackers, websites, and other platforms looking for your personal data. Here is how you can do so. With the Features like Private Relay, Hide my Email with iCloud Plus Subscriptions.
How to Hide IP Address from Trackers on Safari iPhone
Note: To use This Feature on iOS and Mac, your Device Updated with iOS 15 & later and MacOS 12 Monterey & later, Respectively.
If you want to hide an IP address on Apple peripherals, follow the steps below. 
Turn on Hide IP Address from Tracking your Device and Activity on iPhone, iPad
Open the Settings App on iPhone.
Scroll down and tap on Safari App.
Tap Hide IP Address.
Select "Trackers Only".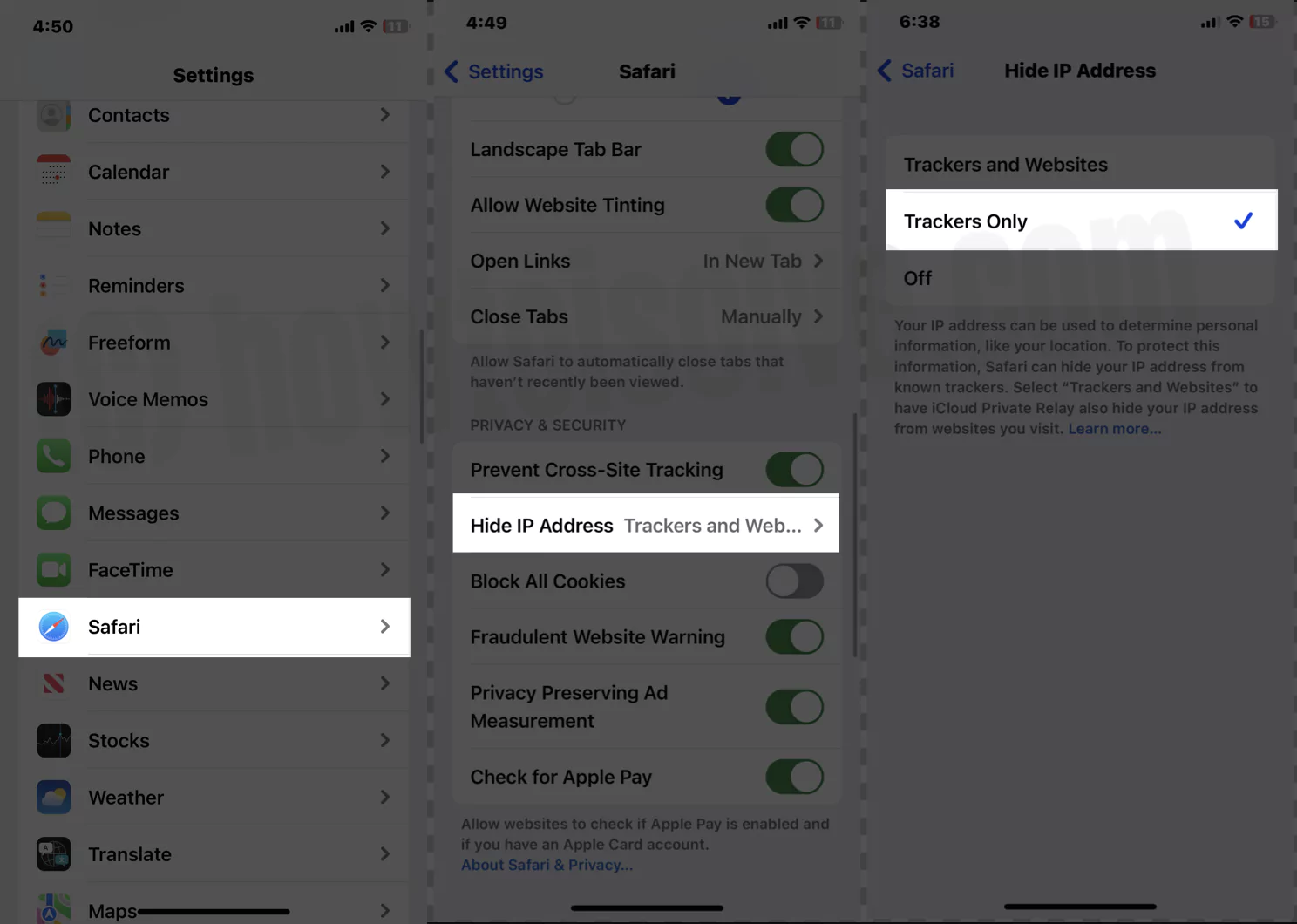 Close the Settings app.
Alow Track Website your Activity, Personal Information, and Loaction via IP Address, Select From Trackers option under the safari settings on iOS and iPadOS.
Let's see how to manage the same Privacy Control on Mac Running on macOS Monterey or later version.
How to Hide IP Address from Trackers on Safari Mac
You can hide your IP address on Safari in Mac, MacBook. This means Your IP address can be used to determine personal information, Like Your location. To Protect this information, Safari can hide your IP address from know trackers. Here's how to do it.
macOS Ventura And Later
Open the Safari App.
Choose Safari from the menu bar. Click on Settings…from the drop-down.
From the extension window, click on the Privacy menu. Lastly, check the box next to the Hide IP Address From Tracker. And Choose the option "From Trackers only"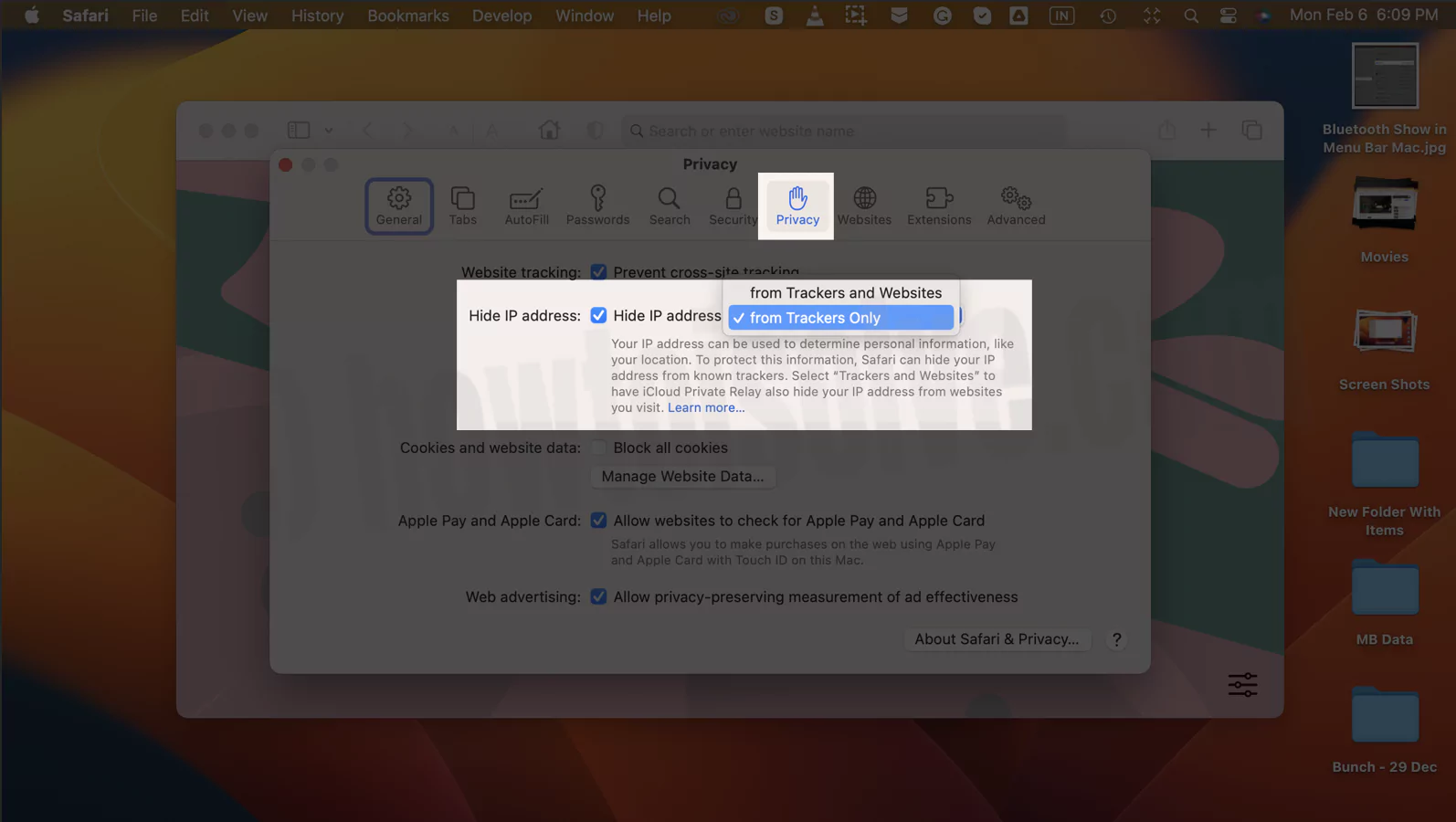 If you Mac is running on earlier macOS then follow the below steps,
On MacOS Monterey & Earlier
Open the Safari App on Mac.
Click on Safari in the top menu bar. Select Preferences.
Click on the Privacy tab.
Next to Hide IP address, check the box of Hide IP address from trackers.
Does Private WiFi Address Works with HIDE IP Address?
This Feature works as Another Privacy Protection shield next to Enable Private WiFi Address [Settings app > WiFi > Tap on (i) button next to Connected WiFi name > Enable Private Address].
if you are using the Other Best iPhone Browser, then keep Private Address enabled.
Bottom Line
Visiting various websites on Safari can spoof your Privacy. But when you know how to do hide IP address on Mac, iPhone or iPad, it prevents such a situation.
FAQs
1. Can IP Reveal Your Location?
Keep note IP address won't reveal your precise location. Moreover, it's not able to highlight your Name, Phone Number, and Address.
2. How To Change IP Address On iPhone?
There are two ways to hide an IP address on an iPhone: VPN and renewing the Lease. To Renew Lease, go to Settings > Wi-Fi. Tap i Info Icon next network you are connected to. Select Renew Lease> Renew Lease. That's it!