Passcode is very useful for your iOS devices – iPhone, iPad and iPod touch as best privacy or security of your Data, Files and more. For the newbie change/ reset/ enable or disable might be not easy as compare to former folk. Are you one of them, then this post is very useful to turn on/ turn off / reset iPhone Passcode that's running on iOS 8 or iOS 7 as well. Till iOS 7 or later iOS 8 and selected device (iPhone 5s/ 6/ 6 plus/ iPad Air 2/ iPad Mini 3), Touch ID is very unique technique as an alternative who want your iPhone, iPad and iPod touch on very high security.
In case, if you are frustrated on auto lock your iPhone, iPad and iPod touch on ideal your device for very short time. Then you have to change or adjust it for long time duration from auto lock time.
we are happy to help you, submit this Form, if your solution is not covered in this article.
Open camera on locked: How to Turn on camera without open lock in iPhone & iPad screen.
Step to Update/ reset iPhone Passcode: iOS 8/ iOS 7
Step 1
Go to the setting app in your iOS device.
Step 2
Tap on Touch ID & Passcode. And Enable/ Turn on Passcode by tapping on Turn Passcode On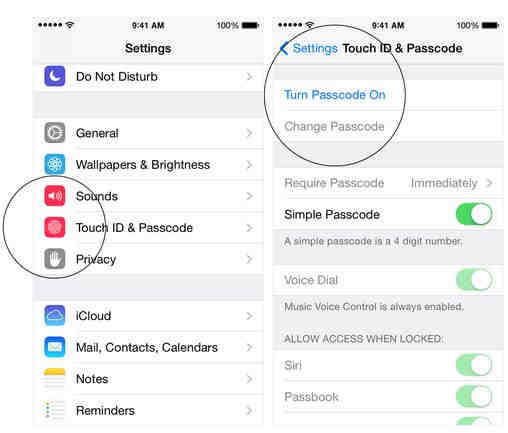 Step 3
Now you had Passcode enabled iPhone, iPad or iPod touch.
You can also customize Passcode setting manually in your iPhone, iPad and iPod touch
Under the Passcode setting you can reset iPhone Passcode and enable or disable for particular app and action serve by user. Passcode customization is available from under different way, depends on your iOS device version, iOS type.
For iPhone 5S: Settings > Touch ID & Passcode
And For other model: Settings > Passcode
In iOS 7.0.6 or older Go to the Setting > General
After go with above steps, you can change below setting manually.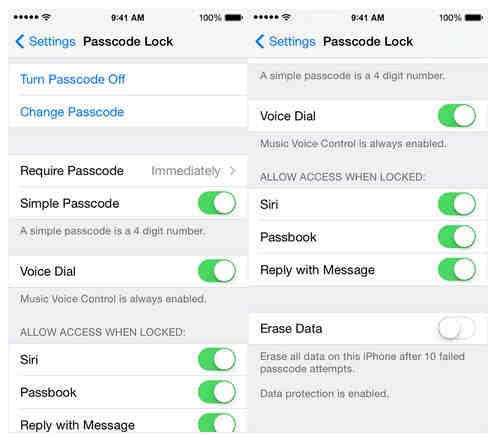 Update you Passcode in your iOS device. Like Enable or Disable
Required Passcode: You can set Passcode as auto lock on your phone in ideal condition.
Simple Passcode: in Simple Passcode mode you can set only four digit Passcode. But if you want secure Passcode then turn off it. And use latter, special character and symbol in Passcode.
Allow Access when Passcode is enabling: Under this option you have to enable all the app that you can access on locked with Passcode iPhone, iPad and iPod touch.
Note: in case are you lost or forgot Passcode for your iPhone and iPad? You can solve it in this way.
Hopefully, you have been change or reset iPhone Passcode successfully. As well, Also helps for in iPad, iPod touch on iOS 8, iOS 7. Don't miss to speech out how this iPhone tip helps you? Comment in below any query and personal guide.
Jaysukh Patel is the founder of howtoisolve. Also self Professional Developer, Techno lover mainly for iPhone, iPad, iPod Touch and iOS, Jaysukh is one of responsible person in his family.
Contact On: [email protected] [OR] [email protected]