Last Updated on Jun 26, 2023
In this post, Know how to set up/ add another iPhone email account. Have to know how to add two or more Email accounts on your iPhone or iPad mail app? The email providers likewise iCloud, Exchange, Google, Yahoo!, AOL., Outlook dot com, and others email Providers. In the same way, we can also Add & Use Email accounts in These Email Client apps for iPhones.
From the beneath given steps, you can easily understand how to add one or more e-mail accounts on your latest iOS devices, Such as iPhone, iPad, and iPod Touch. Ultimately add another Email account on iPhone.
How to Add Another Email Account on iPhone, iPad
How to Add the Second Email on iPhone
If you already have an Email Account with Google, Yahoo, or iCloud, adding a mail account to the iPhone takes a few steps. Here's how to add a second Email Account on your iPhone.
1→ Navigate to the Settings App. Scroll & Select Mail. > Hit Accounts.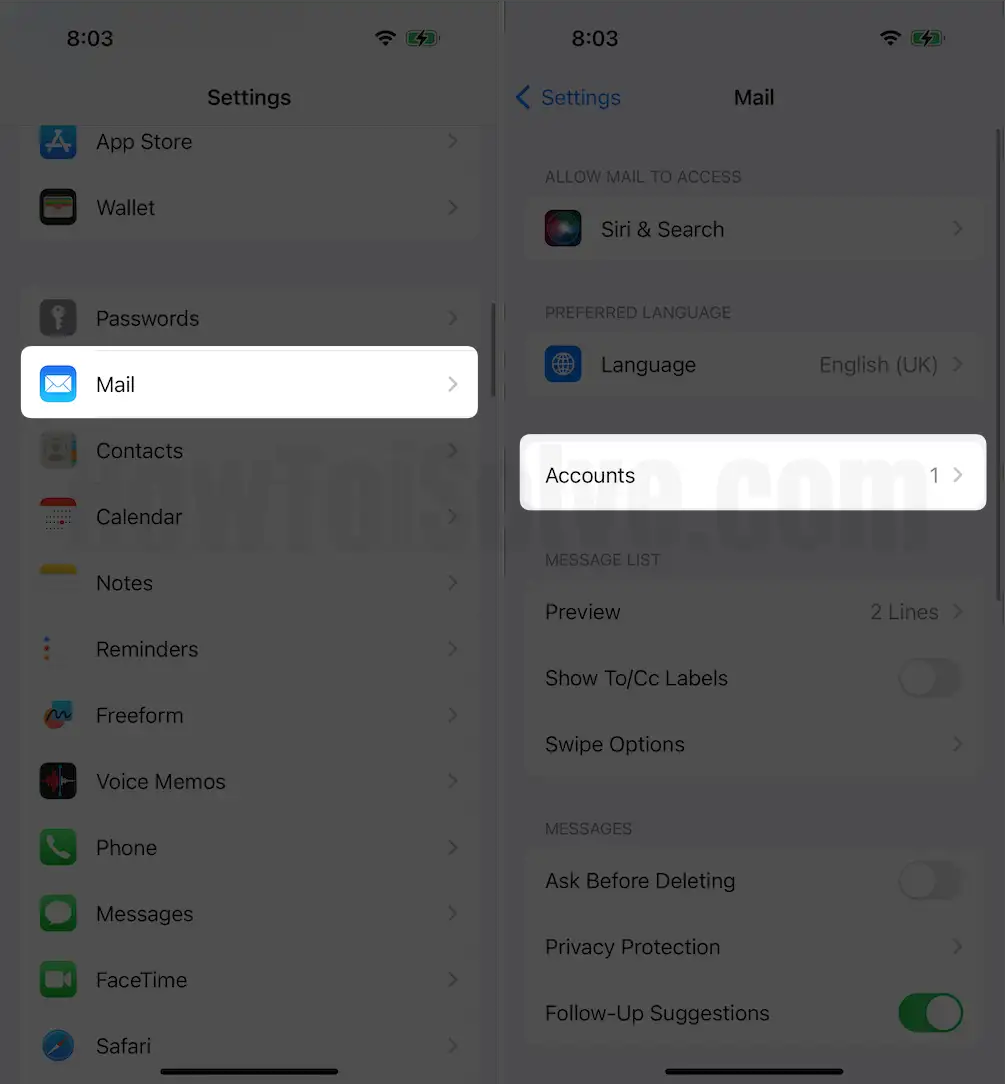 2→ Select Add Account > Choose from the email service provider listed there.
Enter Email Credentials. Tap Next.
It will take a few moments to verify the email.
Select the desired information from Contacts or Calendars. Lastly, Save. And That's it.
Video Guide to Add Business Email on your iPhone or iPad [iOS/iPadOS]
How to Setup Email Account on iPhone
If you want to set up an Email Account that doesn't mention in iPhone's Email Provider's list, then here's the way.
Make sure to enter the correct account information. If you don't remember, then check here or directly reach to the email provider.
Open the Settings App on your iOS device.
Scroll down to the Passwords & Accounts.
Tap Add Account.
Select Other.
Enter the required information like Name, Email, Password, etc.
Hit Next.
The Mail app will look for the email, and if everything goes right, then tap Next.
Finally, tap Done.
Can't Setup Email on iPhone?
If you cannot add custom Emails to the iPhone, try entering the details by yourself. It might help you to add the account.
Also, contact the email service provider in case you don't know what to enter or do.
Open the Settings App.
Swipe down and tap Passwords & Accounts.
Tap Add Account.
Select Other.
Enter your Name, Email, Password, and Description.
Tap Next.
Select from IMAP or POP.
Follow the screen, and fill in the details of the Incoming Mail Server and Outgoing Mail Server.
Tap Next.
Verify the details that you have entered and Save
If this doesn't help, then take assistance from the service provider.