Really helpful and must to know tip that the how to disable or stop apps using mobile data on iPhone 6, 6 Plus and running all iOS 8 devices. For all the apps mobile data/ cellular data used option is default enabled. The Apple gives customize option in their iOS devices to use the mobile data either for all installed apps or for the single app. If you want to disconnect few apps then you can be doing turn off particular app.
When your device connected with Wi-Fi and, And Audio or Face time video calls you make will use the Wi-Fi network. If your router loses its internet connection, or if the Wi-Fi connection degrades and you Mobile data is enabled, then you'll stay connected to the Wi-Fi network, but your device will route the data over Mobile data.
we are happy to help you, submit this Form, if your solution is not covered in this article.
To prevent to use of Mobile data by FaceTime then you must turn off FaceTime app in Mobile Section. So know perfect that how to stop apps using mobile data on iPhone 6 or iPhone 6 plus.
Steps on how to stop apps using mobile data on iPhone 6, 6 plus: iOS 8
Step 1. Go to the Settings app on your iPhone, then
Step 2. Tap on Mobile you can see it between Bluetooth and Carrier options
Step 3. Now Turn on Mobile Data, if it's already enabled then ignored it and go next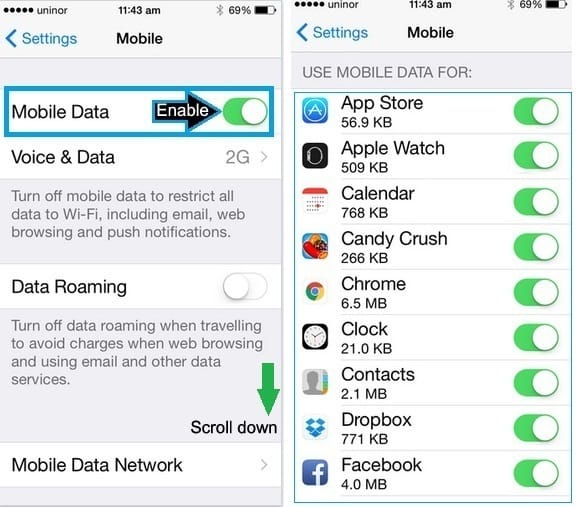 Step 4. On the same iPhone screen scroll down and go below you'll get ''use Mobile data for'' Section in this section you can be seeing all installed iOS apps including third-party app also.
For example whether you want to disable/ turn off YouTube, WhatsApp, Facebook, Apple Watch app not refreshing whenever you turn on Mobile data then you must disabled these apps.
Please share your expressions with us and just know us how seem this tip on to stop apps using mobile data on iPhone 6 or iPhone 6 plus?
Jaysukh Patel is the founder of howtoisolve. Also self Professional Developer, Techno lover mainly for iPhone, iPad, iPod Touch and iOS, Jaysukh is one of responsible person in his family.
Contact On: [email protected] [OR] [email protected]
Premium Support is Free Now
We are happy to help you! Follow the next Step if Your Solution is not in this article, Submit this form without Sign Up, We will revert back to you via Personal Mail. In Form, Please Use the Description field to Mention our reference Webpage URL which you visited and Describe your problem in detail if possible. We covered your iPhone 11 Pro, iPhone 11 Pro Max, iPhone 11, iPhone 8(Plus), iPhone 7(Plus), iPhone 6S(Plus), iPhone 6(Plus), iPhone SE, SE 2(2020), iPhone 5S, iPhone 5, iPad All Generation, iPad Pro All Models, MacOS Catalina or Earlier MacOS for iMac, Mac Mini, MacBook Pro, WatchOS 6 & Earlier on Apple Watch 5/4/3/2/1, Apple TV. You can also mention iOS/iPadOS/MacOS. To be Continued...