Last Updated on Sep 14, 2023
An iPhone Calendar app comes default to the iOS pack from the beginning. That's a nicely designed app, and well familiar for all the iDevice users gives all detail about holidays, Events, invitations alerts, and many features. Furthermore, You can sync your iPhone calendar with the iCloud account. So if you edit your calendar app, then the changes are updated everywhere such as iOS devices, MacOS calendar apps.
The Calendar app also alerts the users through notifications while arriving Upcoming Events, invitations, invitee responses, shared calendar changes (Spam), Third-Party App like Facebook Calendar and Events found in Mail. An app sounds great, and that does an excellent job by reminding, But here the main point is Unwanted Calendar notifications on the iPhone. Numerous users are exploring how to turn off calendar notifications on iPhone, iPad or iPod touch.
A potential reason behind the Calendar app notification for many users, who don't like invitations notification on his/her iPhone or Notification on the lock screen. Here I will show a way to stop alerts for calendar notifications on iPad, iPhone running the latest iOS. in case, you are feeling unhappy due to notifications sounds, then you can change the alert Sound and vibrate easily.
Follow Steps to Turn Off Calendar Notifications on iPhone, iPad, Apple Watch: Block Spam, Shared and Publick Event Notification
Step 1. Launch Settings App on your iPhone Home screen > Navigate Notifications.
Step 2. Tap Calendar > Turn Allow Notifications Off/Gray.
Step 3. That's it.
Keep continuous to know more,
Note: read carefully, you can see different options under the Calendar notifications screen like Upcoming Events, invitations, invitee responses, shared calendar changes, and Events found in Mail.
So if you don't want to stop full Calendar notifications, then you must choose that option that you want to Stop notifications.
Here taken example is to turn off Calendar invitations on iPhone, iPad, you can see below.

Settings → Notifications → Calendar → Tap on invitations → Turn all toggled off → Tap on Sounds then select None for both Vibration and Sounds.
How Do I Stop Spam Calendar Notification on Your iPhone
Most of the Spam notification comes in a shared calendar that is used on your iPhone for the Sign in Mail account. Third-Party Mail service allows us to save Calendar Event in the Calendar app, So we have to turn off Calendar notifications for Share Calendar events. Follow the below steps for turning off Calendar Events that are Shared (Used Mail account on iPhone).
Open Settings app on iPhone > Notifications.
Next, Scroll to Calendar > Find the All Notifications is On.
Select, Shared Calendar Changes and Turn off the toggle off/Gray.
That's it
Video guide on How to remove iPhone calendar virus (Tips to stop the spam virus on your device)
Steps to Turn off Shared Calendar notifications iPhone
To turn shared calendar notifications off on your iPhone- you should go with the following way through this you can stop shared calendar changes sounds, badge app icon, Alerts on the lock screen, Past history on the lock screen, show a banner too.
Go to the Settings app- Tap Notifications – Now Tap Calendar – Hit on Shared Calendar Changes and on-screen you can set customize settings like keep sound turn off then tap on None to mute Alert tone.
Same way, you can disable the Shared Calendar Badge App icon as well as control the lock screen of your iPhone and iPad.
You're done!
Turn off Calendar Notification on Apple Watch
Stop Getting Calendar notification on Apple Watch. We can customize or Set Different settings for Apple Watch Calendar notifications. Follow the below steps to apply custom settings for Apple Watch Notifications for Calendar Events.
Open Watch App on your iPhone/iPad. That's Paired with your Apple Watch.
Next, My Watch Tab > Notifications.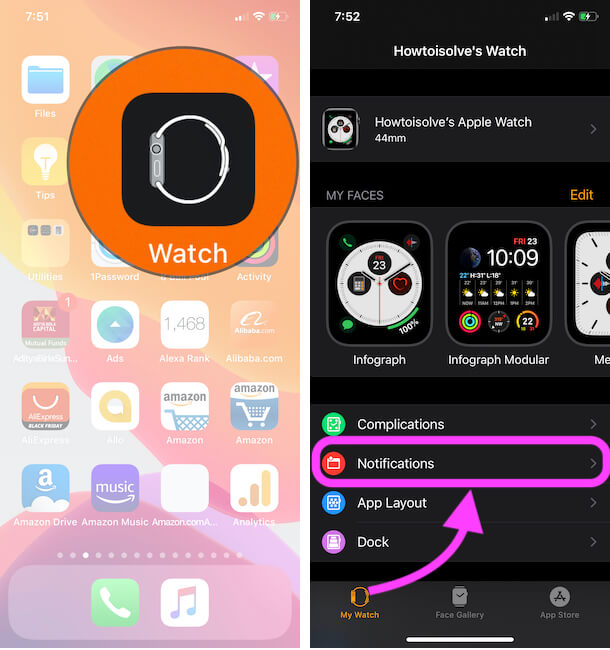 Scroll and Tap on Calendar Settings.
Now, Select Custom Under the Notifications section, Select Allow Notification in Next Section (

Then Turn off Notifications for Upcoming Events, Invitations, Invitee Responses, Shared Calendar Alerts

>

Disable

"Show Upcoming Events")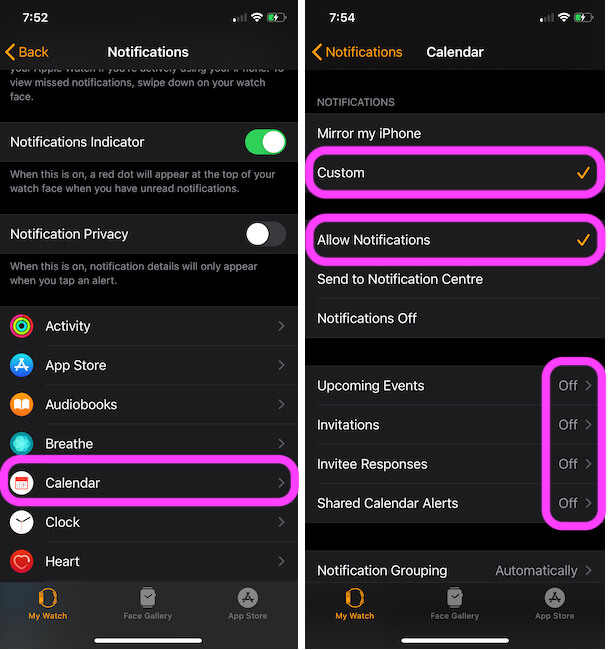 Next Under the Calendars section, Tap on Custom… > De-Select Unused or Share Calended with your Other Accounts or Select only that you use for the Apple Calendar Event.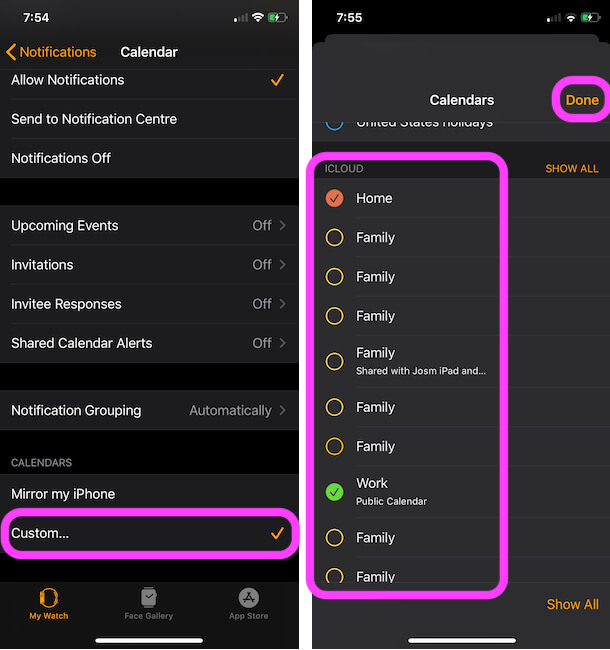 That's it. Using this setting we can disable unwanted notifications like Business meetings, Holiday and Birthday and Booking that is shared on other mail Account.
So above the same steps, you can apply for the rest of the options such as Upcoming Events, invitee responses, shared calendar changes, Siri Found in Apps, etc.
Let's now give your reply in the comment box and share your speech about Turn Off Calendar notifications on iPhone, iPad.