Last Updated on Jul 14, 2023
Are you looking for light games? Do you want to play with your friends or colleagues? here we have some suggestions for you. Apple's mobile operating system iOS allows users to play games with your contacts right from the iMessage on the go. All you have to do is download the app and start playing one-to-one games. Now we have a tens of very Interesting games to play in iMessage Between Two Players or Multiplayer. Just Follow the tips and Enjoy your Free time.
In this tutorial, we will guide you on how to play Basket Ball and Golf Mini on iMessage. But to play these games, you will have to download the GamePigeon app in iMessage. The GamePigeon app is a wide collection of multiple games that allows you to play games in iMessage. You can play Sports games in iMessage for Free, download the app using This way and start to play Golf or Bracket ball on your iPhone.
Note: You must first activate iMessage from your Settings (Here's how to activate iMessage on iPhone). If you have already Activated, then you can start playing right now.
Here's how to play Basket Ball and Golf Mini in iMessage, Game Cheats, and Tips
in iOS 17; iMessage has been re-design app, so all users who want to play games with your friends, please follow the bottom steps with an example.
#1. Open Message App
#2. Navigate a Contact to play a game with a friend.
#3. Click on the (+) button next to the chat field.
#4. Tap on (⋁) More and tap GamePigeon.
#5. Choose a basket ball or golf game from the game list (I think you will have to scroll the game list with a finger as we usually do).
#6. Tap on the Blue arrow icon to send a request to your friend. After your message is delivered successfully.
#7. Now wait for the opponent to accept your game request, first, your opponent will play the game, and they will send your request to beat and win the tank game on message.
Steps For iOS 16 and older version
1→ You can also download the GamePigeon app right from the iMessage app. Launch iMessage.
2→ Tap on the App Store from the bottom line.
3→ Search GamePigeon >Download it.
Note: We can also download from the iOS App store, Go to the "App Store" on your device. Search for "GamePigeon." As soon as you find it, download and install the GamePigeon on your iPhone.
4→ Now, launch the "iMessage" app on your iPhone.
5→ Select the contact with whom you would like to play "Basket Ball" or "Golf Mini." in the same way, you can also play archery on iMessage GamePigeon, Tanks, Paintball, Word Hunt, Filler, Cup Pong, Chess.
6→ Below the text box, you will see different applications; tap "GamePigeon."
7→ There are several games available in GamePigeon, tap on "Basket Ball" or "Mini Golf".
8→ Tap on sending arrow to play Basket Ball or Mini Golf on iMessage.
9→ Next, the recipient will receive your game invitation.
Connection While playing the Game is Very Simple,
First, You have a start and send to your Friends to invite them to a game. Once your opponent completes the first round, you will get the message, now your turn until you need to wait for that.
whenever you will get the message that shows, now it's your turn. Tap on Message. And Complete your round from your end.
After that, send it to the opponent. The opponent and he/she can preview your performance before starting their next round.
Guide For BasketBall
Swipe your finger upon bol towards to target net hole.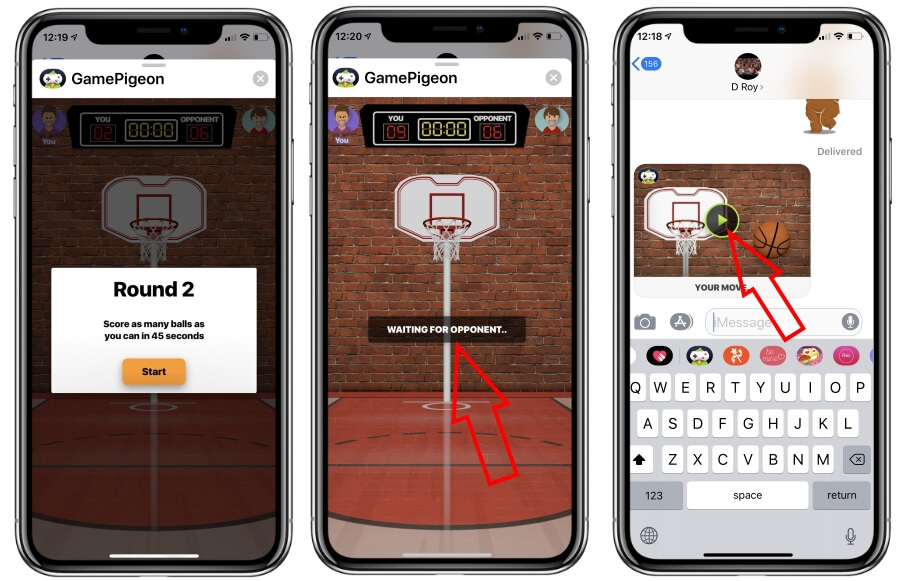 Guide for Golf
Pull down your finger to power up the shot and goal in the golf hole. You can move the ball via the ground surface area. You can't jump into the hole directly.
10→ in the meantime, your friend will play one round on their side.
11→ Thereafter, you will have to play your round.
12→ Tap on the "Your Move" message.
13→ You will see the gameplay of the opponent.
14→ Tap "Start" and complete your round.
That's it! This is how you can Play Basket Ball and Golf in iMessage.
If you would like to watch the gameplay of how to play the Cup Pong game in iMessage then you can watch it on our YouTube channel and also we have listed some tricks to play games on iMessage.