Last Updated on Mar 26, 2023
Here I show you how to change Font Style (Bold/Itali/Underline) on Mail, Notes app, and Change Text size of Settings text or app name. Also, Apple introduced new custom font support for iPhone, iPad, here you will learn how to install and Use Custom Fonts for the Mail app. With every new iOS and iPhone, you have a chance to grab the best smartphone at your convenience.
If you got bored with the same font style on your iPhone, then you will love to hear that you can change the font style on the iPhone in a minute. These types of settings make the Apple product unique and more likely to gain more and more users. So in this post, we have addressed the most common query of people which is how to change font style on iPhone. Read on to change the font on the iPhone.
Below settings auto-applied to iOS Home app name, Settings app, Safari, Contacts app, Messages app. And Manual ways for a Notes app, Mail app (Read my last section of this tutorial).
How to Change Font Style on iPhone
1: Unlock your iPhone and navigate to the "Settings" app.
2: Scroll down and tap "Display & Brightness".
3: Toggle on the slider next to "Bold".
4: When you see Applying this setting will restart iPhone, hit "Confirm".
5: Wait for a second, the iPhone will restart, and you can enjoy the changed fonts on iPhone.
How to Change The Font Size on the iPhone?
Moreover, if you want to make fonts on iPhone even smaller then also we have the best way to do it,
Step #1: Go to the "Settings" app.
Step #2: Select "Display & Brightness".
Step #3: From the options, tap on "Text Size".
Step #4: Move the pointer towards the left side to reduce the text size on the iPhone.
Once you change the font size on iPhone, you will experience the better iPhone at your convenience. If you want to change the font size on the iPhone email, this will definitely do it for you.
Change Font Size for Selected App on iPhone
in iOS 15 or later update, iPhone and iPad users can change the Font size for the app running on screen from the Control center. Keep the app open on screen for you to change screen size, Here I am changing the font size for my Instagram app.
Open the app on your iPhone's screen for you want to change the font size.
Swipe down to open the control center according to your iPhone model.
Touch and Hold on Font shortcuts, Select App, Instagram only and change the font size.
That's it.
Change Font Style on the mail app or Notes app
First, create a new mail or reply to existing mail. Type anything that you want to send in highlighted text means a change in text style. Tap and hold on text or Word until you see popup option with B/I/U option. Select All text at first Tap on it and Select I for Italic style, B for Bold style and U for underline of text.
Or Use Installed Third-Party Fonts on iPhone Mail
iOS 13, iOS 14 or later Users can use Custom Font feature on iPhone.
Open App Store and Download Fonteer app on your iPhone. Once you installed on your iPhone, Open App and Start Installing a new font on your iPhone using Profile. Give a New Collection name.
Tap on '+' From the top right corner and Install Google font or Font Squirrel. here I am installing new Google Fonts, Select multiple fonts at once and Tap on Add Collection option.
Once you add fonts in the collection, we can install Fonts using the Profile, Tap on Install fonts.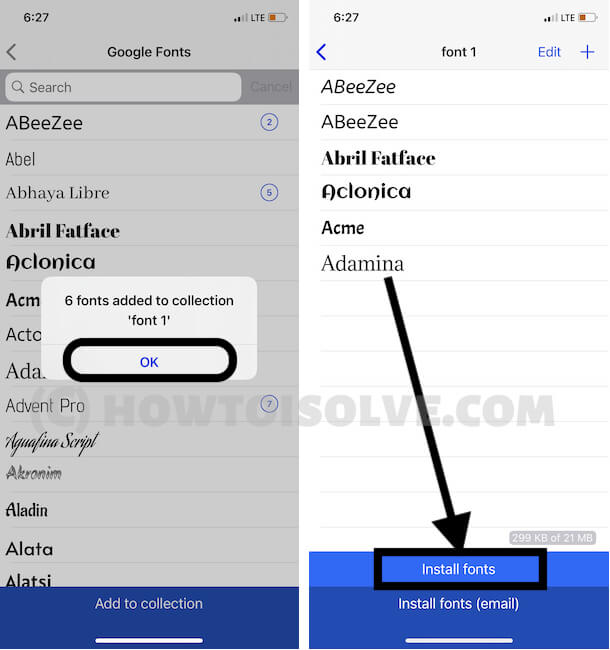 App link will be redirected to Safari, Tap on Allow to install, and Ok.
Next, Open Mail app and compose a new mail, Now you will see the Arrow when you start typing into the body area. Select the Font tool.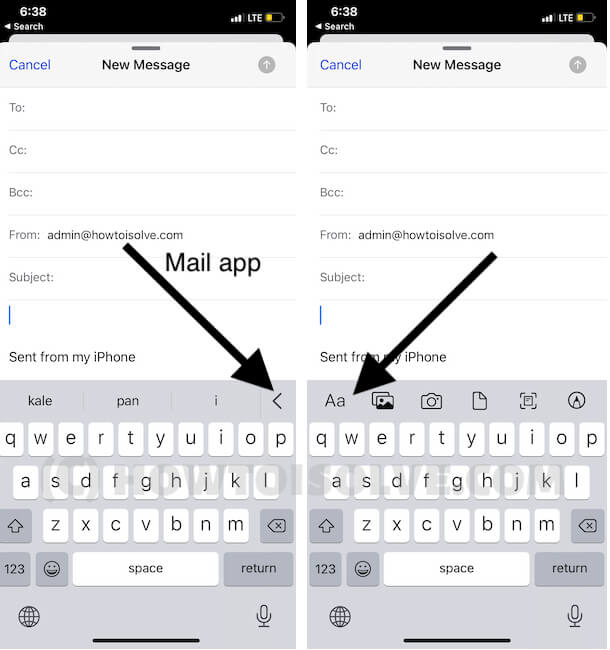 Select your Font from Default fonts,
Start typing In Different styles in the mail app.
That's it.
see the result below on my iPhone screen,
Hope you learn the basic and curious thinks here, also share with your friends, comment or like us. You can also put your problem and share with us on the comment box.