🗓️
August 14, 2023
By ✍️
Jaysukh patel
Turn on & Turn Off Spotlight search and fix Indexing not Working, Re-Index Search on Mac. Spotlight is an easy and popular option to find out any on your Mac running on any OS X Version. Over the last many decades, apple has improved results in spotlight searches, With customized options in the search result. Due to privacy, many Mac users are not interested in showing or accessing by an unknown person, So we have an option to Disable spotlight search on MacOS on MacBook, and Mac.
Spotlight search finds the data from Documents, Maps, iTunes, Movies, Places on Maps, calculations, and general questions.
If you don't want to turn off the spotlight for you only, you can change the spotlight search default shortcut to your shortcut (Disable Command+Space or Change Spotlight Shortcut).
Don't miss: Get Convert currency and Exchange rate using Spotlight
Follow The Below Steps for Enable/ Disable Spotlight Search on MacOS
On MacOS Ventura & Later: Spotlight Settings on Mac
1→ Go to the Apple Logo () from the top Menu > System Settings.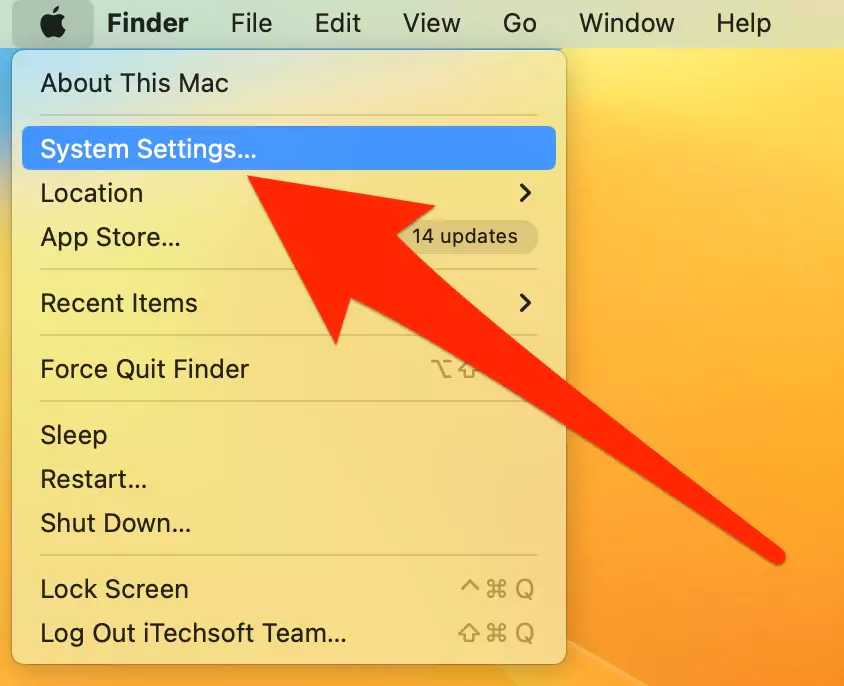 2→ Click on Siri & Spotlight Option > Move to Spotlight Settings section, See the Option for Search Result, and Enable the Category to Find the item from them using Spotlight search.
Applications
Bookmarks & History
Calculator
Contacts
Conversion
Definition
Documents
Events & Reminders
Folders
Fonts
Images
Mail & Messages
Movies
Applications
Bookmarks & History
Calculator
Contacts
Conversion
Definition
Documents
Events & Reminders
Folders
Fonts
Images
Mail & Messages
Movies
Music
Other
PDF Documents
Presentations
Siri Suggestions
Spreadsheets
System Settings
3→ To Exclude or Include Sepecific directory from Spotlight search click on Spotlight Privacy… and Add or Remove using the Plus & Minus [+/-] Button.
4→ That's all about managing Spotligh On mac. if you want to Hide the Spotlight Search icon [Magnifier icon] from top Menu then Follow the below steps,
5→ Open System settings under the apple logo from top menu.
6→ Next, Select Control Center Option > Under the Menu Bar section only, Select Spotlight: "Don't show in Menu Bar".
7→ That's it. or Use using the Command + Space Keyboard Shortcut on Mac.
To fix Command + Space Not Working
Follow the below steps…
(Check Default Spotlight Shortcut, Go to  Logo > System Settings… > Keyboard > Keyboard Shortcuts… > Spotlight > Restore Default > Ok) That's it. To Disable for Someone, Double click on Key Combination and Set your custom Keyboard Shortcut for Spotlight search.
On MacOS Monterey & Earlier: Spotlight Search on Mac
Step 1: Click on Apple Logo () From Top Mac Menu. > System Preference.
Step 2: Click on the spotlight (Blue Search icon).
Step 3: For Turn off/ disable spotlight search on Mac OS X, Go with Keyboard shortcuts from below option.
Enable below checkbox for Show Spotlight Search for turn on Spotlight Search using pre-set Keyboard shortcuts.
Uncheck Show Spotlight search option to turn off or disable.
After turn off the spotlight search on Mac, You didn't access through shortcut keys but launch manually. from the top menu finder icon.
Note: you can also manage spotlight search results by only enabled selected categories that are you want in search.
9 Fixes ➡️ Spotlight Search Not Working on Mac
How to Set or Change the Shortcut for Spotlight Search on MacOS X
On Mac, Default shortcuts for launch spotlight search on-screen, Press Command(⌘) + Space bar key at once.
For change or set another shortcut keys press all the keys at once that's you want to set there. like Right aero + Space.
default shortcut everyone has to be known, but another changed shortcut is hidden So no one case access or finds anything on your device easily through spotlight search.
Spotlight Indexing and Searching not working on MacBook Mac
Something stuck or indexing permission is not granted on your Mac. So you can re-indexing or Clear the old indexing cache on your MacBook Mac using the below command. Run below command on your MacBook, Mac Terminal.
Go to Launchpad and Search Terminal and Open it.
Now, Copy this command any past in terminal, then Hit return button to run.
locate .metadata_never_index
You will see below warming message [ignore this message],
WARNING

: The locate database (/var/db/locate.database) does not exist.

To create the database, run the following command:

sudo launchctl load -w /System/Library/LaunchDaemons/com.apple.locate.plist

Please be aware that the database can take some time to generate; once

the database has been created, this message will no longer appear.
Continuously run this command & allow permission for Read/Write.
sudo mdutil -i on /
Enter your Mac system login password and Press return to run. You will get a return, Request indexing. after Wait for 10 to 20 minutes, you will get fixed and search quickly.
That's it.
if you have any queries on how to Enable/ Turn off/ Disable spotlight search on the latest macOS like MacOS Ventura, Monterey, Catalina, OS X EI Capitan, Yosemite, or Mavericks then share on the comment box.