🗓️
September 14, 2023
By ✍️
Jaysukh patel
If filmmaking is your passion, there are several products that you must consider buying to carry on your filmmaking journey with ease. Make your tedious filmmaking experience a little less complex and enhance your videography a little more with these recommendations. An iPhone filmmaking kit will enhance your picture quality to a professional level. If you are looking for excellent sound-quality products, this list also comprises recommendations for those.
So, read further and pick your choices. Without delay, get the products delivered to your doorstep through Amazon.
You must check These are the Best iPhone Camera Accessories.
Best iPhone Accessories for Filmmaking & Professionals
1. SmallRig Video Cage for iPhone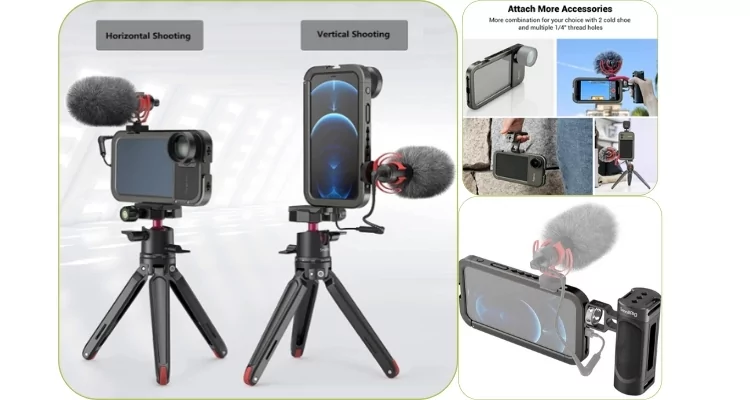 Get a new, fun-filled experience in filmmaking by getting this SmallRig Video Cage iPhone filming kit, which will make your life and filmmaking work more accessible than ever. If you are a vlogger or a creator, this Pro Cage kit will work wonders for you, comprising mounting holes to quickly achieve live streaming processes and an ideal angle for your photos or videos.
The kit also has several mounting options to attach your phone to either a tripod or a stand with solid grips and lights. With this iPhone filming accessory, you can make the most out of the provided features like attaching a microphone, LED lights, tripod, etc. The easily accessible mount rig cage does not require much effort to be inserted. Y iPhone is exactly like a phone case. Shut it, and begin your professional photography.
You will find no hindrances in your iPhone usage and can attain full access to your device. This is an iPhone accessory filmmakers must not miss out on. Therefore, get this product as soon as possible from Amazon before it goes out of stock.
2. Moment Blue Flare Anamorphic Lens for iPhone
You can enhance the quality of your photos or videos with this lens product, as it is a perfect deal for you. A moment phone case is mandatorily required to use this product, which happens to be one of the product's cons. With this product, you can easily mount your lens with a moment case mount. The product will work well with dual phone camera lenses, and you can also make the most out of the Moment Camera Application to de-squeeze your videos.
With this accessory, enhance your iPhone's photography to a greater level, as this is one of the best products for filmmakers. The product can capture striking pictures and be accessed per the ratio you wish to attain. With all of these pros, this turns out to be one of the most desirable products indeed.
This Moment Blue Flare lens is a perfect helping hand for photographers and videographers, so if you are one, do not delay any longer and get your hands on this excellent device. If you plan on buying this one, get it through Amazon at your doorstep right away!
3. Rode VideoMic Me Compact TRRS Cardioid Microphone for iPhone
Designed specifically for iOS devices, this compact TRRS microphone is one of the very efficient products, especially if you have to constantly conduct meetings through your iPhone. The frequency range of this product goes from 100 Hz up to 20kHz and is very lightweight. It has a 3.5mm headphone output and easy, accessible dimensions.
The product includes an exceptional outdoor shooting deluxe furry windshield that works wonders even during bad weather. This product is a customer's choice, for sure. It is an assurance that this microphone is an ideal way to get the most audio quality with your iPhone.
Therefore, if you constantly struggle to get the best audio quality, we recommend you get a Rode VideoMic and enjoy an uninterrupted audio experience. Therefore, do not delay anymore and get this beneficial product. If you plan on buying this product, choose Amazon as your service partner and get the product delivered to your doorstep in earnest.
4. Sony Folding Professional Closed Ear Headphones
Enjoy a fine sound quality like no other with these Sony professional studio headphones that contain neodymium magnets for powerful sound output. These headphones will provide you with comfort and lightness with excellent noise cancellation of outdoor noises. Its cord can be enlarged up to 9.8 feet for better convenience. The box includes an adapter as well.
We recommend this product for those who often travel as these headphones can be easily folded and stored in a soft case. Its superior body will give you the best results without the risk of any damage. So, do not miss out on this fantastic product, which will provide you with crystal-clear sound quality. This is a must-have accessory if you are a performer or enjoy playing music like a DJ.
To get the best results and offers, consider Amazon as your partner, and order this product today.
5. Crane for Camera and iPhone
Are you searching for a robust and reliable crane for your camera that allows you to cover various angles while shooting a movie or a video? If yes, the PROAIM 21ft Alphabet Professional Jib Boom Crane will satisfy all your motion video filming needs. This camera crane is powerful and robust, built from aircraft aluminum construction to ensure its durability and toughness. It is straightforward to install this crane as it comes with a stepwise guide and can be put together without using any tools. Capture or record ultra-smooth and crisp videos with ribbed sections and reinforced joints for four times strength that help eliminate the shocks and shakes. 
The extra strong fork allows smooth movement of this crane in all possible angles. The unique tilt lock enables you to record static shots and can be used as 21 feet, 18 feet, 15 feet, and 12 feet to meet your filming requirements. The complete crane comes in a padded foam bag for added protection and offers excellent portability to carry it anywhere. For complete customer satisfaction, buy this crane for a camera from Amazon stress-free and with confidence.
#6. Monocular Telescope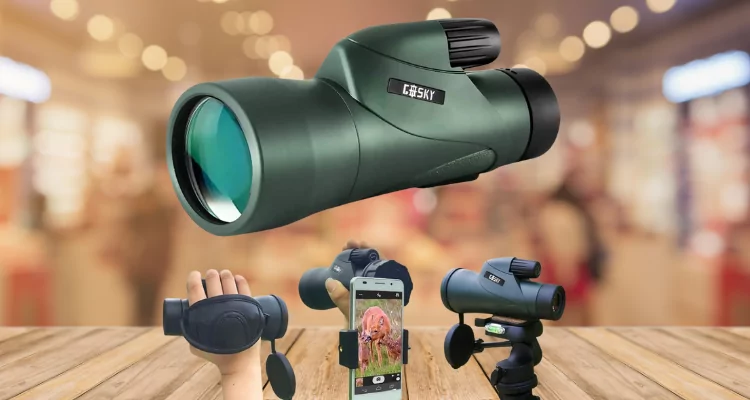 Suppose bird watching is one of your favorite things to do. In that case, the Gosky 12×55 High Definition Monocular Telescope is best suited for outdoor wilderness explorers and enthusiasts. A handheld and must-have for bird-watching wildlife, hunting, hiking, mountaineering, camping, surveillance, and traveling. It has a 12×55 high power magnification and offers the best view in your outdoor adventures, enabling you to see 12 times closer with a clear and bright image with the generous, light-gathering 55mm objective wide lens. This High-powered monocular telescope promises brighter, crystal clear views during all your outdoor adventures, and the long eye-relief feature with the twist-up eyecup makes this high-end monocular set stand out among its competition.
Argon purging provides waterproof, fogproof, dustproof, and shockproof protection in any weather and environment, ensuring your product's durability and safety. So, purchase this excellent product from Amazon today and make the payment using any of the payment options available.
#7. Deity V-Mic D4 Duo Microphone Portable Voice Recorder
If vlogging is your passion or profession, do not miss out on this fantastic and easily accessible product. A portable voice recorder will ease your work to a greater extent, as with this device, you can continue your video creation and record your voice simultaneously. The excellent audio quality of this voice recorder will minimize your workload to a whole new level.
The product has dual cardioid pickup patterns and low-noise circuitry. With this device, you also get input for the AUX connection. This product from Deity is shockproof and is highly durable, making it a desirable buy. A people's choice, this is one of the best devices for vloggers.
A Deity product is also recommended of other vloggers who find this device as their daily savior. Hence, consider the words of fellow vloggers and YouTubers and pick your buy from Amazon without further ado.
#8. Apple Headphone Jack Adapter
A must-have iPhone accessory if you own an iPhone is this from Apple. With this 3.5 mm headphone jack adapter, you can connect your audio by plugging this jack in place of your charging port and enjoy uninterrupted music. Not only for an iPhone 13 Pro Max, but the jack is compatible with any Apple device that supports the lightning charge portal. You only need to attach your headphones to the designated place and insert the jack at the charging port of your iPhone.
This accessory from Apple will make your life a lot easier if your iPhone does not have a given headphone jack. To get the best prices and offers, consider buying this headphone jack adapter from Amazon and order it to your doorstep now!
#9. Rode Wireless GO II Compact Wireless Mic System
A very favored product if you constantly conduct interviews, this device from Rode will make your job a lot easier. It is also essential for interviewers; therefore, you must check this out. A special 2-person interviewing wireless mic, this product's sound quality is exceptional.
The product has two mini clip-on transmitters and recorders with a straightforward setup. As these wireless mics work on electronic charging, there is an assured 7+ hours of battery life. The USB interface functionality of this product is excellent, and we are confident that you will face no blunders while using these wireless mics.
The product is available on Amazon and comes under great deals. Hence, we suggest you do not miss out on this one and place your order today.
#10. Joby GorillaPod Compact Tripod Stand
A tripod stands like never before, This flexible product allows you to grip it, wrap it, and keep it standing, and it contains a feature to wrap its legs quickly. This tripod stand lets you quickly secure your camera equipment with assured durability. The product can be bent 360 degrees and tilted 90 degrees at your convenience. This is a must-have iPhone videography accessories, and the tripod stand works well with a GoPro.
You can also mount your GoPro easily with microphones in this tripod. Doesn't that sound exciting enough already? Well, it is. This versatile tripod will ease your daily work to another level, and thus, we recommend you get it. Consider buying it from Amazon for the best results, offers, prices, and customer reviews.  
#11. Overhead Stand for your Apple iPhone
Designed especially for smartphones, pico projectors, and small to medium-size cameras, the Arkon Pro Phone or Camera Stand is a unique phone mount stand that provides a stable overhead view for taking photos or streaming live video of your hobby, whether it's stamping, baking, pottery, or other crafts. This overhead stand's pole can be easily extended upwards from 17 inches up to 29 inches high to provide the perfect overhead shot with your phone, small camera, or mini projector. Arkon's HD8RV29 Pro Stand includes an overhead arm assembly with three flexible shafts, providing four adjustment points for the ultimate flexibility in positioning.
Get unobstructed overhead views with its straightened out overhead arm assembly extending out approximately 12.5 inches away from the stand's base, providing unobstructed overhead views. The Pro Stand's overhead arm assembly can bend down as low as 2 inches from the table surface, allowing you to photograph or video small or detailed items. Standing straight up, the Arkon Pro Stand measures 43 inches tall for streaming live video while standing or capturing tall or large items. The optional camera adapter is included with the Arkon Pro Stand for small cameras and other devices with a ¼ inch -20 pattern connection. This camera adapter can also be used with mini or pico projectors for projecting patterns and images onto cookies or other projects.
The Pro Stand's weighted base provides a solid foundation for videos, photos, creating Lives on Instagram or Facebook, or even live streaming or video calls anywhere. Therefore, order this amazing product from Amazon today and deliver it to your doorstep.
Now that you have looked closely at the must-have accessories, we recommend you get these at the earliest. Enjoy filmmaking professionally with your iPhone 13 Pro Max by getting a filmmaking kit to ease your job.
A tripod is one of the essential buys for a videographer, so if you are looking for one, choose a JOBY tripod that is durable, flexible, and easily accessible. These accessories will be beneficial in improving the quality of your videos immediately and ease your work to a greater extent. These recommendations are people's choices, and it is convincing that you must not wait any longer to get these products at your doorstep. Make your videography professional and put your work at ease by ordering these filmmaking accessories from Amazon.