🗓️
November 28, 2023
By ✍️
Jaysukh patel
The pool game in Message is one of the most popular going on public trends; the Silent match is delightful in the multiplayer game. Get a full guide on playing the iMessage Pool game on iPhone/ iPad Free after Installing it on the iMessage App Store. In this, we can add your Recipients to play pool table, Change Custom game Settings, Choose shot selection on the virtual table and make score individually, finally won the game and spent an exciting time with text on iMessage.
Yes, we can continuously send the text without leaving the pool game on the iMessage screen. Also, mind that, iMessage-enabled iOS devices only play the game through iOS message app: Get How to activate iMessage on iPhone/ iPad. Your iDevice must be updated to the latest iOS.
Steps for Install/ Play or Invite in iMessage pool game on iPhone/ iPad
For iOS 17 and new users – Follow the bottom steps
#1. Open Message App
#2. Navigate a Contact to play a game with a friend.
#3. Click on the (+) button next to the chat field.
#4. Tap on (⋁) More and tap Store.
#5. Click on the Search bar icon.
#6. Find Game Pigeon
#7. Now click on the Get button, or if you've installed it before, then you can see the cloud with a down arrow icon.
#8. Click on Open.
#9. Now hit on 8 Ball from the list.
#10. Tap the blue arrow icon to send a friend request to a contact number.
#11. wait for the message delivered and now wait and watch until your opponent accepts your game request and completes their first turn.
So enjoy the pool game in Message on your iPhone.
Get more– How to Delete Game Pigeon on Messages on iPhone
Steps For iOS 16 and earlier OS users
GamePigeon is very good 8 Ball pool iMessage game on my Experience. Because are you not interested in 8 Ball Pool? Then, 14 New games (9 Ball pool, Tanks, Sea Battle, Anagrams, Knockout, Checkers, Four in Row, Word Hunt, Mancala, Poker, Gomoku, 20 Questions) waiting for your start.
1: Open the Messages App on your iPhone/ iPad.
2: Open recipients chat screen, Tap on Horizontal Arrow icon near to message textbox.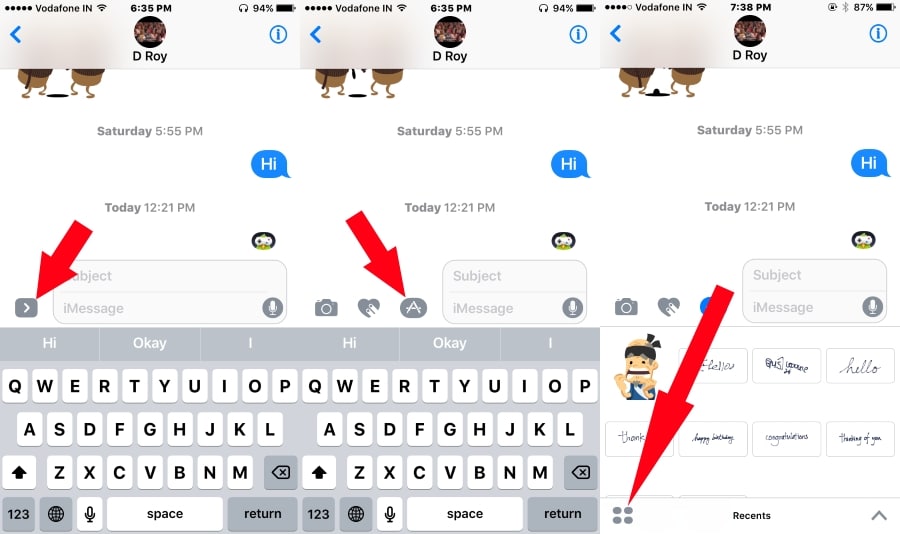 3: Tap on the Third (App Store) icon. From this screen, you can add a new iMessage app or Game.
4: From the bottom, Tap on Four Square icon. Then Tap on "+" Store icon.
5: Find a Game app with name and Search "GamePigeon." Download and install.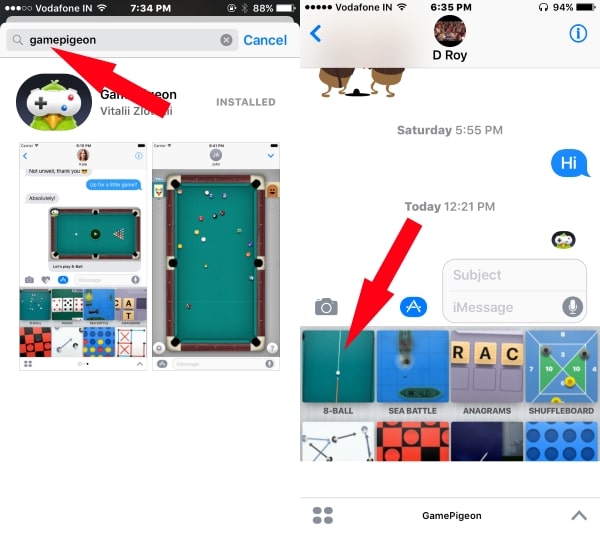 6: After successfully installed on it will be listed with other apps.
7: First one is 8-Ball. Tap on it. (9 Ball also then find it by sliding game pane)
8: Change Game level and Tap on "Start."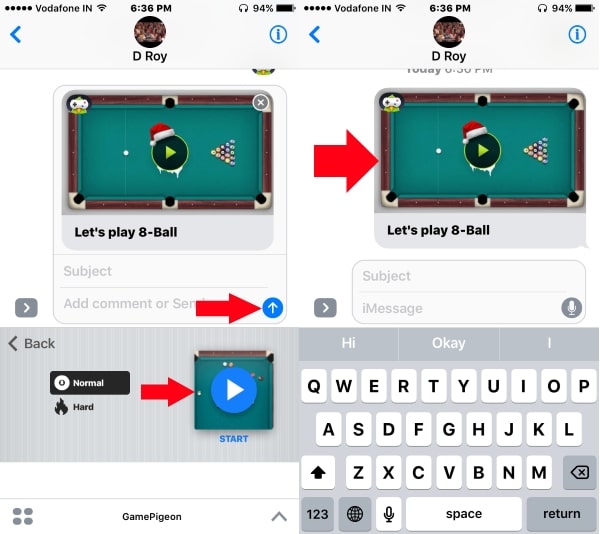 9: Now, it's ready for the invitation and Sends it with a tap on the Blue upper arrow icon.
Then, Single tap on the last invitation, your Recipient will be added to the game automatically by installing GamePigeon app on another end.
Note: Your recipient receives a message with let's play 8-Ball pool game table. Say for the accept invitation.
Here are the Settings,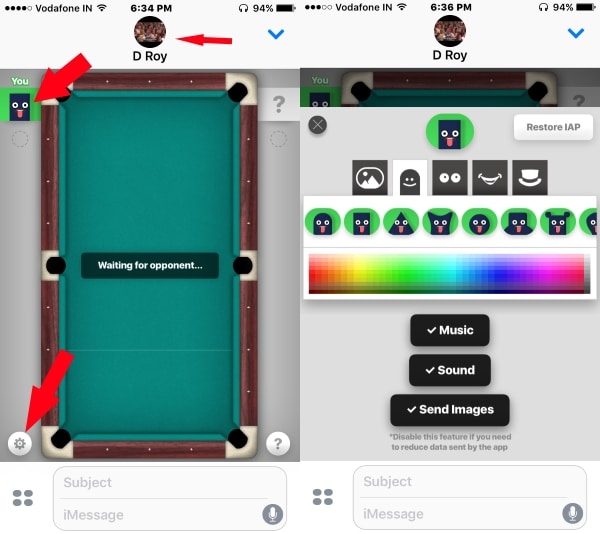 That's it.
For more help, Finally Reviews my past tutorial on Install, Add new or Delete iMessage Game or App
Get More: How to Play Game in iMessage
Share your experience on playing iMessage pool game on iPhone/ iPad in the comments.