Last Updated on Aug 9, 2022
We are all familiar with averting scenarios- where you might have created some kind of script for your professional scenes or have composed data for future work. But when sending those files, the Mac Mail window prompts "Maximum Size For Up to 20~28 MB."
But how Mail Drop feature takes Apple Mail to an advanced level? This feature allows you to share the files(such as PDFs, Images, and Videos) for up to 5GB. However, many other third-party applications make the users share huge files using their platform without any disturbance. But at last, having the best and most secured Apple Mail App, then why go with different ways to share the large files on Mac?
How To Share Large File Attachments For Upto 5GB In Mac Mail
Mail drop using iCloud Drive results in an easier way to share important data and files without playing around with security and privacy feature. This tool is handy, efficient, and super safe. Moreover, it allows the user to Retrieve The Data On Mac if lost.
Ensure To Turn ON Mail Drop For Mail Account On Mac Computer
Firstly, to use the Mail Drop feature on the Mac computer, you must have an iCloud Account. This is because, as of now and forever, the Mail drop aspect uploads the files to the iCloud rather than directly sending it to the recipient mail ID. If you are unfamiliar with the steps to enable mail drop, continue reading the article.
Step 1 → Open the Apple Mail App
From the top menu select Mail > Preferences… [Settings… on macOS Ventura].
Step 2 → Choose the Accounts option.
Step 3 → Now, from the array of accounts, choose the one Account on which you want to enable the Mail Drop.
Step 4 → Tick the check box present next to the Send Large Attachments With Mail Drop. if you have multiple accounts added to the mail app then enable it for selected accounts individually.
We have no option to enable it for all accounts at once. Just Select the account and Enable "Send Large Attachments With Mail Drop".
Hereafter, you can only share the large file up to 5GB on the selected Account. After using it, you can disable it by following the same steps.
Share Large File On Apple's Mac Mail
Now you will be allowed to send the big files using Apple Mail only with the Account you have selected under the Mail drop feature. Well, there are different ways to send the email; perform any of the below mentioned below at your convenience.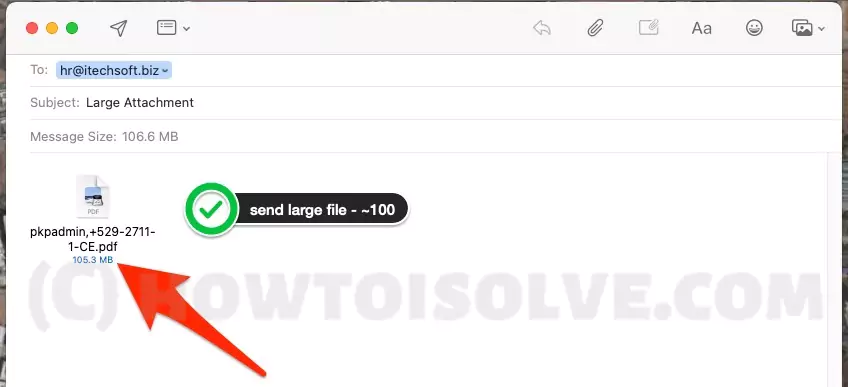 Note: You can also share the large files using AirDrop for up to 15 GB, but only when the receiver is in the nearest location.
Hover the cursor to the Paper Attachment Icon and click on it; Next, tap on the desired file and click on Choose File option.
Ensure the cursor is located where you want to embed the single or multiple files. Choose File > Attach Files… from the menu that appears, or press (Command+Shift+A). Click on the desired folders and files > Choose File.
Another way is simply to drag and drop the appropriate file and folder in the Apple Mail Message Page. 
That's it, you can see the example figure, I have uploaded a 100+ MBs file in the Apple mail attachment.
What Is The Best Way To Send Very Large Attachments (> 5GB)
In some cases, we reach out to the point where the file to be shared is more than 5GB. Even in this situation, we can consider Mail Drop as the best option to go with. But some limitations and precautions needed to be considered while sharing or desiring to share a file with more than 5G on Apple mail. All those situations are mentioned below.
The Mail includes the attachment file having a size of more than 5GB. In this case, try splitting the message into multiple email messages. However, you can try compressing the size of the attached files to make the size smaller.
If the attached file is not compressed. Then try zip and unzip method to compress the file ( In case the file is in .rar format, then there is no option to convert it; rather than converting .rar File Using Third-Party App On Mac)
Unfortunately, the Mail Drop comes with a maximum 1 TB storage limit. All attachments will expire after 30 days from the day it is sent. So you must wait until the required storage is available to share more files.
The size of outgoing and incoming messages is 20MB with Mail disabled and 5 GB with Mail Drop enabled.
Alternative Of Apple Mail Drop To Share Large File
Although the Apple Mail App reaches out to all the user demands, they still want the alternative option to share the large file from one device to another, no matter either it's via Mail or any other method. Also Helpful in limited 5GBs icloud space for each apple id account.
wetransfer
Allows sharing data for up to 2 GB in free of cost
Includes two types of subscription plans Pro (200 GB/ Day) and Premium (Unlimited Data Transfer).   
Google Drive
You can share about 15 GB of data in the free version of Google Drive.
Comes different types of plans Recommended (100 GB), Standard (200 GB) & Premium (2 TB). All the plans need to be subscribed every month.
Dropbox
Receive 2 GB of
data sharing capabilities with Dropbox Basic.
Unlike the other alternatives, it also comes in different plans Personal(Plus, Family) and Business ( Professional, Standard, Advance). To get a detailed view of the Dropbox plan, click on the below-mentioned link.
OneDrive
With OneDrive, you will receive almost 5 GB of free storage and sharing capacity in the free version.
There are two types of plans in OneDrive For Home and For Office. There are also subcategories in the plan. To get a detailed view of all plans, tap on the link mentioned below.
See Plans (For Home) / See Plans (For Office)
SHARE LARGE FILES USING EMAIL!
SHARE LARGE FILES USING EMAIL!
When you share a large file throughout the day, it is always better to go with a reliable platform like Apple Mail. There are many services we have discussed in the article; are also some of the safest ways to transfer the big file. Plus, for normal usage, they comes with a basic plan.
FaQs
How Do I Send A Large File To Someone?
Fortunately, you can share up to 5 GB of data using the Apple Mail App with the enabled Mail Drop feature. If you are unfamiliar with the steps, go through the complete guide.
How Can I Share Files Without An Account?
If the sender and receiver don't have accounts, they can still transfer the big file using File.io or Easyupload.io without any registration procedure.
Which Email Provider Allows The Largest Attachments?
Gmail and Outlook rank at the top as they allow sharing attachments for up to 10 GB. And in this runner-up, Apple Mail ranks third as it allows up to 5 GB using the Mail Drop feature.
How Do I Compress A File To Email It?
On the Mac Computer, right-click on the desired file > Compress. Doing so will convert your file into .zip. 
What Do I Do If My File Is Too Big?
Willing to share the big file via Apple Mail, in this scenario, Apple Mail allows to transfer 5GB data; but if it's more than 5 GB, then compress it or else split the attachments or messages into different parts.
How Many MB Is Too Big Email?
Using Apple Mail, about 20~28 MB is the largest file size to be emailed.
How can I Send Large Files For Free?
Large files can be shared using the Apple Mail App for up to 5 GB, as shown above, but for more convenience, you can use file.io, wetransfer, Easyupload.io, Zippyshare, and filedropper
How Do I Reduce The Size Of A PDF File So I Can Email It?
Here you can use the free PDF to .rar converter, as it's one of the most compressed formats of any file, and then attach it to the message.
How Can I Send Large Files Via Email For Free?
Large Files like images, videos, or PDFs on Apple Mail can be sent for free only when the Mail Drop aspect is enabled, but with certain limitations, as mentioned above.