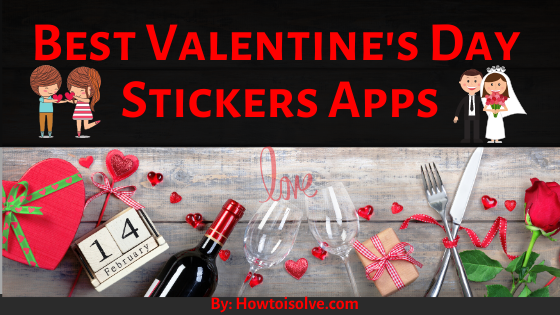 Last Updated on Feb 13, 2020
Apple iOS really packed with huge features, very user-friendly and great for developers, too. I am much happy with the iMessage App store. Yeah, now iOS users can be enjoying festive season stickers and built-in iMessage screen effects including a love heart, fireworks, bubble effect, and many others. And moreover, this year, you must try this best Valentine's Day Stickers Apps for iMessage.
we are happy to help you, submit this Form, if your solution is not covered in this article.
Let's guys, download these apps from the iMessage App Store and get started a new way to make your chat conversion extra romantic.
You can also send Love heart screen effect Valentine iMessage to your girlfriend, boyfriend, or husband-wife without downloading below listed Pro Applications running iOS 10.2 or later device.
another way is to send GIF Valentine iMessage via Messages App on your iPhone.
First of all launch Messages App- find a contact to send a message – press on the bottom strip of apps and swipe up then find #images App and use the top search bar to get Valentine images and send it to your loved one.
The Top Best Valentine's Day Stickers Apps for iMessage for iPhone
#1- Valentine Smile Stickers
Specially made for upcoming valentine's day 2020. In this iMessage sticker app, there are over 40 funny and expressive lovely faces to send to your honey and celebrate Valentine.
Cool fingerprint designed couples seem great and will look something new iMessage chat. Overall this is a romantic sticker app, to download this you must have iOS 10.2 or later iPhone, iPad and iPod touch.
Download Valentine love Sticker Apps
#2- A Very Romantic Sticker App for iMessage
Try this romantic sticker app to Be romantic always. Share sticker as an emoji to your beautiful lover. Download and stick tons of wonderful stickers over the iMessage, on your message and stick them on friend's message.
It is a sexy app for all boyfriend, girlfriends, husband, and wife. Get Here Valentine Couple Love Sticker App
#3- Disney Stickers Love
Do you want to make your iMessage more swoon? then get this Love heart sticker app and send a new animated love sticker to your soul mate.
There are many love stickers on this app pack including a lady and the tramp, Winnie and Pooh, Flower, Aristocats as well as many more heartfelt quotes and related accessories.
Don't forget: Perfect valentine's day 2020 Gift for couples
#4- Mr. Feels for St. Valentine's Day sticker App for iMessage
Download this Mr. Feels for St. Valentine's Day sticker and makes your iMessage chat more funny and romantic.
You can make impress your warm heart by sending cool Valentine's day emoji. Try something new this year.
#5- Me To you Valentine's Day
Send huge stickers, love heart style teddy bear, special teddy with love labeled be my valentine. Beautiful looking Rose and arrow stickers.
Maybe you never imagine this kind of special teddy valentine sticker for iMessage.
Premium Support is Free Now
We are happy to help you! Follow the next Step if Your Solution is not in this article, Submit this form without Sign Up, We will revert back to you via Personal Mail. In Form, Please Use the Description field to Mention our reference Webpage URL which you visited and Describe your problem in detail if possible. We covered your iPhone 12, iPhone 12 Pro, iPhone 12 Mini, iPhone 12 Pro Max, iPhone 11 Pro, iPhone 11 Pro Max, iPhone 11, iPhone 8(Plus), iPhone 7(Plus), iPhone 6S(Plus), iPhone 6(Plus), iPhone SE, SE 2(2020), iPhone 5S, iPhone 5, iPad All Generation, iPad Pro All Models, MacOS Catalina or Earlier MacOS for iMac, Mac Mini, MacBook Pro, WatchOS 6 & Earlier on Apple Watch 6/5/4/3/2/1, Apple TV. You can also mention iOS/iPadOS/MacOS. To be Continued...
Is it match your ideas? Let's a look: Valentine's day 2020 gift ideas for him, for your husband or boyfriend
Do you like the post and what sticker app you would like to download first from above listed top Best Valentine's Day Stickers Apps for iMessage?
Don't miss: Valentines Day Gifts for your girlfriend, for her, or for your wife