🗓️
September 22, 2023
By ✍️
Jaysukh patel
Now a day smartpen made an easy job to prepare all types of Business notes, Drawings, or Graphics design. Also, college or school students create a simple hands-free note on paper just like a natural pen or pencil then in a single tap or action convert in your digital copy, Now Smartpen for iPhone, iPad Available, that's easy to send or share with friends, save in iCloud securely for access it in future or anywhere.
Also, other commendable features listed for all valued Smartpen. Let's check it and collect your Smartpen what you like in all-time best and improved.
Reviews: Top Best Smartpen for iPhone, iPad Make a Digital Copy from Paper
#1. Livescribe: Smartpen for iOS device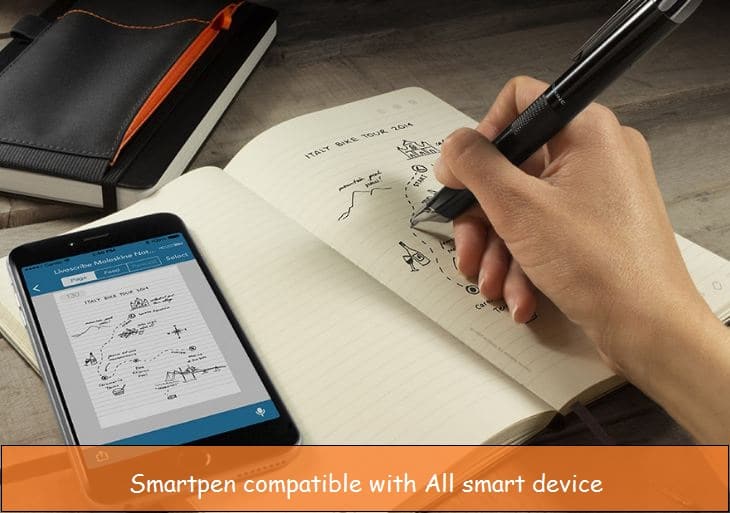 Precise perfectness on each idea, Like Hands-free movement on your Paper for Rough diagram or text easy to switch into a computer font. Bluetooth low energy technology between Smartpen and iOS app easily converts copy into digital format. The built-in microphone automatically record voice it will convert into written copy. Not only work on specific device type or model, Mostly worked and compatible for all iOS or Android versions.
In a single buy you will get, Livescribe notebook 238 pages, Micro USB cable, Smartpen, One year ever not a subscription, Livescribe+ app free for iOS or Android.
Check Livescribe Smartpen Price on Amazon
#2. Wacom Bamboo Spark Smartpen for iPhone, iPad
From any paper get a digital copy of your note in your Bamboo app installed iPhone/ iPad. Then easy to share or edit when we want through Dropbox or Evernote configuration. Wide range of language support up to 13. This smartpen comes with 9.7-inch sleeve attached papers, Pen holder manages all things at one place, and a Wacom cloud account.
Check Wacom Smartpen on Amazon
#3. Aoitun Store for iPhone, iPad
Not for specific bran or paper types, working on all. Easy to use on all Bluetooth enables devices (iPhone, iPad, Mac, Windows or Android). Two corresponding apps for users use, For Sketch or Drawing go for Equil Sketch otherwise Equil Note. After that directly share on Social media or online cloud. More in the features, Create a new page, Undo/ Redo, or Unlock operation.
Check Aoitun Pen Price on Amazon
#4. Wacom: Smartpen system for Drawing and Graphics
Peaceful accessories for Mac/ PC or Laptop. Wired USB or Wireless setup between Drawing Pad and Your Mac/ Laptop. On your finger tap on Pad, Pinch Zoom or Zoom out or Slide.
Compatible for Mac (OS X 10.8.5), PC or Laptop (Windows 7). Not on iPhone/ iPad.
You might also like Best iPhone printer.
Above top best valuable Smartpen for iPhone, iPad available for a try. Share your feedback to us on the Comment box or also with your Friends on Facebook, Twitter.