🗓️
November 24, 2023
By ✍️
Jaysukh patel
Many iPhone users have encountered "Unable to Download App" and couldn't download the app this time when downloading the app from App Store. The pop-up includes two options "Done" and "Retry." Further, they reported that the same error message appears repeatedly.
No matter what the error message indicates, it is nerve-racking as iPhone has no value if you can't use the vast Apple App library. Luckily, fixing isn't an arduous task. Read the below article.
Are you stuck on the Cannot Connect to App Store Error on your iPhone?
Reason Why "Unable to Download App" Pop-up On iPhone Appears
While fixing the Unable to Download app on iPhone is straightforward, the cause isn't easily diagnosed. The reason can be due to the App Store, wrongly configured Date & Time, an issue with your iPhone's Settings, or low storage. So instead of focusing on the causes, follow the troubleshooting steps mentioned below.
1. Enable And Disable Airplane Mode
The first solution when you have such an error message on an iPhone is turning on Airplane Mode and disabling it. For this, swipe down from top to bottom to access the Control Center. Next, hit on the Airplane Icon to enable. Wait for a few seconds, and then turn it back off. That's It!
Open Safari and Browse some things to verify whether the internet is working.
2. Check App Store Server Status!
Yes, verify if the App Store isn't facing server outrage or isn't under maintenance. And that's so; you only need to wait until it gets fixed. Know Country Wise App Store Status & Performance issues.
3. Set Date And Time Automatically
Try setting the date and time automatically by following the steps below.
Move to the Settings App.
Scroll down and select General.
Hit Date & Time. Further, tap on Set Automatically.
Once you do so, your iPhone will get accurate time over networks and receive frequent updates based on your current location.
4. Restart iPhone
Sometimes you need to restart the iPhone to get everything normalized. There might be a pesky bug within the firmware. So read our article on how to restart your iPhone and try it on your flagship. And if normal restarting doesn't work for you, try out Force Restarting iPhone.
Press and immediately let out the High Volume Button.
Press and immediately let out the Low Volume Button.
Long press the Side Button. And release when the Apple Logo appears.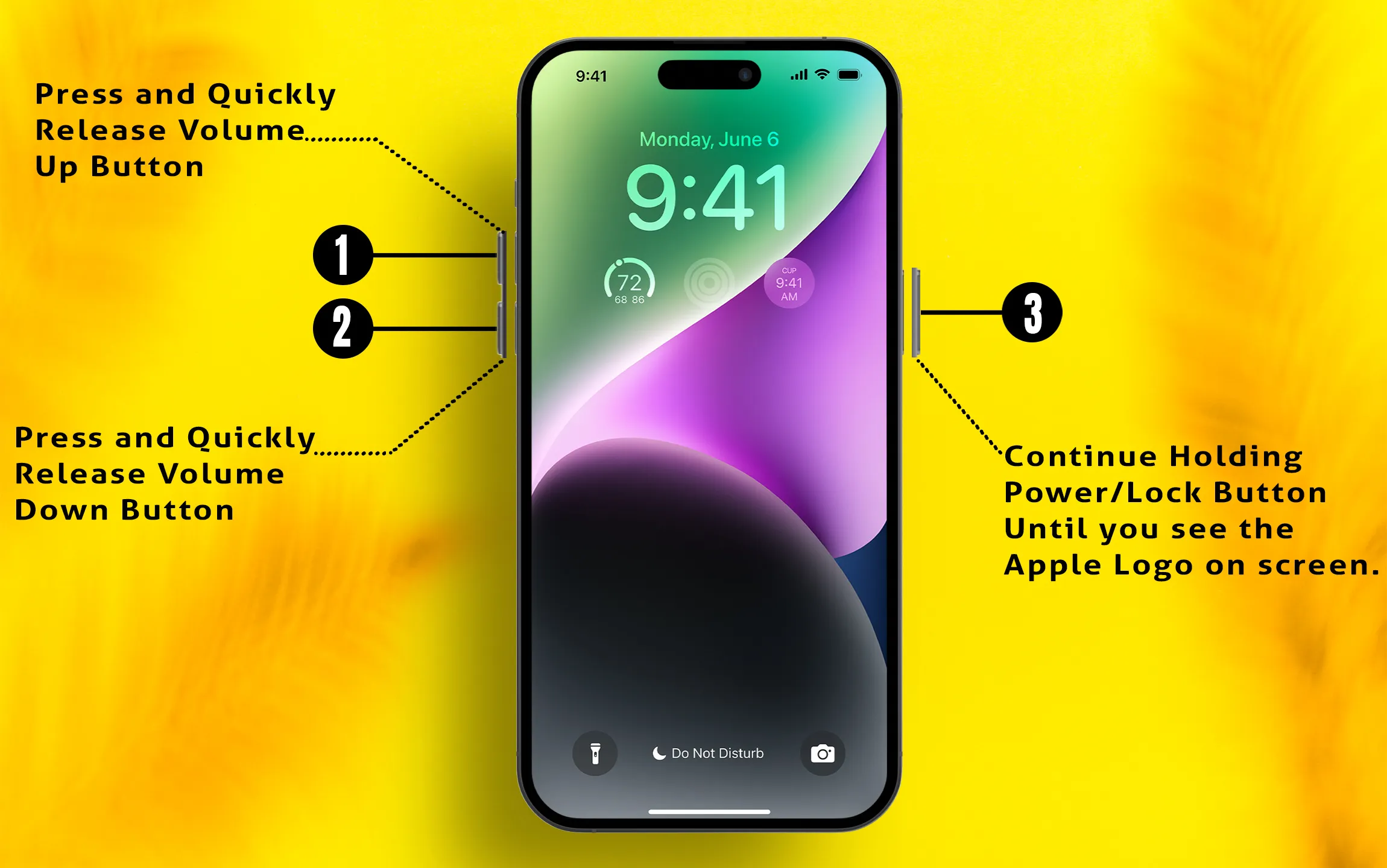 It's time to re-download the app and check for the problem.
5. Force Restart App Store
Another possibility is a bug within the App Store, and to fix it, the solution is force quitting the App by following the steps below.
Swipe up from the bottom and hold in the center of the Apple Screen. [Image. 1 & 2]
You will see all App Cards running in the background. Swipe left or right to search the App Store. And further, swipe it up to force-quit the App Store. [Image. 3]
Re-open App store app and Try again.
6. Check Internet Connection
It could be an unstable or corrupted internet connection causing such an error. If you use Cellular Data, switch it to the Wi-Fi connection. And in case you are already using Wi-Fi, toggle it off and back on.
Change your WiFi Network (If you are using Public WiFi). Or Switch to Mobile Data to Download the app only.
7. Sign Out Your Apple ID and Sign In Again
After too long, iPhone verified your Apple ID that signed in to your Device. Make sure about pending Apple ID Verification or Stuck something. I recommend signing out of apple id and Signing in again in the App Store app.
Open the App Store app on your iPhone. From the top menu, Tap on the Profile icon at the top right corner > Scroll to the end of the screen > Sign Out.
Now, Enter your Apple ID and Password. And Sign In.
That's it.
8. Update iOS And App
This could be due to the outdated iOS or App. So please ensure all the installed applications on iPhone are updated to their latest version. And further, check if iOS is updated. Here is how you can do it.
Update App
Head to the App Store.
Tap on your Profile Icon.
Choose Update All.
Update iOS
Go to the Settings App.
Swipe down and select General.
Tap Software Update.
Now let the system check for updates. And if available, tap on Download And Install.
After this, navigate back to the App Store, and try redownloading the application. Hopefully, your problem will get fixed, and if not, move to the next step.
9. Free-Up iPhone Storage
Low Storage can cause multiple issues, including won't allow you to download the app on iPhone.
So if you have running the device on low storage, after which you get stuck with "Unable to Download App" error on App Store. Then it's time to clear out unwanted photos, videos, documents, etc.
To Quickly Check, Go to the Settings app > General > About > Available [Free Space in GBs or MBs].
To get familiar with procedure, read our article on how to free up space on iPhone.
10. Disable Background App Refresh
However, there is no proven statement how effective this solution is, but you can still try to fix apps that won't download by disabling Background App Refresh. Here are the steps you need to follow.
Go to the Settings App.
Choose General.
Hit on "Background App Refresh."
And toggle it off.
11. Reset Network Settings
Bugs sometimes stem from incorrect network settings. And the worst part is that you can't figure out the individual network settings behind the cause. Thus, we recommend Reset Network Settings on iPhone.
Select Settings App.
Tap General.
Choose Transfer & Reset iPhone.
Hit Reset.
Click on Reset Network Settings.
Enter Passcode and give confirmation.
That's It!
12. Restart Your Router
Your WiFi is Dropping or Disconnecting when you download Apps from App Store on your iPhone/iPad. In your home or office network, Connected WiFi or Modem is blocking some connection, then you must restart or Reset the settings of the Router or model.
Must Your Own WiFi (Sometimes Public WiFi Block the Apple Server Port that Prevent from Downloading app or Updates).
Remove VPN From iPhone If Installed.
Fix Unable To Download This App Error When Downloading Offloaded App!
However, what the cause behind this is unknown but can be fixed by performing the basic steps. Firstly tap on the App Icon to pause, wait for a few seconds, and further tap on the App Icon to restart downloading. Additionally, you can install the app directly from the App Store. And if the issue continues, try signing out of Apple ID and back in.
Final Thought!
With simple yet effective solutions, you can fix the iPhone Unable to Download App error. And if the issue continues, the only solution is to contact the Apple Support Team!