Last Updated on Sep 20, 2023
Let's get here, What is the best app for watching stocks on Apple Watch? Get all about stock market updates on your Apple watch free of cost, here I listed the top Best stock market apps for Apple Watch to get the free stock alert on your watch. And also defined features that are unique compared to other apps and the most valuable stock expert guide from the current and also nominated for best stock forecast apps when you use on your watch. Most of the digital media suggesting these Stock market apps for iPhone, and iPad now all apps are ready to use on Apple watch from the user's reviews and formal folk.
Most of the time you can't get stock market updates for your own countries or other countries, but now get ready to monitor worldwide (All countries) stock market data try-out the single app. useful for beginners and also for the expert to customize Stock glance on iWatch.
All about the Stock Solution on Best Stock Market Apps for Apple Watch
#1. Robinhood for Apple Watch to Invest, Save, and Earn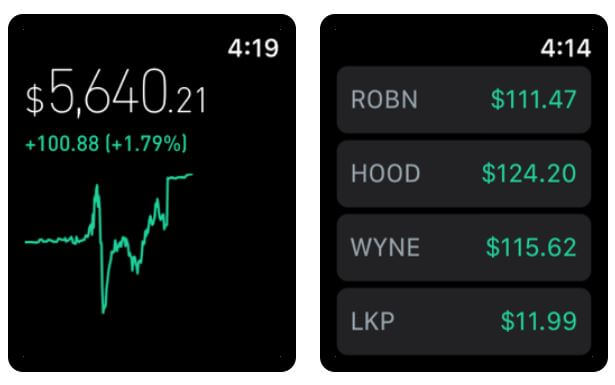 The best thing that forces iPhone users to download this app, they don't even need iPhones while checking or trading their stocks if Apple Watch is with them. With its simple and intuitive design, viewing stocks, trading stocks, analyzing graphs and much more have been really easy.
All of your data and assets are safe with the high-edge security of the Robinhood app. Besides, you can quickly access Robinhood's data across your iPhone without the need to sync or do anything. Download one of the good Stock Market App for Apple Watch users.
#2. thinkorswim: Buy. Sell. Trade on Apple Watch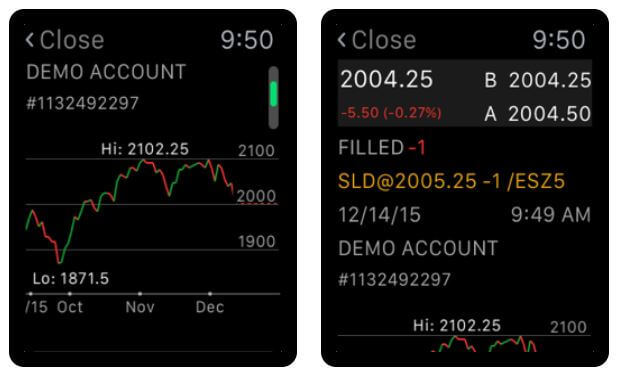 One feature that makes the thinkorswim app different from others is you can get expert advice on trading the stocks, also by sharing the screen with them. Track, and manage orders stored on the watchlist, push notifications to get notified the customize alerts, unique ability to check your account balance and analyze it on any device with linked accounts, and much more.
It's time to play smart and save as much as you can, by downloading this commission-free stock app for iPhone and Apple Watch.
#3. Stock Tracker: Stock Market app for watch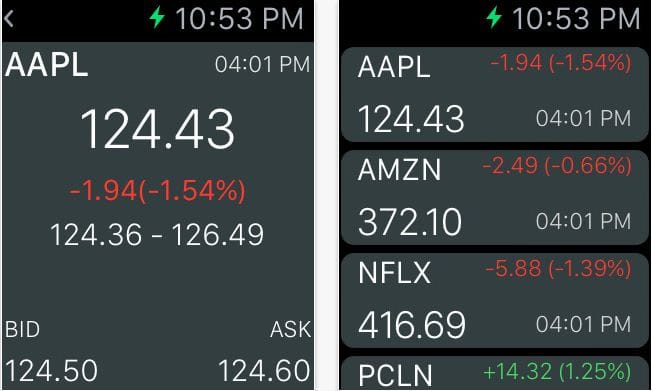 Get a fresh real-time stock tracker on your Apple watch notification. Now, this app moved to apple watch also. Bing stock value font on-screen gives an easy option to see on the watch. Free quotes, expert headline and News, Event. Word wide stock portfolio, Stock analysis, exchange rate, and more on your Apple watch series 4, Series 3, Series 2 & 1st generation.
Get instant notifications and update on your Wrist fast compare to the iOS device.
#4. Stock Master: Tracking and Analysis
Astontek made up Stock master is unique functions iOS app for stock watchers, but now ready for the wristwatch. Get live notification in updates on Real-time stock quotes, Push notification with Email, All types of the Stock portfolio, any currency Forex stock, charts, and more.
Get More: Stock monitoring App for Mac
#5. Stock Watch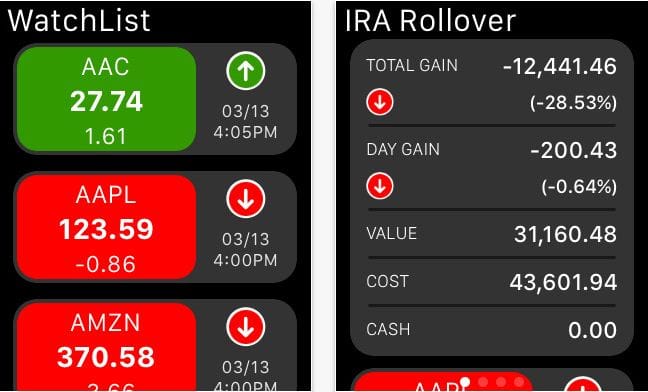 Stock Watch is a Universal app for your iPhone, iPad, iPhone touch, and now Apple watch. The best light and dark color combination make this app more powerful for easy use. Get gainers and looser notifications, Currency support, Custom filter charts.
#6. CNBC: Official app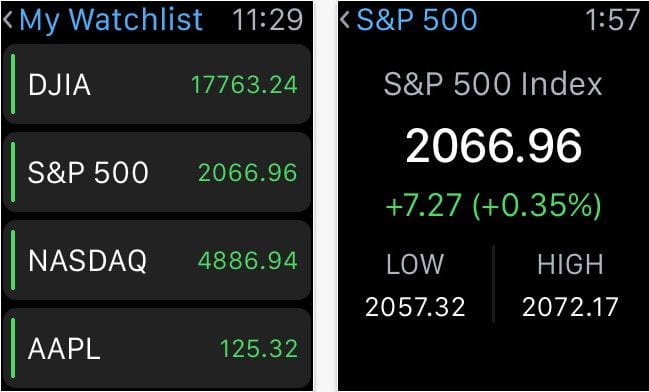 Now real power on your wrist with this app from the top Best stock market apps for Apple Watch, CNBC official app now ready for Apple watch, Business news with latest stock data inside your which list, And also get review through My Stocks, Tech stocks and more easily.
Exclusive Best stock market apps for Apple Watch, first time available for your Apple watch. Comment your thoughts on how these apps helped you personally or suggest if you're using them apart from that. You also contact us on Facebook, Twitter.