New clock app in iOS 10/, exceptional modifications, Improvement, and redesigned clock app now more user-friendly features that are not available on any other mobile platforms or third party apps. Get reminder alert sound before your bedtime as you set Bedtime reminder. After that, you can remove it or change bedtime reminder in iOS 10, iOS 11 (Remove means you will get alerted on exact at bedtime).
we are happy to help you, submit this Form, if your solution is not covered in this article.
Bedtime reminder interval periods are 15 minutes intervals: 15 minutes, 30 minutes, 45 minutes and 1 Hours.
Note: if you are not using bedtime features on your clock app, then make it disabled (Clock app > Bedtime > Disable Bedtime). Because this data will be using other third-party sleep analysis apps, Fitness tracking device and the Health app. So get actual fitness result from correctly use.
Guide: Change Bedtime reminder in iOS 10, iOS 11 or Remove interval
Bedtime reminder sense to the people about pack up or complete you all work before bedtime, be perfect and relax before going to bed.
Step 1: Go to the Clock app on iPhone.
Step 2: Next, Tap on "Bedtime" at beneath center tab option. (Also Check Turn on Toggle for bedtime)
Step 3: Then, Tap on "Options" from top right corner of the screen.
Step 4: Tap on Bedtime Reminder > Choose your interval > done for apply (Top right corner).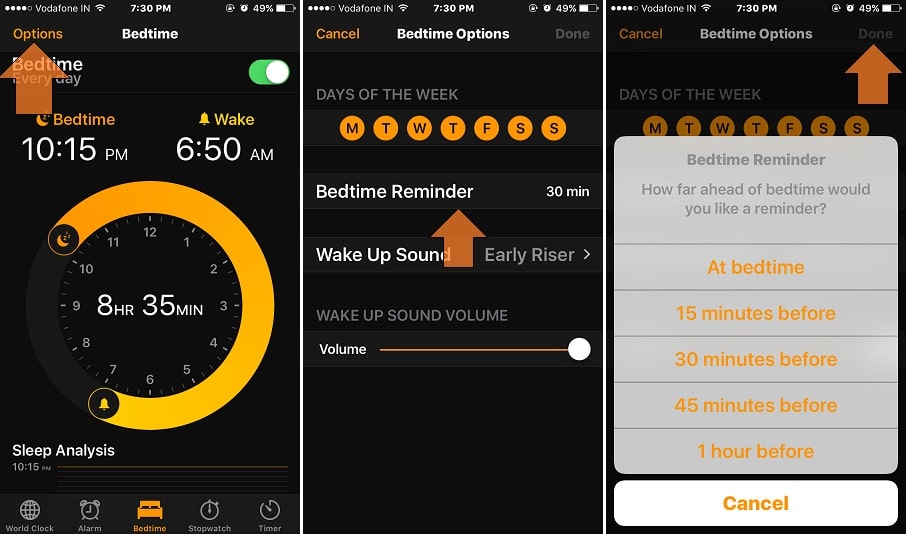 Wait for the reminder. The reminder comes on your device like notification.
Change Bedtime Reminder Time from Notification reminder screen
If you don't ready or prepared for bed at the time of reminder, Swipe finger on the right to left > View
Changed, Bedtime reminder interval without unlocking your iPhone screen.
Learn Here: How to Enable Do Not Disturb Mode at Bedtime in iOS 12
Bedtime Reminder not coming/ Working
Make sure you had set true time meridian (AM/ PM). For change AM to PM, roll out your 2-times finger around analog watch. For the both cases, Bedtime or Wake up time you do the same for change AM/ PM.
Select Every Day in Week or Select all for set same timing (BedTime and Wake). Tap on Done for save the changes.
iPhone is Unmute
Notifications Don't disable on the lock screen
BedTime Volume is too low
Wish you luck and enjoy new clock app feature Turn on or Change Bedtime reminder in iOS 10/ iOS 11, Share your moral courage in the comment section.
Jaysukh Patel is the founder of howtoisolve. Also self Professional Developer, Techno lover mainly for iPhone, iPad, iPod Touch and iOS, Jaysukh is one of responsible person in his family.
Contact On: [email protected] [OR] [email protected]