🗓️
February 17, 2023
By ✍️
Jaysukh patel
As an iPhone user, you need to know everything about Voice Control and Siri of Apple iPhone, iPad, iPod Touch. Siri is proactive assistance and stronger than Voice control, but it does work only on the internet While Voice Control works offline but not much power. So definitely, the most user wants to turn off Voice Control on the iPhone. You can disable VC by turning On Siri on iPhone running the latest iOS.
Some People are Worried about Blue Microphone icon to appear on the iPhone status bar [Near to Network Name], Notch iPhone will see at the top left corner of the screen. Let's Hide the Voice Over Icon or Turn off Voice Control. Also, Learn Prevent from Activate Voice Control using the Side button.
How to Enable/ Turn Off Voice Control on iPhone with iOS?
if you are seeling a blue microphone icon at the top left corner of the iPhone screen then you can turn off Voice Control in Below two Ways. /1. Using the Settings app //2. Use of Command.
Note: Voice Control is available only in the United States [Purchased iPhone from the United States]
Open the Settings app on the iPhone/iPad > Scroll to Accessibility.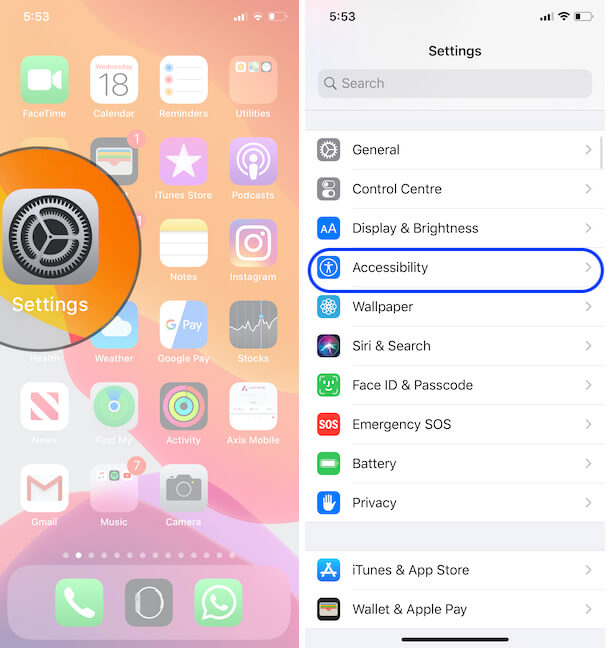 Now, Scroll and Find Voice Control the Option for Setup Voice Control.
Continue with the option, Learn some system command and use it for access devices from your voice.
Now, Also Find Settings > Accessibility > Side button > Scroll to Press and Hold to Speak Section and Select Classic Voice Control option. Now, You can activate Voice over Using the Side button, Keep this Off that Prevent from turning on Voice Control using the Side button.
That's it. Now you can control your Device using your Voice. Now we have advance settings for customizing the Voice control command and Setup Voice control.
Settings > Accessibility.
Find a Voice Control option and Tap on it.
On any screen, you can see the Grid or Show names on screen for Access content and options from the screen. Here I enabled Grid using the command "Show Grid", And Speak Number of content 13 for settings "Settings app". Also, You can turn off Voice Control in two ways.
Turn off Voice Control on iPhone/iPad: Remove Blue Microphone iCon in 2 Ways
Open Settings app on iPhone, Scroll to Accessibility settings.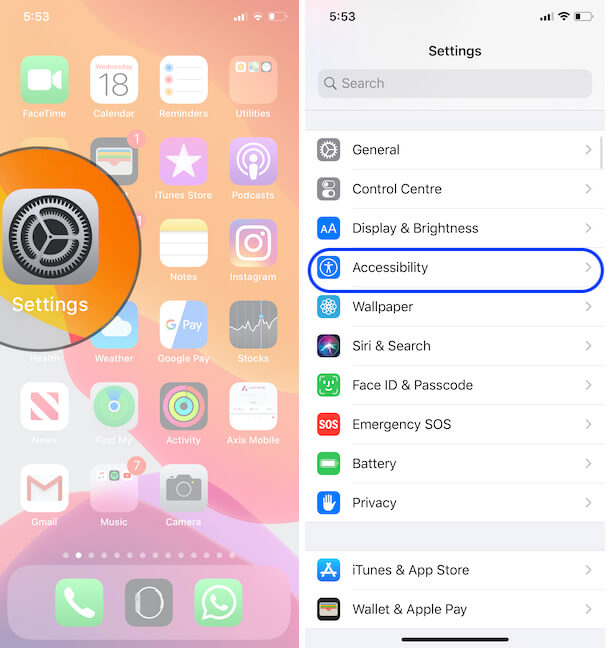 Now, Scroll to Voice Control > Turn off Voice Control toggle.
That's it.
Method 2: Say to your iPhone/iPad, Turn off Voice Control. You will see the popup with the confirmation option. "Execute" That's it.
iOS 12 and Earlier iPhone, iPad Models
Step #1. Hit on the Settings app on your iPhone Home screen.
Step #2. Scroll down the screen and Tap on Siri.
Step #3. Turn Switch Siri ON; you'll be prompted (Siri sends information like your voice input, contacts, and location to Apple to process your requests) Enable Siri. Tap on it.
Alternatively, even if you don't like to use your iPhone home button (press and Hold action) for Siri and Voice control then you could turn off it by following steps on iOS.
How to Turn off Voice Control and Siri on iPhone, iPad, iPod Touch
Go to the Setting App
Find General
Tap Accessibility
Hit on Home button
Now, under the Press and Hold to Speak– Select OFF.
From now, you iDevice will not respond when you press and hold the home button. And, this was the guide to disable Siri and Voice control together.
Disable/Enable Voice Control On MacBook Mac
Access your Mac Monitor screen through your Voice, it's Called Dictation. Open Folder, Documents and App trough your Voice.
Click on Apple Logo () From Top Mac Menu.
Next, click on System Preferences.
Now, Find Accessibility Settings > Voice over.
Enable VoiceOver Checkbox to Start on your System, Select Language, and Microphone Device.
You can set the Microphone From System Preferences > Sound panel > Select Microphone > Input Tab.
That's it.
The guide is useful for all iPhones, iPads, and Macs users. Therefore, after that, there will be no response when you press and hold the home button.
Get more: How to Close Apps on iPhone Without Home button
Please share your feedback in the below comment box and share with us what way you would like to do for disabling/ Turn off Voice Control iOS on iPhone. Like this post? Share it on Facebook, Twitter.