Facebook security and privacy in your hand, you can see past login or active login details on your iPhone, iPad and iPod Touch facebook app. Not only keen your account activity, login place, Device name, Browser or OS type, Location and in more mange/ Delete past activity log details. Here is the solution for how to view Active login session in iPhone facebook app.
Here I gave explanation on update Facebook app version running on iOS 8.4.1 (iPhone 6)
Other Supported iOS version: iOS 7, iPhone 5S/5, iPhone 4S
Steps for Active login session in iPhone facebook: iOS 8/ iOS 9
Step 1: Open facebook app on your iOS device
Step 2: Then, Tap on more from the bottom tab. Now you can see popup option with Account settings.
Step 3: Go with security settings, and Tap on Active sessions from different security options.
Note: next to the Active sessions you can see number, Showing number of device when you logged with same facebook login details. Here in my example you can see '8', so same login logged on different 8 device or web/ Application.
Step 4: By tap on cross 'X' mark on each login details you can sign out your Facebook account remotely.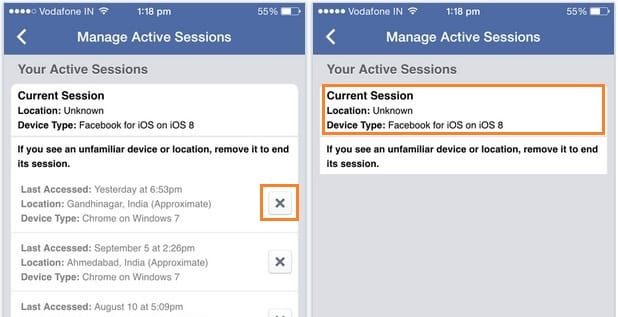 If you are unfamiliar with unknown device or area then tap on close mark for sign out FB account.
Get security notifications, when you login to unknown device, More > Settings > Account Settings > Security > Login Alerts > Notifications > Choose on and save. Now whenever you login on unknown device you will get notification alert in facebook iPhone app, by tap on notification alert you can sign out other account and reset password easily.
You might like: Download Facebook video on iPhone/iOS 8.
Thanks to Facebook, gave such stunning option for view or mange Active login session in iPhone Facebook running on iOS 8/ 7.