Last Updated on Aug 18, 2023
Apple's ecosystem is one of the most secure and reliable systems. Backups store all your personal data, images, videos, contacts, settings, messages, and much more. It helps us a lot because electronic devices tend to be corrupt, and all of our personal and essential data is stored on the device that necessarily needs to be backed up daily or weekly. If the iPhone is stolen, dropped, or damaged, this backup can be restored in other iPhones, and you get access to all of your data pretty quickly; otherwise, if you are taking Apple Device Backup to iCloud, Here's How to Delete Old Device Backup from iCloud from iPhone or Mac.
These backups could quickly eat up the iCloud, iPhone, and Mac storage and, if you periodically take backups, then delete the old backups. There are different ways to delete the iPhone backup from your Mac; follow the easy one for you.
How to Delete iPhone Backup from Mac
Remove iPhone Backup from Mac (Catalina or Later – Sonoma)
From macOS Catalina and newer versions – MacOS Monterey Updated, the iPhone backups are stored in the Finder. Apple had added all the functions of iTunes inside the Finder only, so let's see how to delete old iPhone backups from Mac, and MacBook.
There are three different methods to remove old iPhone backup from Mac.
Method 1: Using Finder
Delete Old Backup from Mac using Finder while you connect your iPhone or iPad to Mac via USB Lightning cable.
Step 1: Connect your iPhone to your Mac computer or Mac laptop using Lightning Cable.
Step 2: Next, open the Finder app on Mac.
Step 3: From the left sidebar, select your iPhone that appears under the Locations section.
Step 4: In the main window, click on Manage Backups… button under the Backups: section.
You'll see a list of iPhone backups in a small window; right-click on the backup and select Delete. If you want to Archive, select the Archive option; once the backup is archived, it won't be replaced or removed by the new backup of the same device.
Or, to delete a backup, select the backup and click the Delete button.
Method 2: Using Backup Location
The first question in your mind is, "Where are iPhone backups stored on Mac". If you want to play with the path, use the Finder and Go to Folder to navigate through the location where backups are stored and remove them.
Follow the below steps for "How to Delete iPhone Backup from Backup Location".
Step 1: Launch Finder. Click on Go in the top menu bar. Select Go to Folder.
Step 2: Enter the following path: ~/Library/Application Support/MobileSync/Backup/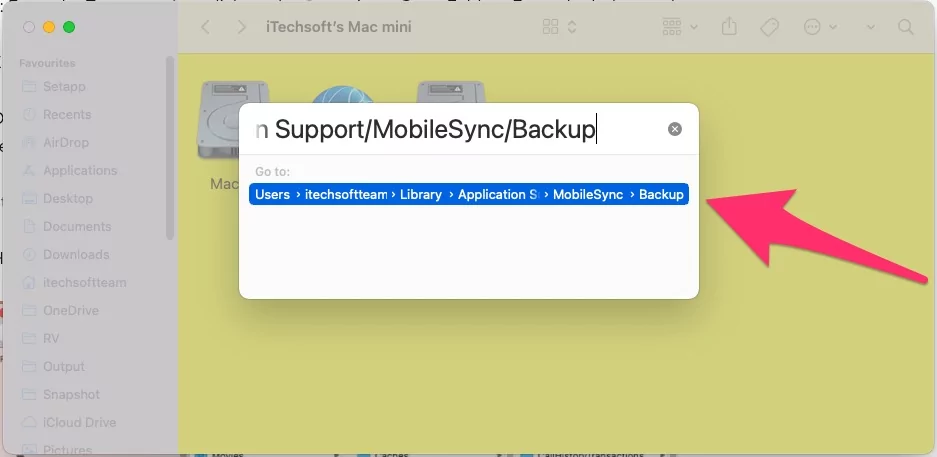 Step 3: Press return.
Step 4: Find the iPhone backup and delete it. To Delete from Mac, Right click on Folder and Select the Move to Bin Option.
That's it.
Method 3: Using Storage Manager
Find and Delete Old iPhone Backup Without Finder or Connect your iPhone or iPad to Mac. Permanently erase device backups and software updates to free storage space.
Step 1: Go to the Apple logo from the top menu > System Settings.
Step 2: Scroll to General > Storage. In the sidebar, click (i) button next to the iOS Files.
Select iPhone backup and then click Delete.
iTunes:- Remove iPhone Backup from Mac (Mojave or Earlier/Windows)
For macOS Mojave or earlier and Windows PC, iTunes is still there to perform basic operations and manage storage. So if you're running macOS Mojave or earlier and Windows PC, here's a quick way to remove iPhone backup from Mac. Delete Old iPhone backups Windows or Mac Using iTunes.
Launch iTunes on your Mac or Windows PC.
In the top menu bar, select iTunes. [Latest macOS [Big Sur/Monterey] Mac user use Finder, Explained Earlier]
Click Preferences.
Go to the Devices tab.
Now, under Devices backups: list, select the iPhone backup that you want to delete.
There, click Delete Backup.
When asked, click Delete to confirm.
What Happens When I Delete iPhone Backup on Mac
After Deleting the Device Backup file from Mac, users can get GBs of Free space and use it for New Backup, or We can move the old iOS Backup to Other External Hard Disk. 64GB iPhone users' backup can make 40GB Free space. 256Gbs iPhone/iPad user's backup can make 200GBs Free space on Mac.
Deleting Backup from Mac can't retrieve or restore to your Device. So check and delete the old backup correctly.
The above Technique works to Find On-Demand or Automatic Device Backup files. And Delete Older or Unused Backups from Mac that free up space on Mac.