🗓️
October 18, 2023
By ✍️
Jaysukh patel
Many users found that the Action Button is not working on iPhone. It can be frustrating, especially when you are willing to do a specific action, such as turning on a flashlight, using a magnifier, and more. Here are tips to check the current action for the action button and seven fixes if it's not working as expected.
The issue could be either due to a software or hardware issue. But if it's a hardware problem, your device must visit the Apple Authorized Service Station. So go ahead and read our article on how to fix action button not working on iPhone 15 Pro and Pro Max.
Tips to Check and Fix Action button not working on iPhone
There are multiple ways to resolve the iPhone action button not working. Along with this, they also help you to determine whether the problem is hardware or software-related. So let's get started!
Why is Action Button not working on iPhone?
The Action Button being clickable, is a physical entity prone to damage over time. Sometimes, the action button gets stuck or wears out after years of usage. On the other hand, there might be misconfigured iPhone settings that are interrupting Action Button functionality. 
Solution #1. Detach the Case
While cases are essentially designed to protect the device, sometimes they might be tight and restrict the iPhone's Action Button from clicking. Or dirt or debris might be stuck between the case layer and the action button. Thus, the best solution in this scenario is detaching the case from the iPhone.
Solution #2. Check Action Button
The action button not responding on iPhone could be misconfigured action button settings. You might have accidentally or intentionally chosen the No Action for Action button. To verify it, follow the steps below.
Step 1: Go to the Settings app on your iPhone.  Select the Action Button. 
Step 2: After this, select another option than No Action. Now, press the Action Button and check for the issue.
Solution #3. Clean iPhone Button
All iPhones in the market have protection against normal dust. However, fewer particles might get stuck between the Action Button and their casing.
In this scenario, you can gently clean the Action Button using the Brush to remove these particles. We suggest you do it slowly and don't let brush in a contact with your iPhone's lock screen to prevent unwanted scratches.
Solution #4. Restart your iPhone
The traditional solution to resolve any problem – try turning off your device and back on again. Hence, a simple restart is probably all you need to fix iPhone's Action Button. For this, follow the steps below.
Step 1: Press the Volume Button and Side Key simultaneously until you see the Power Off screen. From the Power Off Screen, drag the Power-Off Slider and let your device turn off.
Step 2: Wait 30 seconds and then press the Side Key to turn it back on.
If the problem continues despite restarting, move to the following solution.
Solution #5. Force Restart iPhone 
Quickly Press and Release the Volume Up Button.
Quickly Press and Release the Volume Down Button.
Press and hold the Side Button.
When the Apple Logo appears, release the Side Button.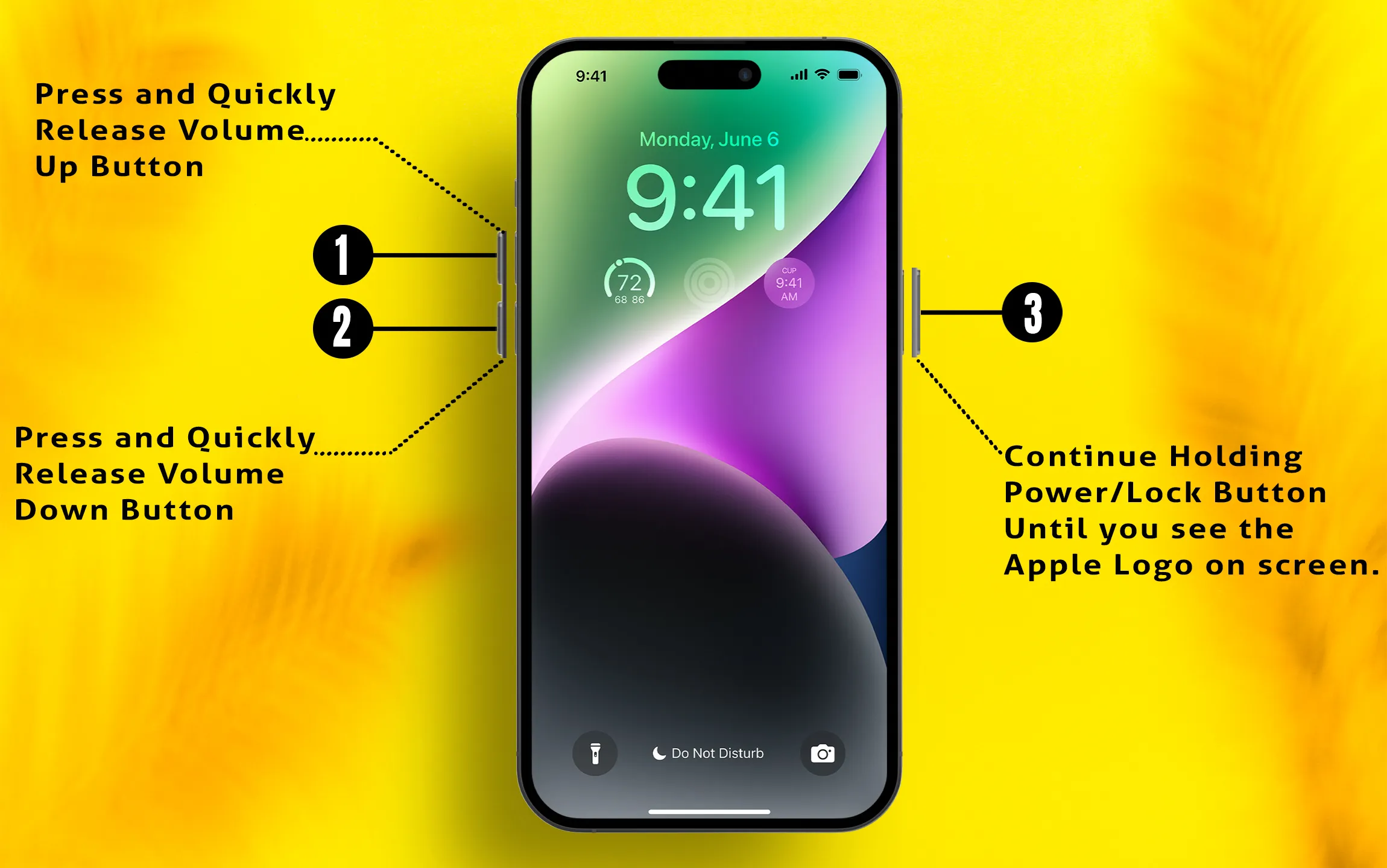 Solution #6. Update your iPhone
Apple team is always active in taking users' reviews and feedback on it's current running iOS version. If they notice something going wrong that is affecting many users, they will fix it by releasing an iOS Update. Hence, keeping your iPhone updated to the latest iOS version is important.
Head to the Settings App.
Tap on General.
Hit on Software Update.
Now, let your device check for updates.
If available, tap on Download And Install.
The above-mentioned will fix Action Button not working on iPhones due to software-related bugs. But if the issue continues, it's time to visit the Apple Authorized Service Center. And once you get in contact with Apple, they will definitely help you to fix it. For this, we have created a separate article. Learn how to contact the Apple Support Team.
Solution #7. Reset iPhone
Sometimes, software updates can hinder the functioning of the iPhone Action Button. So, whether the Action Button stopped running after updating your iPhone, then you must reset your iPhone by following the steps below.
Go to the Settings. Search and select General.
Tap on Transfer Or Reset iPhone. In the next screen, tap on Reset. 
Choose Reset All Settings. Enter the Passcode.
At last, tap Reset All Settings.
If this solution doesn't work, however, before proceeding with this method, make sure to create a backup of your data from your iPhone, as it can directly affect it.
Go to the Settings.
Search and select General.
Tap on Transfer Or Reset iPhone.
Choose Erase All Content and Settings.
Follow on-screen instructions to finish the procedure.
That's It!
Final Thought!
These all are troubleshooting tips that you can use to fix Action Button not working on iPhone. While this can be nerve-racking, we hope you have performed all these tips to fix the problem. If nothing goes on your side, try visiting Apple Care, which is the only resort to repair your buttons and get back to it working normally.