Each device manufactured by Apple, give a unique identity number for the reference and Future queries. 12 digit Alphanumeric code called Serial number, here I show you from where you can get Apple Watch serial number easily when you need it. It also helps to understand device model number, Manufacturer place, Year and more.
If you have a problem with the device, so you can easily submit a request to Apple via the apple support center and easy to know chat manager with serial number reference.
Useful for All Apple Watch models included Apple Watch 5, Apple Watch 4, Apple Watch 3, Apple Watch 2, and Apple Watch.
Get Apple Watch Serial Number in alternate ways
You have been bought a new Apple Watch at the Apple store, apple website or authorized store, then its okay. We need to check device cross-verification before start to use if we buy from reseller, unauthorized seller, Online shopping Website.
You can check the Apple Watch serial number printed on the different locations (Backside of the Box, the backside of Apple watch, Software about info).
Way #1. Check-in Apple watch Setting
This method is helpful to check Apple watch serial number stolen. We can know Serail number of Apple watch that paired with the iPhone earlier or any time.
On iPhone: Open Watch App on iPhone > Tap on My Watch Tab > Now Tap on General > Tap on About and Scroll to Serial number.
On Apple Watch: Press Digital Crown button of Apple watch > Open settings app in apple watch > General > About > Scroll down and code under serial number label.
Way #2. Find On iPhone
Find and open Apple Watch app on iPhone > My watch tab > General > About
Way #3. See on the Box of Apple Watch
Less effective but perfect proof that we should check on the box. The backside of the box you can read the full description of the model, Size, Color, Barcode, and Serial number.
Way#4. Look On the Apple Watch body
Apple Watch 1st generation, Backside of the apple watch face find the serial number.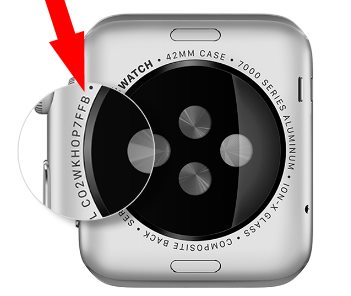 Now, 2nd generation series 1 and Series 2 get print inside apple watch band slot.
Remove watch band and look inside the slot.
in it, First three identify location code, after then one character gives manufacturer year after one is the character is manufacturer week, three character assign product code, last four is Apple watch model.
Now, anytime you can
check
the purchase date, your available service and Support coverage by submitting apple watch serial number only.
Here's Get guide on HomePod Serial Number checker