Last Updated on Aug 16, 2022
You can do all the things with an apple watch done on your iPhone, Like make a call, receive a call, Send or Receive iMessage, access apps, change settings, and more. But here I am discussing what to do? if your apple watch won't send iMessage or text messages directly via the watch.
If iMessage is not activated on iPhone, then your text iMessage send as a simple Message. But is it possible on Apple Watch? That's not possible. So you have to go with your iPhone on an urgent basis. Before that, follow the below tips, in any case, you can't send iMessage from Apple watch.
Steps on Fix Apple Watch Won't Send iMessage or Reply iMessage
On iPhone filed iMessage will be marked with a red exclamation point. But on Apple Watch you will get a "Failed to send", "Sending…Status" message.
Fix 1). iMessage activated on your Carrier
First check on your Apple watch paired iPhone, iMessage activated under the settings. And test you can send iMessage from iPhone successfully. If not then there is no problem on your Apple watch otherwise go to the next steps.
Fix 2). Use Phone number as iMessage
You are "Start new iMessage conversations" using the phone number, Not using Email. Please check and Verify from the iPhone settings app,
Go to the Settings > Message > Send & Receive > Use Phone number and Try.
Some time wrong setup and Apple Watch Paired with another iPhone not able to connect your original Apple ID.

In the result, can't send iMessage (New text, Incoming message Reply, Send a new Message) from Apple watch successfully. Not working? Troubleshoot using the next steps.
Also Read – Try the best Apple Watch Faces
Fix 3). iMessage on Apple Watch Only Send Green Message
Green message on Apple Messages app mark that you are using Test message, Not iMessage. iMessage Text is always blue. So I recommend forcing the Message app from iPhone and App Watch also. Re-Launch the Messages app on Apple Watch and Try to Re-send iMessage from the Apple watch.
On Apple Watch: Press the Digital Crown button to go apple watch home screen, Next, Press Side button and Switch all running app on Apple watch into App switcher, Swipe to left for a close recent app on apple watch.
On iPhone Force Close Message app.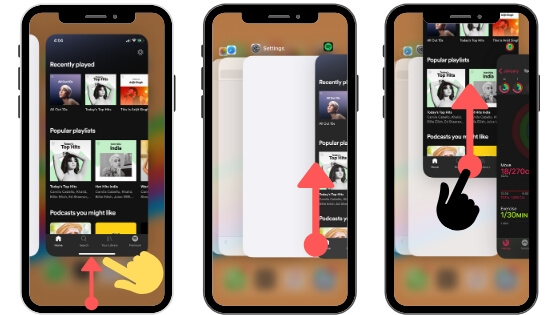 Fix 4). Sign out and Sign in Apple ID
suppose having issues like Apple Watch Activity messages not sending or your Apple Watch won't send messages to android. Please check that Send as SMS is enabled and iMessage is turned off.
Reset iMessage activation status in apple Server by signing

Out and Signing with Apple ID and fix Apple watch Message not Delivered.
Go to the iPhone Settings app > Messages > Send & Receive > Tap on Apple ID > Sign out.
Fix 5). Apple Watch Paired or Near to your iPhone
Bluetooth connectivity between your iPhone and Apple watch might be poor on the long distance between them. Or Bluetooth should be turned on the iPhone.
Fix 6). Restart Apple watch: Works in most case
Press and hold a slide button until you see turn off slide button on watch's screen. Start apple watch by press side button, until you see the Apple logo. Or Force restart by press side button + digital crown for 10 seconds.
Erase apple watch Old/ Wrong configuration: (Unpair/Pair Again) Reset apple watch
Fix 7). Turn off/ On iMessage on iPhone
In many cases, I noticed that people filed the iMessage problem after Disable/ Enable iMessage toggle under the Settings > Message > iMessage. Generally worked after iOS or Watch OS update.
Fix 8). Can't Receive Message notification on Apple Watch
Also check iPhone Settings App, Go to the Settings > Notifications > Messages > Allow notifications > Badge app icon.
Apple Watch message notification not showing, Go to the My Watch App on iPhone > Notifications > Messages > Custom.
Now Test by sending an iMessage from the apple watch, Above all try should be fixed your problem on the Apple Watch won't send iMessage.