🗓️
October 3, 2023
By ✍️
Jaysukh patel
The battery percentage is quite essential for all iOS users; now, for the new iOS, Apple did make a massive improvement in battery-saving methods.
With an on-screen battery percentage near the battery icon on the Home button iPhone and an On a Battery icon on the notch display, we can prepare and efficiently manage our device's use effectively when needed. Battery percentage settings are entirely customizable, so we Optimize the Battery, Like Low Power mode, and Battery Used by App name. He is the all possible fixed solution on how to Turn on/ Show/ Enable battery percentage not showing in iPhone, iPad.
It might be possible you dont know the correct way to check the battery percentage on the iPhone. Learn how to enable and check the battery percentage on the iPhone.
Also Read: Battery icon Yellow
Video Tutorial to fix Battery Percentage Not Showing in iOS 16 on iPhone, iPad
How to See Battery Percentage on iPhone and iPad: 3 Different Ways
iPhone X or Later Model [No Home button iPhone]
Battery Percentage is not more customizable, Which means you can not enable/ Disable Battery percentage on iPhone X or New Models.
Method 1: Show In Status Bar & Lock Screen
For iOS 16 or later, install iOS on iPhone models. With Notch, allow to show battery percentage. Just enable Battery Percentage and Quickly see the Battery Percentage of your iPhone.
Go to the Settings app > Battery > Enable toggle for Battery Percentage. Check the compatible iPhone models listed here if your iPhone is not showing the option.
That's it.
Supported iPhone
Unsupported iPhone
iPhone 13 Pro Max
iPhone 13 Pro
iPhone 13
iPhone 12 Pro Max
iPhone 12 Pro
iPhone 12
iPhone 11 Pro Max
iPhone 11 Pro
iPhone XS Max
iPhone XS
iPhone X
iPhone 11
iPhone 12 mini
iPhone 13 mini
iPhone XR
Alternatively, Show a Battery widget on the iPhone Lock screen. Using a customized lock screen feature in iOS users, allows iPhone users to add a battery Widget on the lock screen.
Video guide to see battery Percentage on iPhone lock screen
Method 2: From Control Center
Still, here are the three ways to know or show battery percentage on iPhone X & New iPhone models,
#1: From the Control center: Swipe down your finger from the Top Right edge of the screen, At the top of the control center, you can see the Battery percentage in digits due to lack of space (iPhone X Notch).
iPad users can use the Same way to Show Battery Percentage on iPad. Pull Down your Finger from the top-right edge of the iPad screen [On Control Center].
Know Why Battery Is yellow, Green, Red on iPhone, iPad?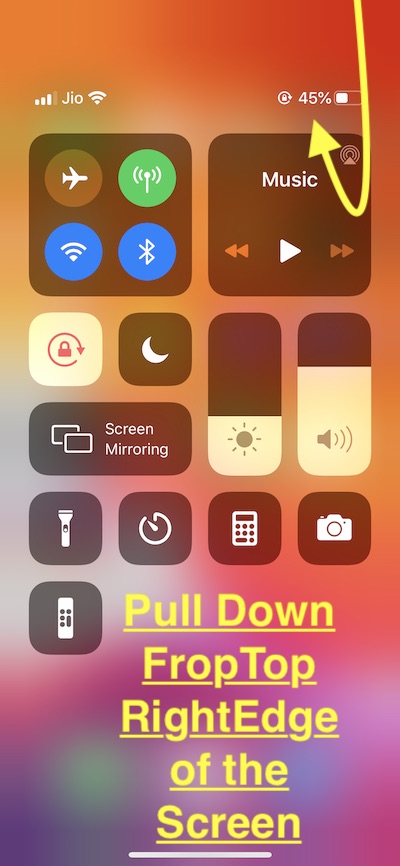 Battery Percentage on iPad Control Center [Home button iPad and No Home button iPad],
#2. Using Siri: Activate Siri (Press & Hold the side button or Use Hey Siri to Wake up on iPhone/iPad screen), And Ask Siri: "What's my Current Battery Percentage."
#3: Connect Charger: Know when you keep your iPhone on the charging pad or USB charging lightning cable.
For other iPhone models, get the tips below to fix battery percentage issues.
Fix 1: Enable/Turn on Battery percentage in the iOS Settings app
Step 1: Go to the Setting app from your iOS devices (iPhone, iPad, and iPod Touch)
Step 2: Next, Tap on Battery next the general option.
Step 3: Enable Battery Percentage, for show the percentage near the battery icon on your home screen.
(Note: iPhone X now has option for Battery Percentage, Show battery Percentage using the above guide in iOS 16 & later Update)
Useful: Improve iPhone Battery Life
Fix 2: Force Reboot Device
Still, the Battery percentage doesn't exist on the screen, try force restarting the iPhone and iPad and see if the issue is resolved or not.
For iPhone 8 or later:
Press and quickly release the Volume Up button.
Press and quickly release the Volume Down button.
Press and hold the Side button until the Apple logo appears.
For iPhone 7 and 7 Plus:
Press and hold the Volume Down button and Side button until the Apple logo appears.
For iPhone 6S or earlier:
Press and hold the Home button and Sleep/Wake button until you see the Apple logo on the screen.
Fix 3: Keep iPhone/iPad/iPod Touch Up To Date and Remove Unwanted Optimized Apps
Any iOS updates are available: Check Settings > General > Software Update. You can often see a badge icon on the setting app with a notice about new updates available for you! Remove the Battery optimization App: if you have installed it.
Fix 4: Reset All Settings
An incorrect setting might trigger the Battery percentage functionality and battery percentage might disappear from the top status bar. Reset all settings will clear all the customize settings to the default Apple settings.
Open the Settings app.
Tap on General.
Tap Reset.
Select Reset All Settings.
Confirm Reset.
Fix 5: Due to Corrupted iOS Battery Percentage Not Showing
If you have an old iOS backup, then you can restore or Update to the Latest iOS using iTunes or iCloud. Get to the Settings app > tap on your name > iCloud Backup > Locate the latest backup and restore it.
Note: Take a backup before upgrading or downgrading the current iOS version.
Still any problem with battery percentage not showing in iOS with iPhone, iPad, iPod Touch, or any other model.
Share with us the full detailed story in below comment box.