in this article, I will share with you the best Currency Converter apps for iPhone, and iPad for the latest iOS. Are you looking for the top best iPhone apps to convert currency into foreign Countries' currency? You're lucky today because of more Apps available in the App Store but you can get the latest collection of best currency converter apps for iPhone. Get here the best free Currency converter iPhone apps and paid currency converter iPhone apps. If you're traveling for a foreign country tour and you'd like to buy items at their, that time this best Currency Conversion apps for iPhone become most useful to you.
Even you can use it for Trading business Purposes as well almost Products based on import, export business (Auto exporters, resource venture companies, Lumber exporters, Stockbrokers USA) required live exchange conversion rate; So you get instant exchange rate using these good digital tools. Look beneath top Exchange Rate calculators for today and the past as well forecast.
Compatible iOS Models: Apple iPhone 13, iPhone 13 Pro, iPhone 13 Pro Max, iPhone 11, iPhone 11 Pro, 11 pro Max, iPhone XR, iPhone XS, iPhone XS Max, iPhone X, iPhone 8, iPhone 8 Plus, iPhone 7/7 Plus, iPhone 6/6S/6 Plus, iPhone 5S and all iPad models.
Why Must have a Currency Converter app?
Traveling to a new continent or country where there is an entirely different currency, and you are worried about currency conversion rates? Then the currency converter apps are the best modes of getting all the information related to currency conversion and exchange rates for all the different countries. These applications make it easy for you and the local shopkeepers and vendors to understand better the cost of a specific item in their currency when you travel to their country.
Through hours of detailed review and analysis, we have put together this list of fantastic currency converter apps that will help make your life much easier while traveling to a new country. Now that you can enjoy spending time viewing the architectural marvels and natural beauty of the place without worrying about currency conversion.
Related More:
What is the Best App for Currency Conversion? For iPhone, iPad
1. XE Currency: One of the Most Popular Currency Converter Apps for iOS and Android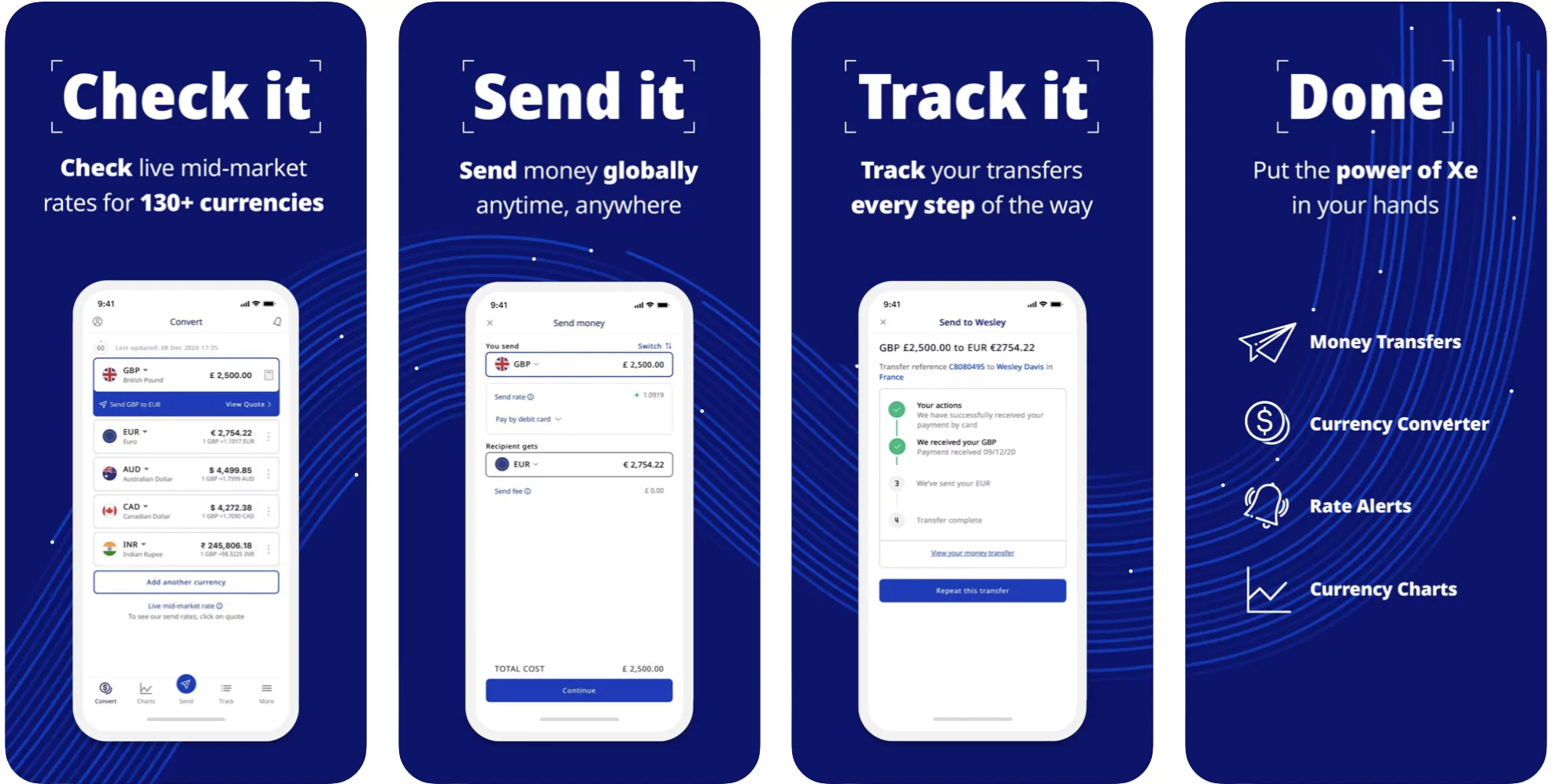 XE is a free Exchange Rate App for iPhone and Apple Watch. An app is most useful for daily use and travelers in other countries. it supports Apple Watch and wonderful API for iMessage. Get accurate live historical charts on a single screen. Amazing to monitor your favorite currency exchange rate in immediate notification.
Get Live Price of Bitcoin and Convert into Bitcoin to USD, Pound, INR.
2: Currency
The Currency app is one of the first 500 applications launched in the App Store and is available for Apple Watch, iPhone, and iPad. This app is a simple yet powerful currency converter that provides the latest currency exchange rates for more than 160 countries and currencies. It has been the number 1 currency converter app since the year 2008, so you can rest assured about the effectiveness of the application.
This app has many uses; one can use it while shopping to understand the price of an item better, or you can hand it to shopkeepers to make them know the rates in their local currency. You can easily put in any currency on your exchange list and just as quickly delete it when you no longer need a country's information. You can even move each country up and down on the list to make it simple to evaluate and see what you need as and when required.
Hence, download the Currency app today to enjoy your time without worrying about the currency exchange rates while visiting a new country.
3: My Currency Converter & Rates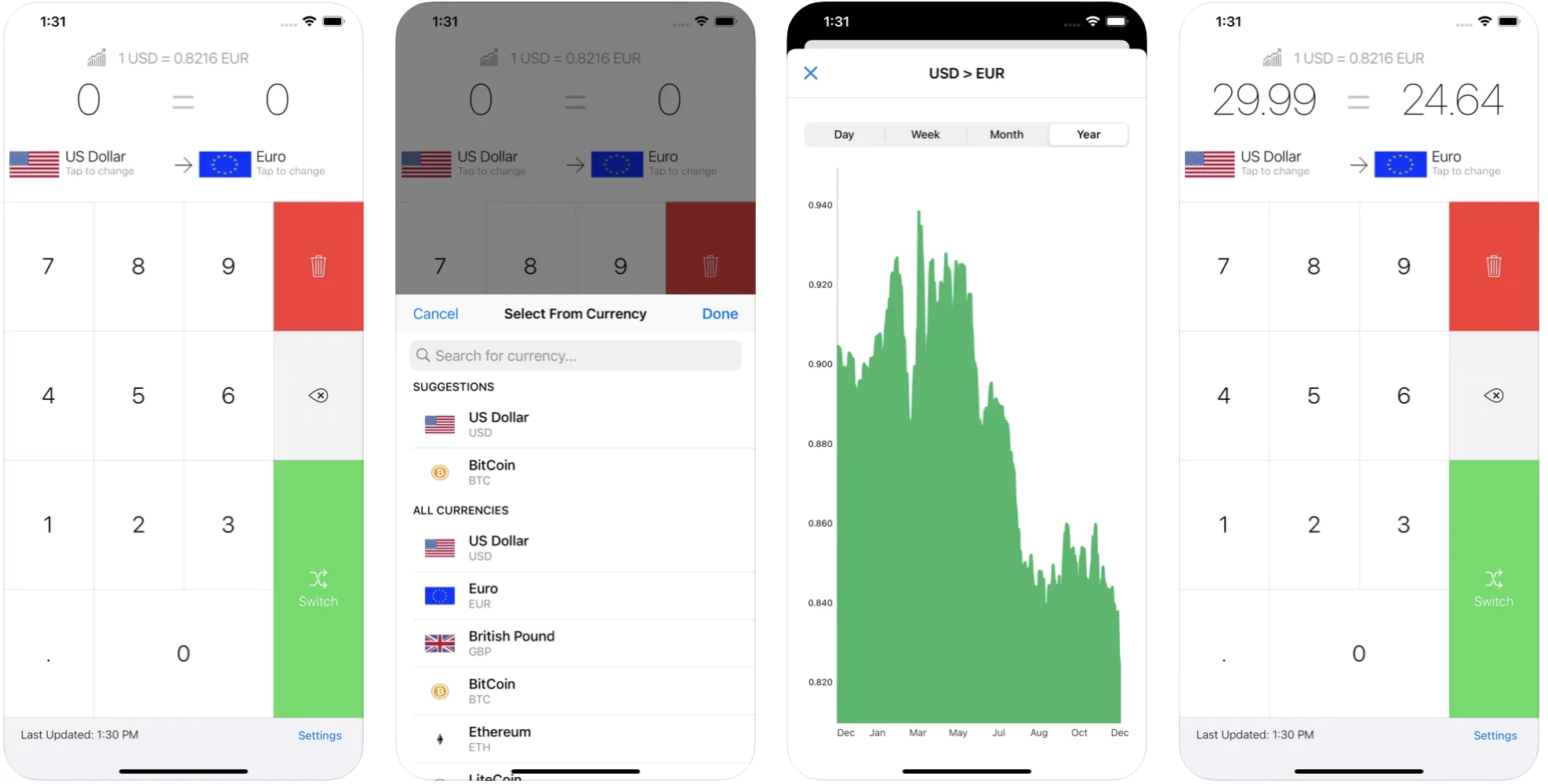 Suppose you are looking for a simple, user-friendly, and easy-to-use currency converter with the support of more than 150 different currencies from all around the world. In that case, the My Currency Converter & Rates application is the app that you need. This app supports Bitcoin, Dogecoin, Litecoin, and currencies ranging from the Colombian Peso and Indian Rupee to the US Dollar. This app works ideally even without the internet and allows you to determine how much your currency is worth in just a few moments. This currency converter app saves your frequently used currencies making it easier to select your most recently searched currencies in one go.
The users are required to enter only one amount at a time and then add all the conversion amounts separately in the app as it converts only one field of a number to the other. The My Currency Converter & Rates application never fails to show the present prices of the currencies based on the time of the previous rate chart update. It is also effortless to switch among multiple currencies as and when required by the user.
Therefore, install the My Currency Converter & Rates app today to take care of all the currency conversion and exchange rates.
4: Currency Foreign Exchange Rate [Offline Use]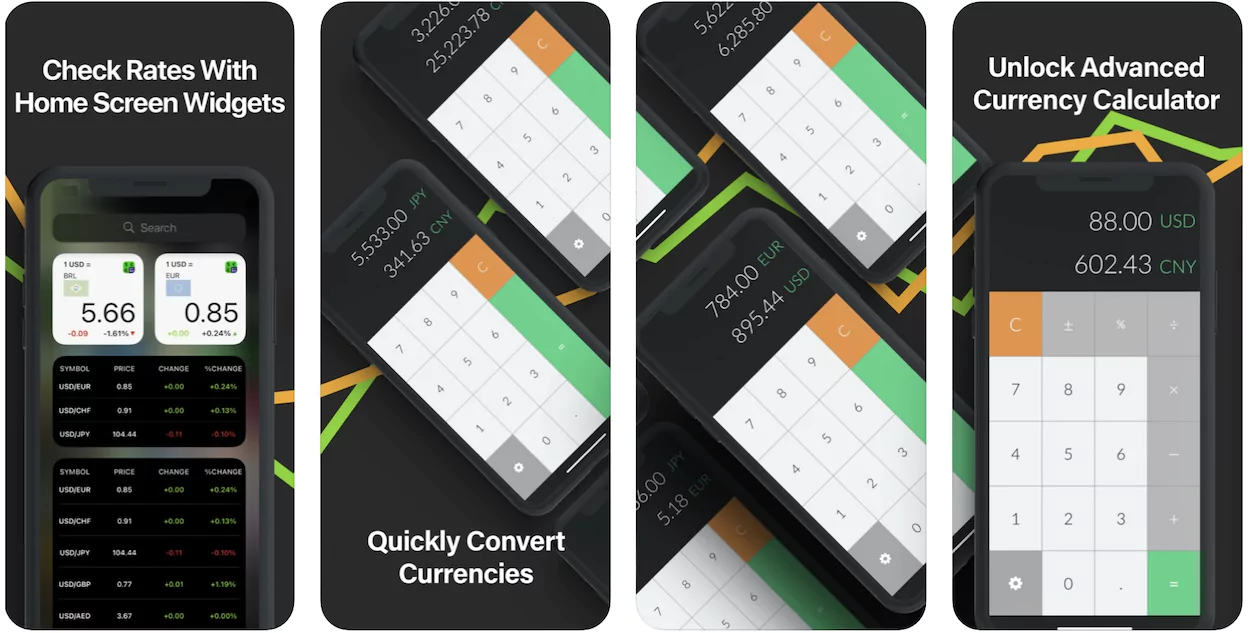 Whether traveling for business or leisure, have international foreign currency exchange rates all at your fingertips with the incredible Currency Foreign Exchange Rate app. It is a very straightforward, powerful, and beautiful app that allows you to convert your money quickly and discreetly. This application is accurate and reliable as it updates the exchange rates every hour.
With the support of all the 170 world currencies, in addition to Silver, Gold, and Bitcoin, the Currency Foreign Exchange Rate app is truly remarkable. The Offline Access feature helps users avoid all the expensive roaming fees. One can even modify exchange rates, including the banking fees, with an option to set their favorite currencies.
Currency Foreign Exchange Rate is an excellent app for traveling and getting detailed information about conversions. So download the Currency Foreign Exchange Rate today.
5: Currency converter◇ – Support Offline Use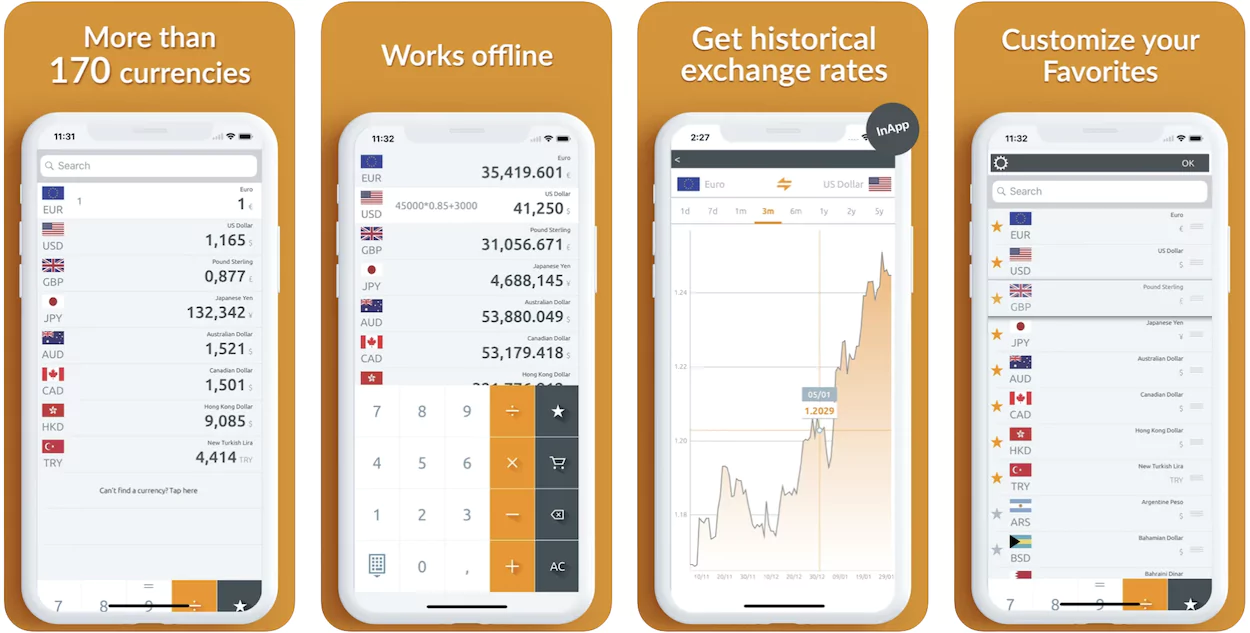 Currency Converter ◇ is a handy currency converter application with a friendly and intuitive user interface. This currency calculator app comes with the support of more than 170 countries and currencies around the globe. This application also allows the users to do basic maths calculations. You can use the app even without any internet connection as it has the ability to work offline.
With a large entry field for a quick search, the users get a simplified and convenient search option for looking for the currency that they want to convert. The currencies exchange rates are updated in the Currency Convertor ◇ at every application launch, making it accurate. It also features a subscription plan that removes all the advertisements and provides detailed information about the Historical exchange rates charts between two currencies.
So download the Currency Convertor ◇ app right now to handle all your currency conversion tasks efficiently.
6: My Currency Converter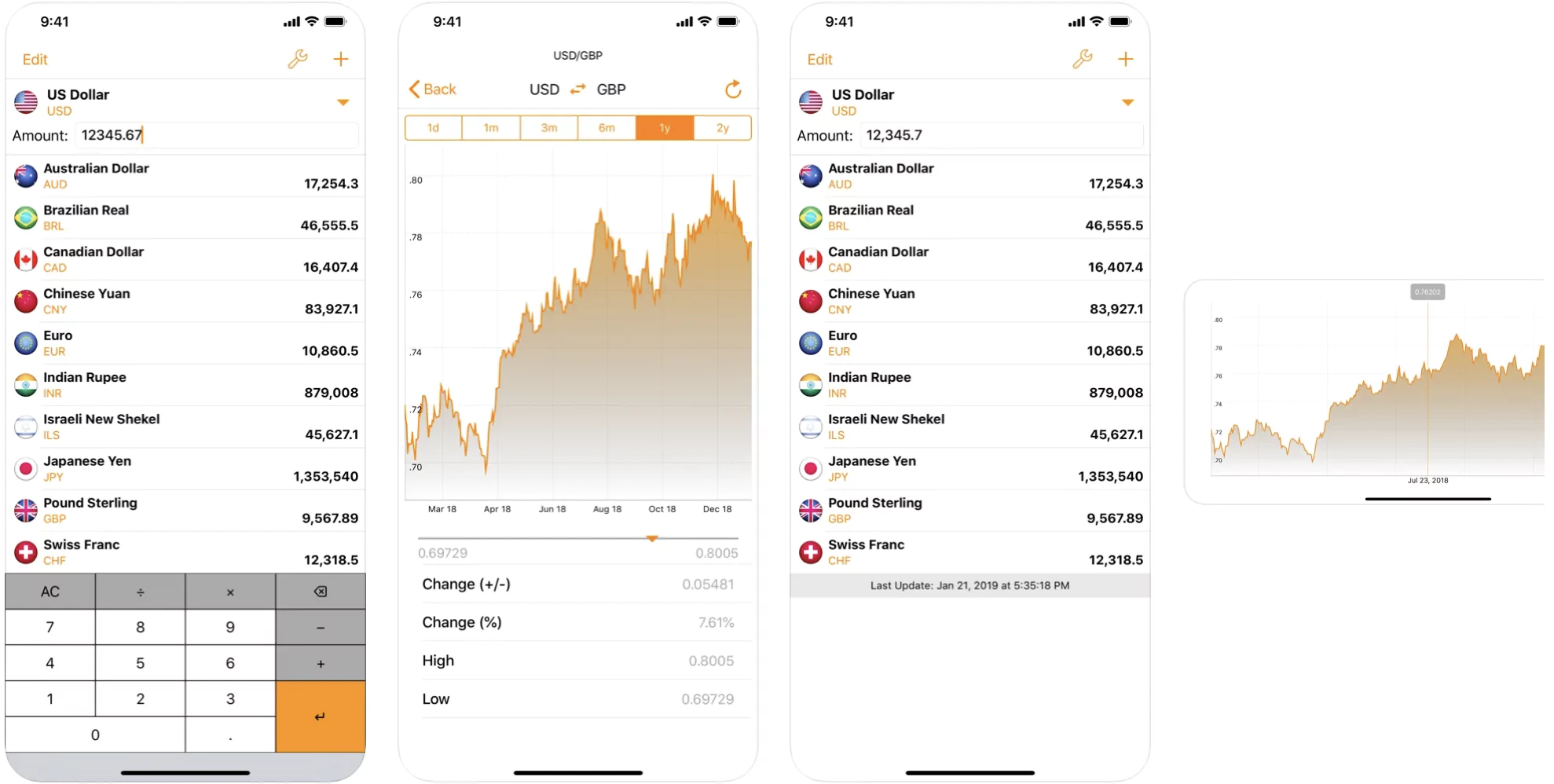 Another free currency converter with the support of more than 180 currencies, exchange rates, charts, and calculators is the My Currency Converter app. This app has live exchange rates for 180+ currencies, including popular cryptocurrencies like Bitcoin and Ethereum. You can even set up your personalized currency list to see all the essential and most used currencies at first glance.
My Currency Converter is one of the most efficient apps to have when you need to match or compare the foreign currencies of various countries. Hence, download and install the My Currency Converter app straight away to have all the world's currencies in your hand.
7: Currency Converter- xCurrency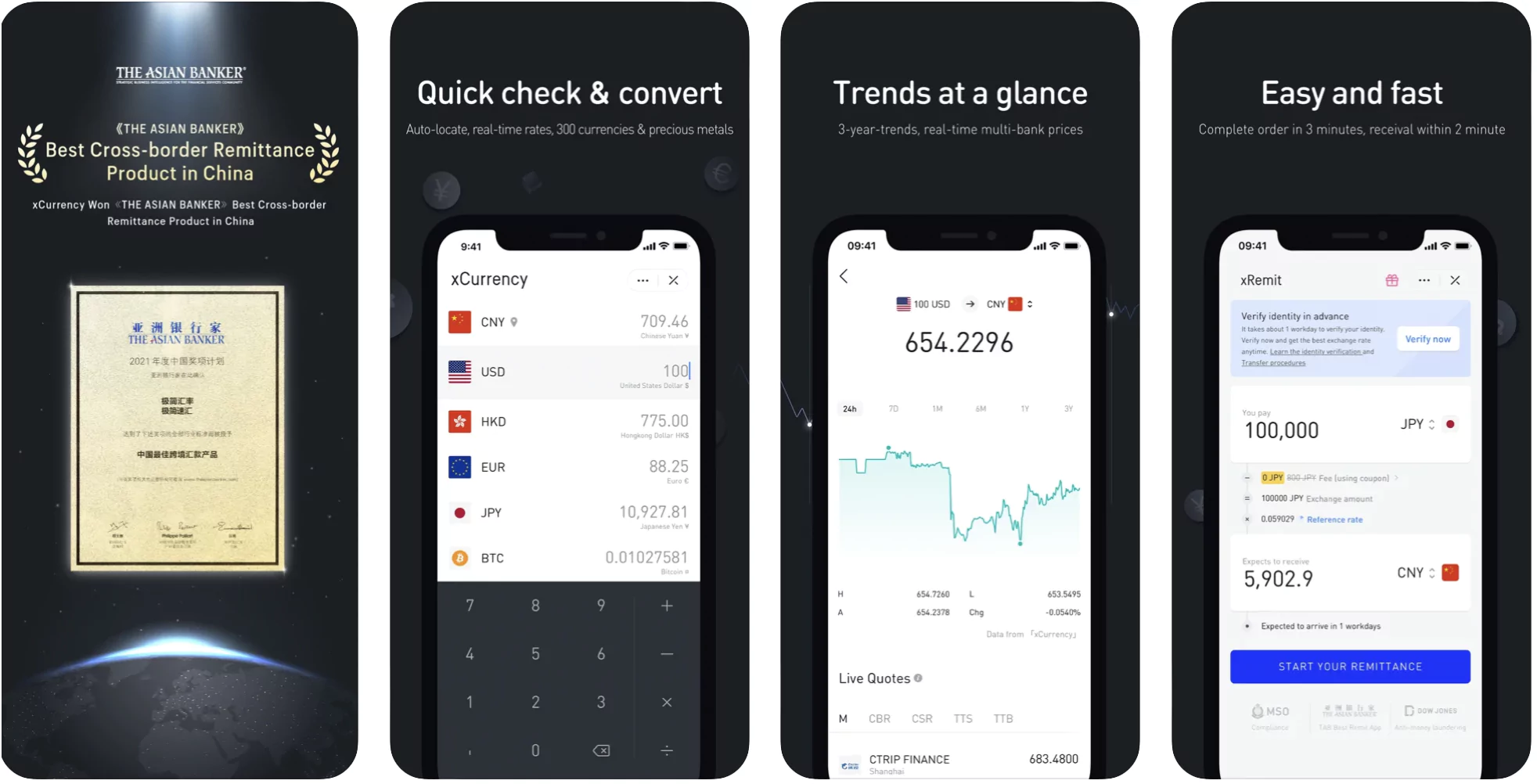 xCurrency is an innovative, simple, and quick tool that helps you resolve cross-border currency conversion and exchange rate issues. This application is a fantastic currency converter with an advanced built-in calculator and international remittance services. With the new update, you now get an optimized guide tutorial, sharing invitation function, design of exchange rate details, and quotation pages, making it easier for new users to get started and invite friends more smoothly.
You can also view the real estate policy in real-time, combined with the unique feature to set the capability to withstand the upper and lower limits of the task in this app. Hence, download the xCurrency app from the App Store to start your currency conversion journey.
8: Currency converter calculator! – Offline Mode
"Currency converter calculator!" is an incredible currency converter application built for Apple devices like iPhone, iPad, and Apple Watch. The app is available to use in Offline mode, making it easy for users to do the conversion in places with no network. With over 150 world currencies, cryptocurrencies, current exchange rates, and smart currency search, "Currency converter calculator!" is one of the best currency converters for Apple devices.
The Currency converter calculator! It has a unique feature that enables the users to set a Convenient widget on their home screen for easy access. This app also works perfectly with the clipboard and can be personalized to dark mode.
So, download the accurate and straightforward Currency converter calculator! the application now to keep track of all the expenses when visiting a new country.
9: Exchange Currency Converter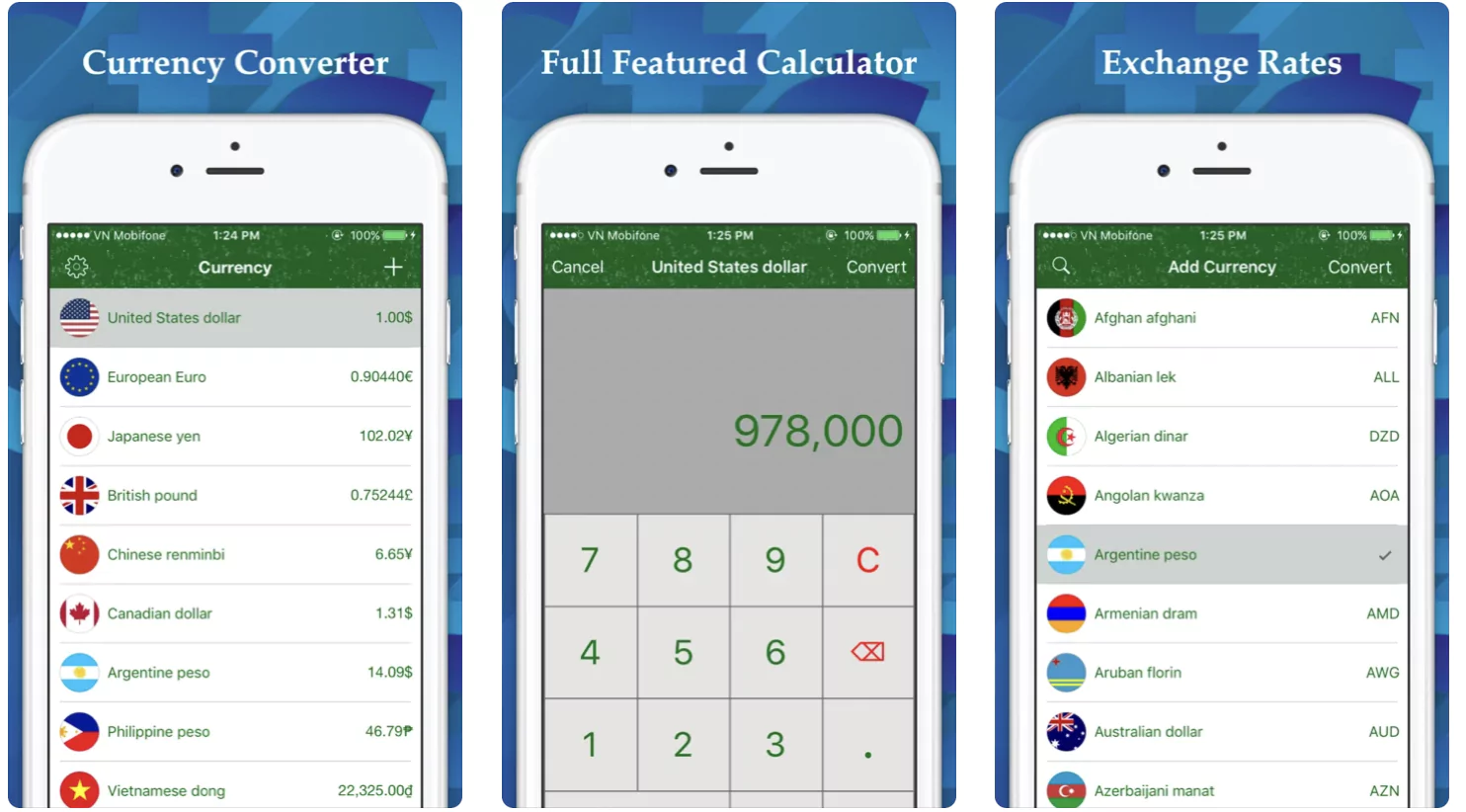 The Exchange Currency Converter is a big help for people who love traveling and have a tendency to shop without giving it a second thought as it converts the currencies of over 160 countries so that you can keep track of all the expenditures. It is a potent and easy-to-use tool that automatically updates the startup's exchange rates.
This app's Auto rates update feature makes this app very convenient to use as you don't have to update the rates manually. However, one can also go for the manual update of exchange rates as per their choice. With other essential features like Calculator, Search, and an easy-to-use appealing interface, the Exchange Currency Converter app stands out from its competitors.
Hence, install the Exchange Currency Converter application without wasting any time, and rest assured about your trip's hectic currency conversion part.
10. Currency Converter Plus Live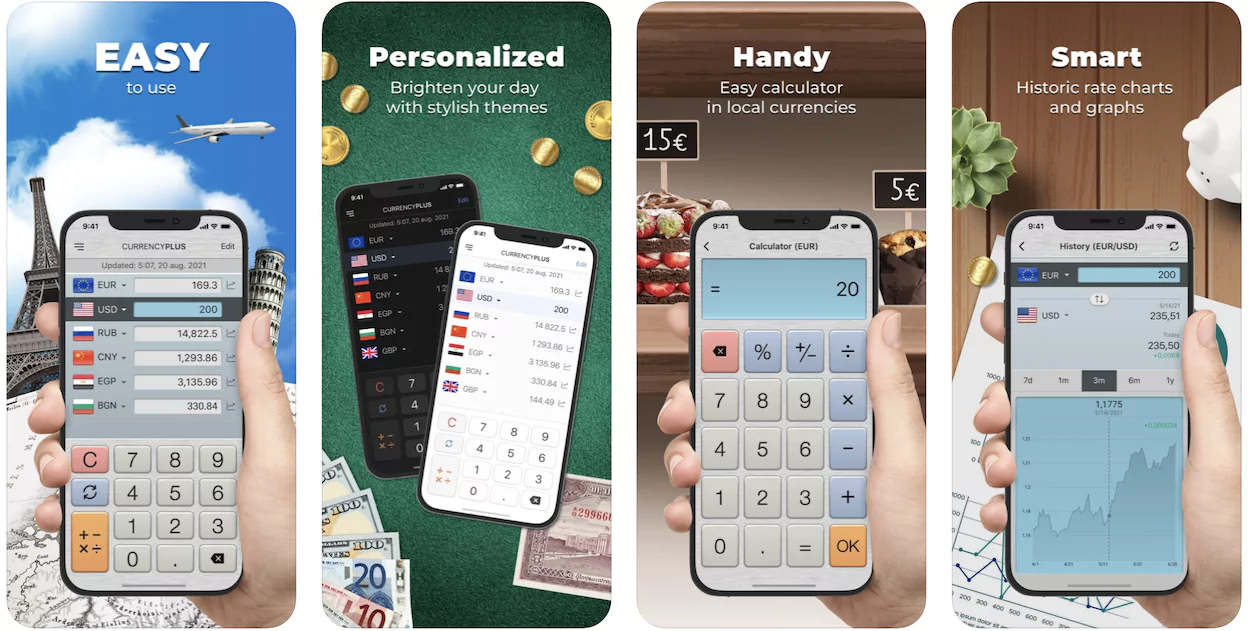 One of the most straightforward and comprehensible solutions for all of your around the globe exchange rates is the Currency Converter Plus Live app. With numerous currency fields, rate charts of all the historical data, and a basic calculator for use when required, the users can collate prices anytime and anywhere while traveling to a foreign country. All conversions on this application are based on the data from live currency exchange rates from AccuRate™, which provides top-notch and precise rates available around the globe so that you can be sure you're getting the finest deal at the present rate.
In addition to that, this application is also compatible with working in the offline mode for traveling and buying goods at places with no cellular reception when the conversion cost data is not available. Currency Converter Plus Live also supports cryptocurrencies like Bitcoin, Ethereum, etc. You can also set your custom fields for instant currency conversion. Other vital features include Historical graphs, rate charts, and other related data that give detailed information about the previous conversion rates and allow the users to convert several currencies simultaneously.
Therefore, be in touch with the latest currency conversion rates by downloading the Currency Converter Plus Live app right away.
11. Currency Converter • Rates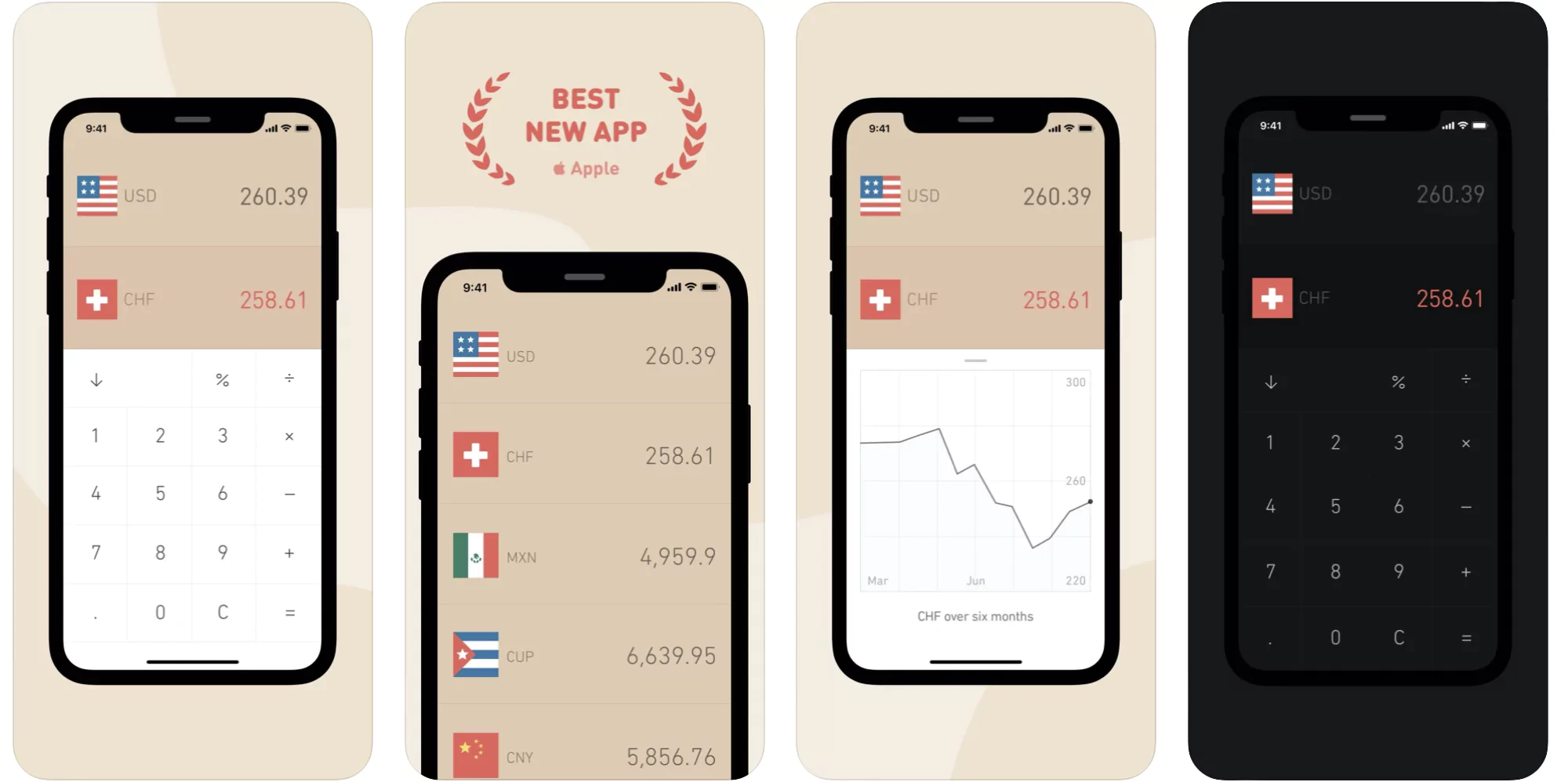 Now you save yourself from frauds and save a lot of money with the Currency Converter • Rates app that provides accurate and detailed information about the currency conversion rates of more than 160 currencies of the world. It is a user-friendly and simple currency converter app that enables customers to build a list of their favorite currencies for quick access to conversions.
With the Currency Converter • Rates app, you always know you're getting the best foreign exchange rates straight from the bank as they update the currency data daily. This excellent currency converter app helps the users to make decisions from the trend line to find the best time to convert money by allowing them to view six months of historical exchange rate data that updates live to the converted amount.
Install the Currency Converter • Rates app today and avoid getting charged more than the original amount.
12. Currency Converter: Exchange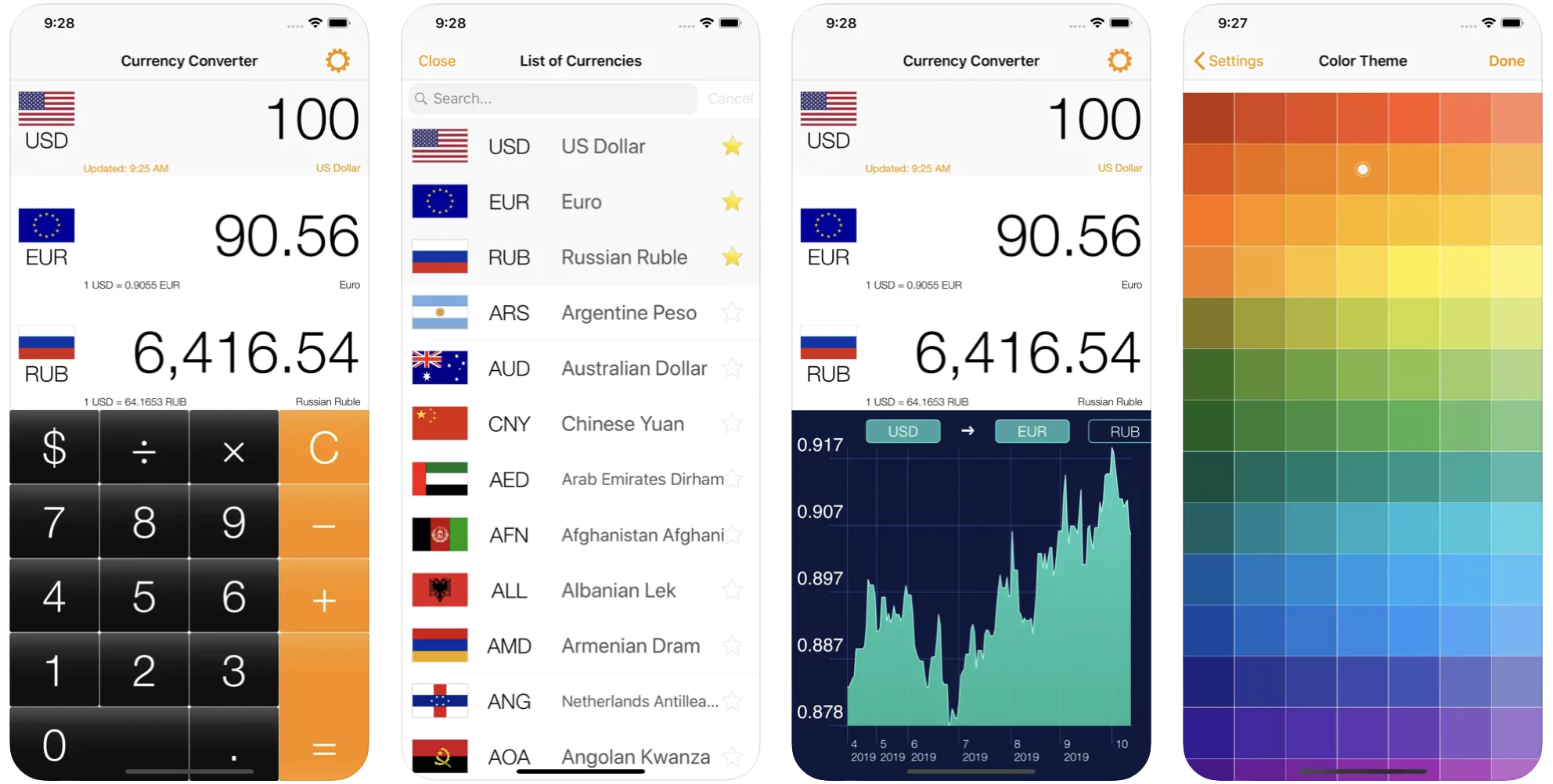 If you are looking for a currency converter app that features live exchange rates while traveling to a new country or continent, then the Currency Converter: Exchange is the app that fulfills this purpose perfectly. This nifty app makes currency conversion a quick and straightforward task by gauging the prices of different items correctly. It is one of the most precise and free-to-use currency converters available in the App store.
Hence, download the Currency Converter: Exchange app today and be one step ahead of the people trying to fool you into getting more money.
13. My Currency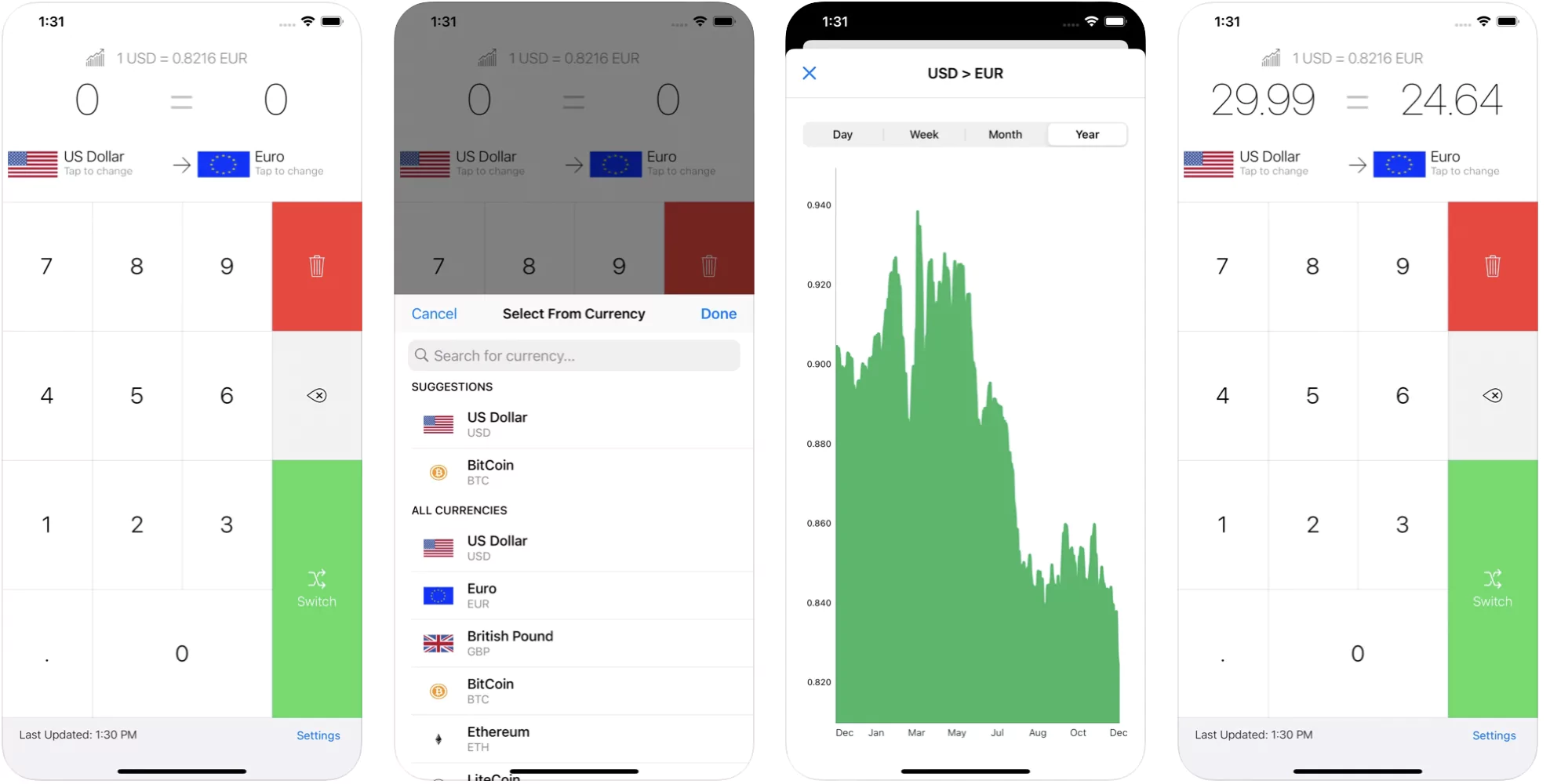 My Currency is a free currency app for iOS devices. No cost to download. A big benefit is that you can get the exchange rate on your bigger than bigger iPhone. The app has supported over 150+ currencies. A key feature of the app is the Switch button to invert the currency.
14. Banca Currency converter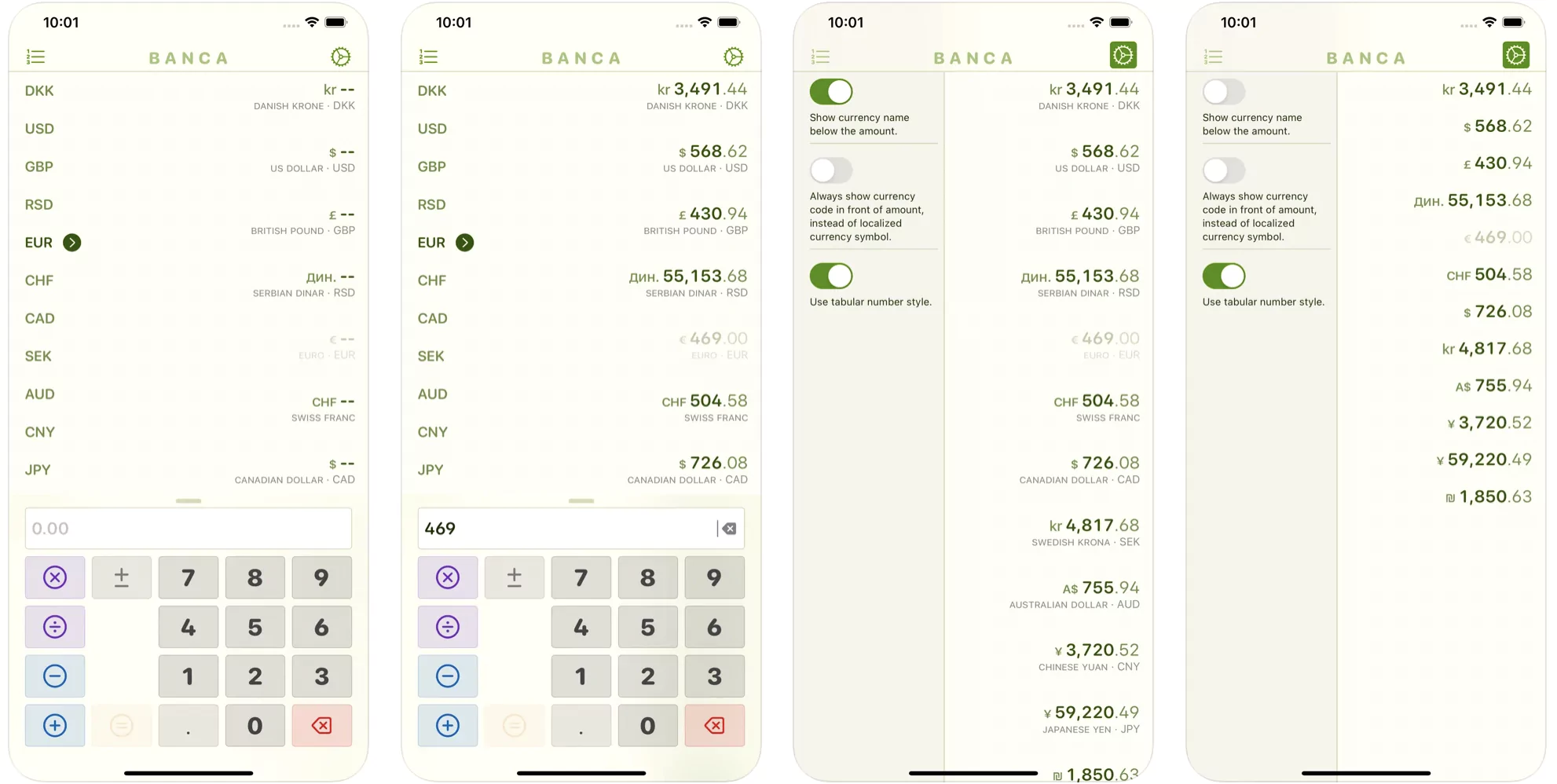 It gives good support to your iPhone. You can easily manage your favorite currencies and get automatically refresh the exchange rates. many things you can use by doing customizing like font color, work online, offline. The Banca app is compatible with iOS 9.3 and later.
This is App is not available to free of charge.
15. Currency: Currency Converter for iPhone, iPad, and Apple Watch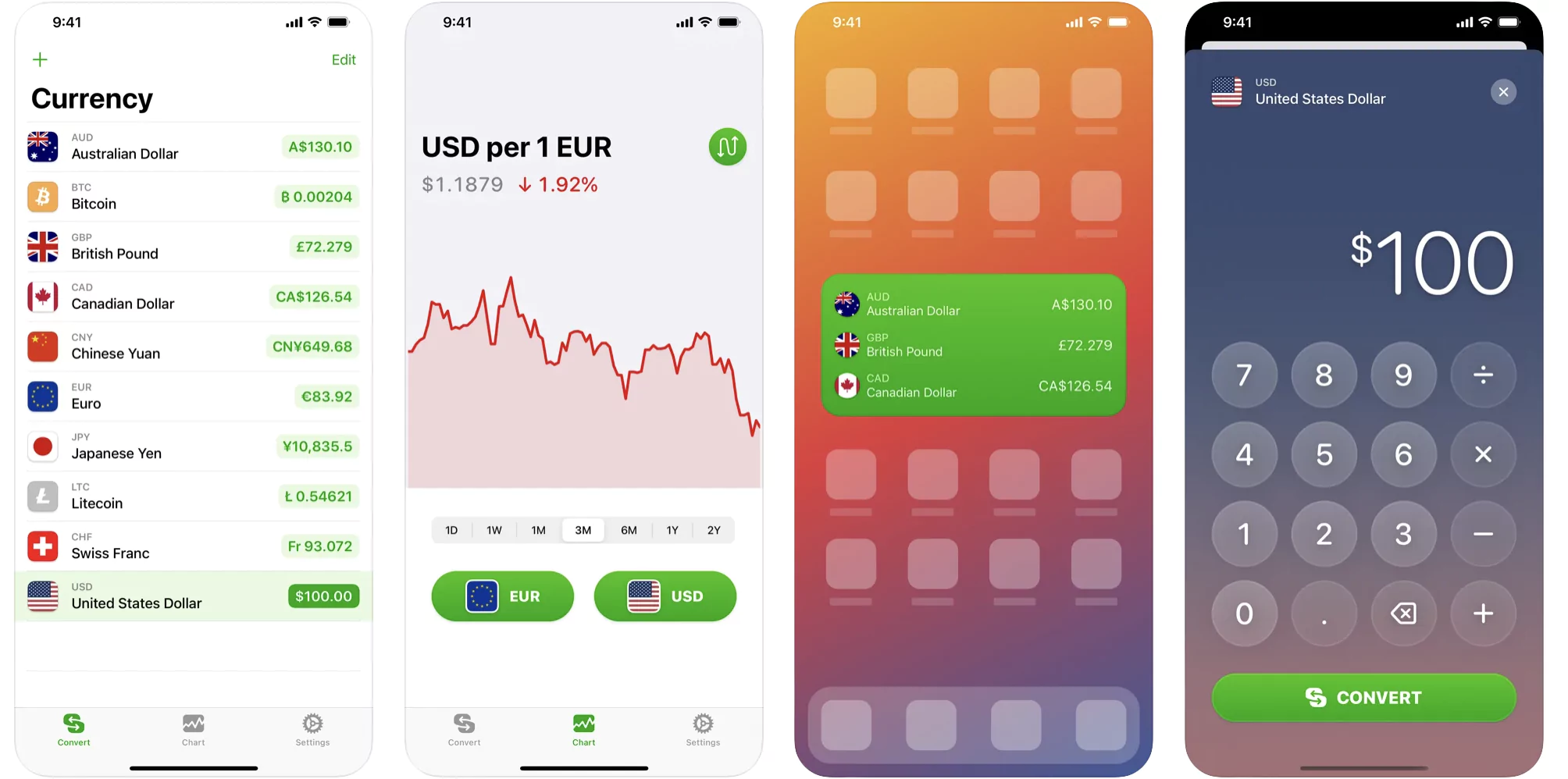 The Free Currency app supports more than 160 + currencies converter efficiency. The app doesn't require internet services means it can easily work in offline mode. The app easily works with a Simple gesture interface and up-to-date app for iPhone, iPad, and Apple Watch. Get a live historical chart using the Currency Conversion app. it runs smoothly on iOS 10 and later running devices and is excellent for 3D touch supported iPhones. it is also supported by the new iPad Pro.
16. Rates
The Rates app is the currency converter and regular unit converter bundled into one. Add and remove currencies, to access the menu swipe side and side, and more features. Rates supported over 150 countries. Rates application is free on the App Store.
17. Amount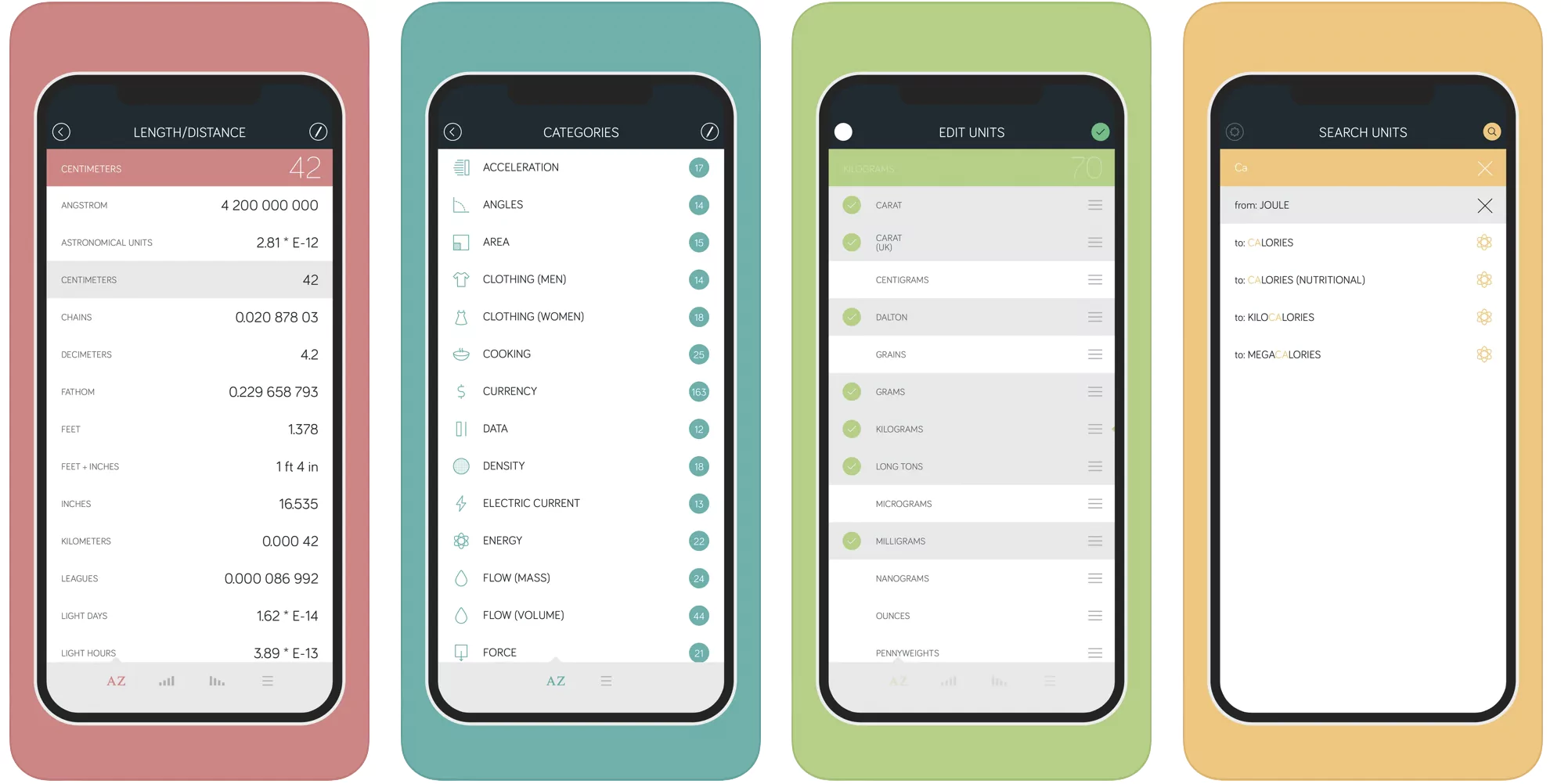 The Amount app does not only work as a currency converter but it can measure up to 700 units and differ 30 categories of items Such as Acceleration, Angles, area, Clothing (Man), Clothing (Women), Cooking, data, density, and more.
Move the screen using swipe gestures. Get Real-time conversion through just one tap on a single screen. An Internet connection is required. User-friendly and lightweight easy to use.
Leave all the stress and tension about getting the correct and accurate currency exchange rates while traveling to a different country by downloading the apps mentioned in this post. Knowing the history of rates and exchange charts is essential for understanding the perfect time to exchange the currency. This article successfully provides amazing currency converter apps to meet this requirement. Let us know about your thoughts, experience, and views while using the apps listed above in the comments section below.
Note: iOS users asking for offline currency converter apps for iPhone and iPad. Obviously No, it's not possible because, on a specific time interval, Currency rate and minor or bigger fluctuations always come. That can find easily using free and paid currency converter apps.
Look at these Forex trading Apps for iOS and Translation Apps. Currently, which apps are you using to get live currency conversion rates?
Leave a reply to the comment below. Don't forget to share your feedback about how this collection for the best exchange rate Converter apps helpful? You also find us on Facebook and follow us on Twitter.