🗓️
July 24, 2023
By ✍️
Jaysukh patel
From the stars in the sky to star wars on the lock screen, stars are fascinating.  It is necessary to have something you like as wallpaper in today's world where everyone spends much of their time on their phone.  Customizing the wallpaper according to your favorites is of utter importance.  Star Wars, an American epic space opera multimedia, is what every growing kid loves and adults admire. 
As the most successful and influential franchise in the history of movies and films, star wars has acquired an important place. Star Wars is what everyone would love to have and must try at least once as wallpaper. 
Here is a list of star wars wallpaper to choose from for your iPhone or Android device.
Free Star Wars Wallpaper for your Mobile and Set on iOS or Android
1. Star Wars Darth Vader wallpaper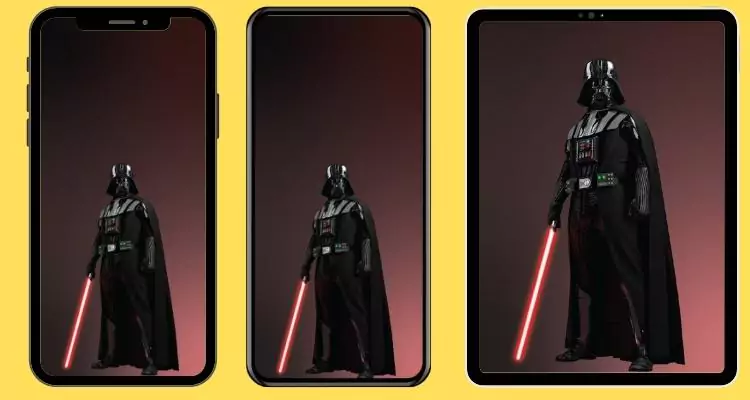 The dark lord of the Sith, the renowned Darth Vader, is an admired character and primary antagonist in the Star Wars franchise. It would be one of the best wallpapers for someone who loves dark and wicked characters.
2. Cool Star Wars Wallpaper
Star War wallpapers are another set of cool wallpapers that fans like and wish for. They find it perfect for their iPhones and especially for desktops.
3. Live Star Wars Wallpaper
IPhone users with updated versions would be aware of the awesome feature of live wallpapers that Apple has brought for its users.
It allows users to set in-motion or animated wallpapers as their wallpapers. The good thing about the variety in star wars is that it offers live wallpapers and can be very intriguing to watch.
4. Lego Wtar Wars Wallpaper
Star Wars is just not limited to your TV screens but is also expanding to the world of games. It has also become a lego theme incorporating the star wars franchise and is the brand-new lego video game that every kid loves. With this fun-filled adventure, cute characters participate in the game. Lego star wars are also available as wallpapers similar to scenes from the video game.
5. Minimalistic Star Wars Wallpaper
Minimalism is the new trend that the youngsters are adopting, and everything very simple and sober. So is their way of choosing their wallpapers for their device. With Minimal star wars wallpaper, one can select an incredible wallpaper for their phone, both for dark more or light mode. Minimal wallpapers are carefully selected and handpicked, especially for minimalists.
6. Cute Star Wars Wallpaper iPhone
Who doesn't love cute wallpapers? Almost everyone does, especially girls and teenagers. This is the perfect collection to select your wallpaper from if you are an aesthetics-lover and like cute stuff. You are going to enjoy this set of star Wars wallpapers.
7. Aesthetic Star Wars Wallpaper iPhone
This fantastic collection is what most aesthetic lovers would be eyeing. This can be one for people who love plain backgrounds for their phones. With the slightest objects or figures, these wallpapers are synonymous with simplicity.
8. Dynamic Star Wars Wallpaper iPhone
The lit sword from these wallpapers forms an integral part of your pretty sweet gallery and is pretty awesome for the iPhones with Oled screens.
9. Christmas Star Wars Wallpaper iPhone
Christmas is that time of the year to feel all Christmassy and loved. It is the season of joy, and so does your phone should display. A Santa star war or a snowman star war would be absolutely right this season. Then why compromise on any other star wars when you have this collection of the best quality and almost all sizes? 
10. Vintage Star Wars Wallpaper iPhone
Old and quirky stuff is just making its way back into our lifestyles. There exists no one who doesn't like vintage ideas. But a blend of vintage with star wars would be even more loveable and next to the idea of perfect. Why not just give it a try as wallpaper?
11. Star Wars Wallpaper iPhone Anakin
A force-sensitive male human, Anakin Skywalker is the key figure in star wars and received immense love and power from their audience and fans was a heroic commander. He had the potential to become a powerful Jedi, and so did its wallpapers. Select one from the variety offered, and there you are.
12. Lightsaber Star Wars Wallpaper
It can be difficult for anyone to acquire a lightsaber, a fictional entry sword for real, but your lock screens can own them. The lightsaber is depicted as a luminescent plasma blade in the franchise and is the favorite element of every fan. Every fan wants to use this sword, which was officially used by the Jedi and others. This elegant sword would be bright enough for wallpaper.
13. Dark Star Wars Wallpaper
Anything with a tinge of black becomes a favorite very quickly, even black wallpapers. A dark wallpaper would be the perfect choice for anyone who operates their phone in dark mode.
14. Red Star Wars Wallpaper
Red, with a combination of black, is impressive and beautiful for the eyes to look at. Lightsabers, planet cape helmets, and other elements from star wars in red shade appeal to your eyes. They would make the right set of wallpapers for star Wars fans.
15. Yellow Star Wars Wallpaper
Yellow could be too bright for the eyes sometimes, but not when combined with star wars. A black print on yellow or a yellow on black would be best suited to your wallpaper as they form another good combination after red and black.
All in all, star wars will be on your phone wallpapers for a long time as they are too appealing to anyone, especially fans. 
Changing wallpapers from time to time can be essential for your mental stress. So when you change your wallpaper this time, select one from the above-listed collection, and you are in for the best wallpapers. Don't forget to store some in your photo gallery for future use.