Last Updated on Sep 14, 2023
Get here must have iPad pro audio accessory as the best iPad audio interfaces. So what do you want to do to lay down your excellent guitar instrumental music on your iPhone, iPad Air, iPad Mini, iPad Pro, or MacBook Pro/MacBook Air? Then you should buy the best iPad audio interface that works with core audio compatible with the latest iOS app, Garageband, MultiTrack, Spotify, etc. Henceforth, If you don't want to lose your professional Music program, then have a prominent option, that's a whole record program with an audio interface.
You needed less hardware amount and much more. Just pick a budget-friendly best iPad audio interface and start to record your next music at your home or anywhere you in your gizmo. These audio interfaces were simplified, and they will stay in the future.
You never miss the Best iPad DJ Controllers Deals.
Best Mac, iPhone, iPad Audio Interfaces: Must have iPad Pro Accessory
The sound recording tool is an audio interface. You may be familiar with the MIDI audio interface that denotes the Musical Instrument Digital Interface. It's come as an extra port in advance, an audio interface that would be a little pricey than without a MIDI interface audio device. However, a spare Midi port can significantly role while you'll create a production of your favorite music.
Let's see 9 Best Mac, iPhone, iPad Audio Interfaces in 2021: Buy For Money Value
#1: Yamaha 3 Channel interface & Mixer: iPad
Yamaha, Smart audio mixer and interface for the iOS users – iPad. High-resolution audio recording with playback Interface. Record live audio or use for Webcasting. Pro Sound quality, control all the effects very quickly. #1 Audio mixer and interface system for music producer and Director.
Custom Chanel options: 3 Channel Mixer with one microphone and six-channel Mixer with two microphones.
Easy setup with iPad 2 and later: Apple iPad camera kit, connect it via an external USB power supply.
#2: Apogee Guitar interface for iPhone, iPad, and Mac
Directly store your electric guitar HD sound on your iOS device (iPhone, iPad). Sound Quality: 24 Bit HD recording & 96 kHz. Audio interface Supported by USB lightning cable and USB cable for Mac. Just plug the wire in the port and repair the Guitar sound into original sound quality, Without External power or Batteries.
Also use for record Bass, the acoustic instrument with the pickup.
Not only for the iOS platform but also with Android
#3: Midi In-Out Audio Interface for iPhone, iPad
Record different sounds using different musical instruments and recording devices (Microphone, Casio) on the iOS device (iPhone, iPad). Pro app to Manage all types of sound. All musicians, for its unique sound, love this Professional audio interface.
2 Jack TRS input, 2 TRS outputs, LED indicator in multi-color. It also supports the Lighting connector and USB cable.
Compact size, easy to travel with this system.
if not available, then let's see the alternative audio interface on amazon
#4. iRiG HD 2 an outstanding Audio Interface with MIDI for Apple iOS & Mac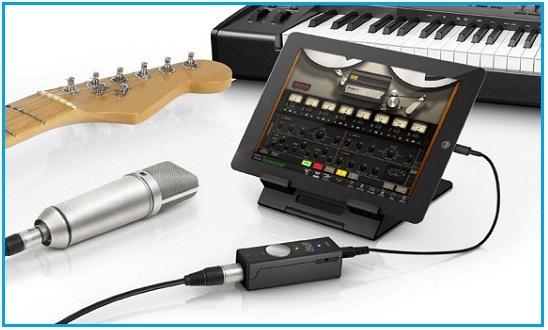 it's a little. Still, you must have the device to record your guitar music. And you can start playing a minute after opening the box. So let's take a Swiss-army-style approach to music gear, giving you exactly what you need and leaving the fat behind. It's good to use for Garage Band and Amplitube, using guitar, mics, or MIDI-compatible keyboard.
Review: Handy supports for iPad, iPhone, and Mac, USB lighting cable, MIDI input, HQ 24-bit A/D conversation for pristine sound.
#5. Top iPad Audio Interface 4 USB Outputs
This Tascum brand with built-in 4 USB outputs audio interface. It'll give you zero-latency during direct monitoring. The aluminum-made body device comes with two headphone jacks and an XLR 1/4'' combination input jack.
This beautifully designed and affordable price audio interface is compatible with Apple iPad and MacBook.
#6. Apogee iOS and Mac Audio interface
California designed and made in USA based audio interface is sleek compatible with iPad, iPhone, and Apple laptop. In the purchase, you will get the input/output controller with Apogee's Maestro software.
#7. Tascam iu2 iPad Audio interface
Review: All right, it works with Win 7. Connect it to USB PORT 3.0. By Port 2.0, drivers cannot install Zero-Latency Direct Input Monitoring.
#8. Expensive cool iPad Pro audio interface
It's the world's first-class 4 Analog inputs with world-class mic preamps and selectable 48v phantom power. In Included Features: USB 2.0 audio with 24-bit/192kHz A/D and D/A conversion.
#9. Professional Audio interface for iPhone, iPad, and Mac
IK Multimedia iRig PRO DUO 2 channel