Last Updated on Sep 26, 2023
In this blog post, I will share with you a complete solution. Why can't macOS 13.5 Sonoma Cannot be installed on Macintosh HD? Let's Follow my answer of what to do when macOS installation cannot be completed with An Error Occurred preparing the update or An Internet connection is required to install macOS.
I have Mac, iPhone, and Apple Watch. I try to install macOS Sonoma on my MacBook Pro, but unfortunately, macOS Sonoma won't install.
After the installer File is downloaded (the entire 12.2GB file gets downloaded, and then nothing happens; the installation doesn't start.), installation starts, and when the progress bar reaches 12 minutes, the installation interrupts with an error message "An error occurred installing macOS 13. You can try again to complete the installation".
macOS 13.5 Install Problems Reported:
macOS 13 Sonoma Update not Found
Force Quit System Preferences/System Settings (From the top menu > System Settings > Force Quit… System Settings) and Retry to get Software Update on Mac, using the given below steps.
If macOS 14 Sonoma Update is not found on your Mac app Store, Or the requested version of macOS is not available in 2023 because your Mac is not Supported MacOS Sonoma, Or your Mac is running on Sonoma Beta Version or MacOS Sonoma Developer Beta version – in this case, you have to Remove MacOS Beta from Mac and Wait for new Update Version that's equal to public MacOS,
Then,
Step 1:- Open Safari Browser on Mac > Click on MacOS Ventura setup on Mac App Store, on Supported Mac. > Click on View in Mac App Store button > Get to Download macOS Setup file.
Also, Check MacOS Ventura & Sonoma Supported Mac. Let the following article will help you.
iMac 2017 and later
iMac Pro 2017 and later
MacBook Pro 2017 and later
MacBook 2017 and later
MacBook Air 2018 and later
Mac Mini 2018 and later
Mac Pro 2019 and later
Mac Studio 2022
Know your Mac System Configurations.
Also check,
1. You must have a stable internet connection (WiFi or Ethernet connection).
2. Firewall on your Mac does not allow downloading from an unsecured connection. Try & Check after turning on the firewall.
3. Not Enough Space. (15Gbs required)
Important Note: if you are doing a clean install of macOS then Take a Backup in Time Machine > Create Bootable Drive and Install MacOS Using a Bootable drive in recovery mode.
Steps to Fix Cannot install macOS Sonoma
Fix 1: Delete the installer File and Re-download the macOS
On your New Software Update install request, your Mac download macOS Sonoma [macOS 14] installation file in the Applications folder in Finder, see the below screen, But if you can't install or Start Updating your Mac, there are too many reasons, your Mac downloaded Buggy file, the Downloaded file is old. I recommend deleting this File and Re-Download New macOS Sonoma file to Mac and installing it on your Mac.
Open Finder on Mac > Applications > Find the Downloaded MacOS file. Right-click on it, and Move to bin.
Go to the Apple Logo from the top Mac menu > System Settings > General > Software Update.
Download and install. Hope your problem will be fixed. But still can't install then follow the other solutions as well.
– Then check if it can work for you.
OR try to Re-download and install macOS Sonoma.
Apple System Status
Apple Server & System Status truly depends on your Mac activity like Upgrading macOS Version after Download Latest MacOS Software on Mac.
So, Whenever you Get some annoying error while downloading a macOS Software update or Installing macOS, Must check apple system status on your Browser. Find Apple System Status in Other Countries.
Fix 2: Reset PRAM/ NVRAM and SMC [For intel Mac only]
For M1 Mac: Restart your Mac, Don't need to Reset any RAM Memory.
If you have an Intel Mac or MacBook, use the Reset PRAM/ NVRAM Process to clean up and rebuild all startup Programme value on Mac.
Fix 3: Reboot Your Mac
If you are stuck during the installation, I recommend restarting your Mac and Checking for the installation process on your Mac. Also, During the installation, we need a stable internet connection. This also fixes automatically after restarting your Mac system.
Go to the Apple logo from the top Mac menu > Restart.
Fix 4: Use Personal WiFi & Internet connection
Most public WiFi keeps active firewall connections that prevent you from updating your Device from the Apple server.
If you are getting the same issue on your WiFi, change or Try to Update with a Personal hotspot [if you can afford it]. Otherwise, I highly recommend using WiFi because 12GBs of Setup need high-speed data transfer.
Fix 5: Turn Off Firewall and VPN
here's the complete guide on how to Manage & Turn off VPN on Mac. Follow the steps below to turn off Firewall and Start the macOS installation quickly.
Also, Disable the antivirus if installed.
On macOS Sonoma: Turn off FireWall on Mac
Go to the Apple Logo from the top menu > System Settings.
Next, Click on Network > FireWall.
Next, Select FireWall toggle and Disable Firewall on Mac.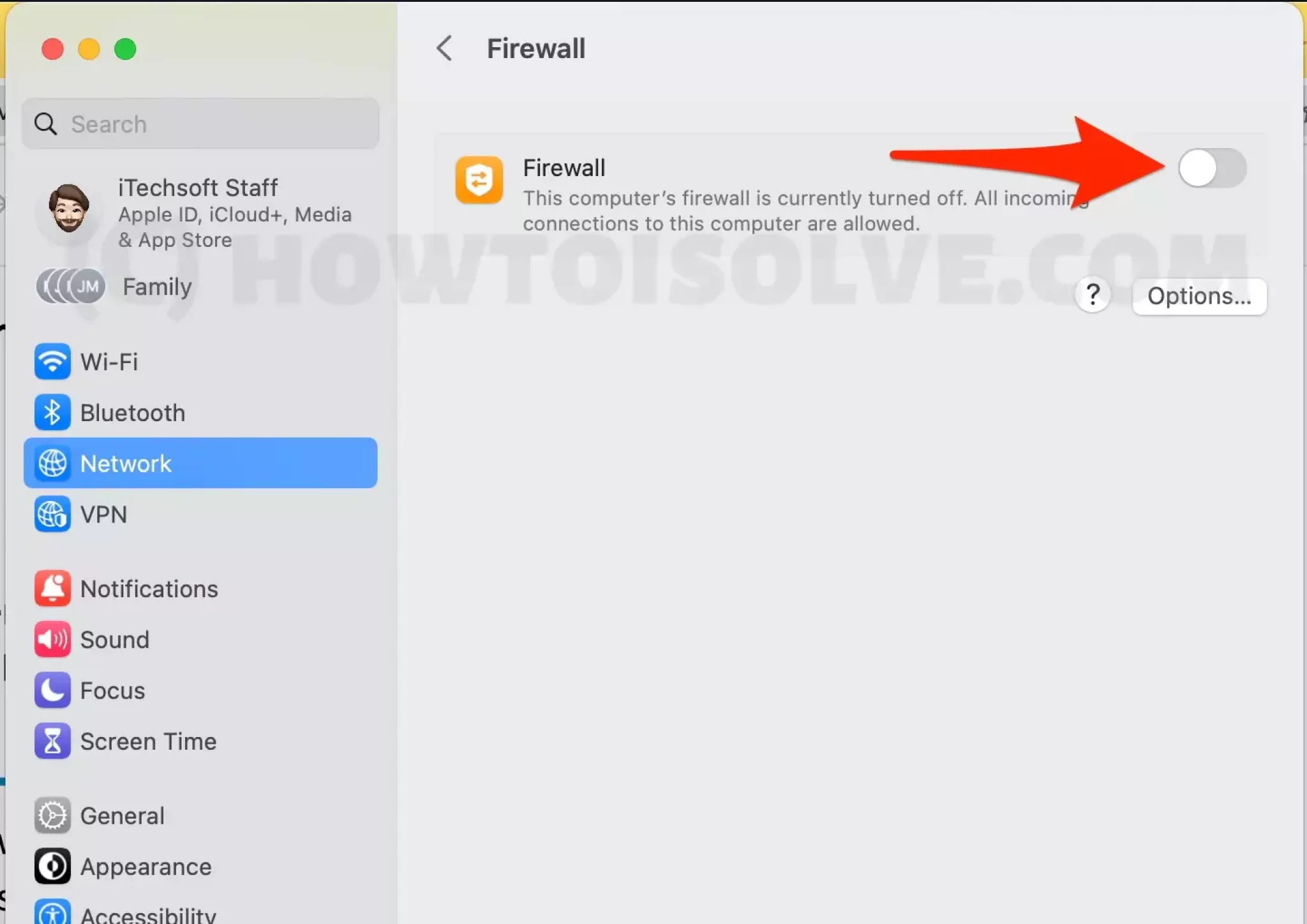 For Earlier macOS,
Click on the Apple logo from the Mac menu.
Next, Click on the System Preferences option > Security & Privacy.
Unlock the window and click on Turn off Firewall.
If the Firewall is turned off, skip this and move to the next solution. We do not recommend disabling the firewall all the time. Re-enable after you update and the installation is completed.
Same here, getting: "An error occurred while setting "MacOS 13" as the startup disk: The operation couldn't be completed. (SDErrorDomain error
Fix 6: Install macOS via App Store.
After I tried (and failed) to install it from App Store, I found that I have a new Application:
/Applications/Install macOS 12
I right-clicked that, clicked "Show Package Contents," and navigated to Contents -> MacOS, and I double-clicked InstallAssistant.
Open the app store on Mac, and Search MacOS with a name to Download Setup file from the Mac app store. Click on macOS Version and Get.
I was able to install it from there.
Fix 7: Install after Repairing Your Disk
This problem fixes Disk Errors that happen with your macOS installation drive. Follow the below steps to repair the installation drive and install the Latest copy of macOS on your Mac.
First, check whether your Mac has Intel or M1 Mac. Follow the steps below, and Put it in MacOS Recovery mode.

For M1 Mac:- Shut down your Mac. After 10 seconds, Press and Hold the Power button until you see the Startup loading items with Startup volumes and Settings gear with Options. Click on the Settings gear named Options, and click on Continue.

For Intel Mac:- Shut down your Mac. After 10 seconds, Turn on your Mac and Immediately Press and Hold the Command + R keys from the Keyboard to See the Apple Logo and macOS Recovery screen.
Select User and Enter the Mac Administrator password.
You will see the macOS Recovery screen, Select Disk Utility Option, and Continue.
Select Startup Disk from the Left side of the window, Click on First Aid Option.
Repair All Volumes, Containers, and Disk one by one. And Run Setup.
Once the repair process is complete. Restart your Mac and Try to Install a new Software Update under MacOS System Preferences > Software Update [on macOS Sonoma, Ventura: Apple Logo > System Settings > General > Software Update]. Go to the Apple Logo > Restart.
Fix 8: Install From macOS Recovery [Alternate Method to install macOS]
That's another method to install macOS in Recovery mode, In this method, your Mac will download the latest supported macOS on your Mac without Erase Data and settings. Follow the below steps as per your M1 or Intel Mac,
Know if your Mac has Intel or M1, M2 Mac,

For M1, M2 Mac: Shut down your Mac, After 10 Seconds, turn on your Mac. Press and hold the Power button, Until your Mac sees the Startup volume and settings gear Options. Select Options > Reinstall macOS from the macOS Recovery window > Continue.
For Intel Mac: Shutdown your Mac, After 10 seconds turn on your Mac. Immediately Press and Hold the Command + R Key from Keyboard. Until your Mac screen show MacOS Recovery Window, Click on Reinstall macOS.
Enter macOS administrator to Login your Mac, and Follow the on-screen installation.
That's it.
Fix 9: Free Up Storage on Mac
Insufficient storage for downloading a new copy of macOS to Your Mac's Drive and installation required some more free space to extract and install the setup file on Mac quickly and easily.
So, I recommend keeping release 20 to 30 Gigabytes of Free space on your Mac. We can quickly check and manage from your Mac. Follow the below steps,
Guide to Free Up Storage on Mac
Step 1: Go to the Apple Logo from the top Mac menu > System Settings.
Step 2: Open General > Storage Tab > Click on > Follow the Recommendations and Delete Large unused app from Applications, Media files from Documents.
Step 3: Now, Go back to Apple Logo > System Settings > General > Software Update > Download and install Available software update.
If still, you are getting the error related to the Storage then Restart your Mac and try again.
Fix 10: Reinstall install macOS In Recovery Mode
Reinstall macOS On mac is time-consuming but that's effective if you are following the step in the sequence. First Take Mac Backup in Time Machine, Put your Mac [Intel or M1] in Recovery mode and Reinstall macOS. This reinstallation process will care & fix all the software bugs and get installed the latest supported macOS Version to Mac without Erase any data and settings.
First Know, is your Mac has an intel chip or M1? then follow the below steps,
For M1 Mac,
Shut down your Mac and Wait for 20 seconds.
Now, Press and Hold the Power button [Touch ID button], until you see the Startup Volume and Options screen.
Click on Options > see the Reinstall macOS option > Continue.
Now, Select the Primary Partition if any, And follow the on screen instructions.
That's it.
For Intel Mac,
Shut Down your Mac and Wait for 20 seconds.
Next, Turn on your Mac and quickly, Press and Hold on the Shift Key, Until your Mac show MacOS utilities Window screen > Reinstall MacOS.
Complete the steps given on screen.
That's it.
Fix 11: Download Failed Popup Message Error
Download failed: An error occurred while downloading the selected updates. Please check your internet connection and try again.
Your Mac with a T2 Security Chip, Allow users to Provide Three layers of security. So Turn on Full Security in Recovery mode. Follow the below steps and Turn on.
Turn on your Mac, Immediately Press and Hold Command + R key from keyboard after Startup Apple logo appears on the screen. Until you see the MacOS Utilities window on screen.
From top Mac Menu bar, Choose Utilities > Startup Security Utility.
Your Mac will ask to enter your Mac login password for authonticate. login it and Apply the changes.
That's it.
Now, Go back and check the issue is fixed.
Note: Apple Rolled out some Updates on 5th Nov, that Brick MacBook with T2 Security Chip after installing macOS Sonoma, Ventura, So, Keep your MacBook Updated. for Below Models
Fix 12: Check Your Internet Connection
A good Internet connection never disappoints you while installation of a software update. Because you get a quick response from the apple server, Downloading a Large setup file will complete too fast. you can check Internet speed on fast.com on any device. I recommend testing on the installation device, here's your Mac.
Is your internet slow?
Restart your Router
Restart your Mac
Switch to Another WiFi – check you have connected your own wifi Because some public wifi connecting automatically.
Fix 13: Safe Mode on Mac
Safe mode on Mac determines the software issue on startup your Mac in safe mode. And Fix it automatically. So you can complete the macOS software updates without any Download and installation errors.
The safe mode Process is different for M1 Mac and Intel Mac users.
Fix 14: Boot from External Bootable Disk
Note: You must keep a backup of your Mac data in Time Machine [External Drive], Here's a complete guide to Take Mac Backup in Time Machine.
Make a USB bootable drive for macOS Monterey and install it on your Mac. This process will take more time than the regular update process. Now, put your Mac in Recovery mode [Intel or M1], Start installation of macOS from the External Bootable USB drive.
Fix 15: Possible error due to BridgeOS update issue
To resolve the problem, I suggest you create a new partition and install latest macOS using an External Bootable drive which means a clean install of macOS (macOS 13) without affecting data saved on other partitions on the same mac.
installing from a boot disk, installing in recovery mode, safe mode, internet recovery mode.
Fix 16: Disabling the Gatekeeper on Apple Mac, which helped me
Last Solution– Wait for a few days and try Trying the public beta profile download on your Mac.
Hint – install macOS Sonoma on external SSD
Fix 17: Command Terminal
Open Terminal. Copy and Paste and enter:
sudo nvram IASUCatalogURL=https://swscan.apple.com/content/catalogs/others/index-10.16seed-10.16-10.15-10.14-10.13-10.12-10.11-10.10-10.9-mountainlion-lion-snowleopard-leopard.merged-1.sucatalog
You might need to enter two times if you got the error.
After that, rerun the installer –> It worked.
After Done upgrading, you should update the NVRAM back:
sudo nvram -d IASUCatalogURL