New Email sent failed from your iPhone, iPad mail app. Reviews all the possible reasons for failure or cannot send. On third party custom domain email setup with mail app some time create critical issues, So you don't send Email to any third party recipients. Learn most probable causes for Cannot send Email from iPhone.
If you are not receiving incoming mail to your mail address, then you must verify all the detailed used for incoming server configuration. And for Sent mail, you need to verify outgoing mail server configurations.
we are happy to help you, submit this Form, if your solution is not covered in this article.
Learn from where we can correct or fix all the problems related to the Mail app. Follow the below troubleshooting steps.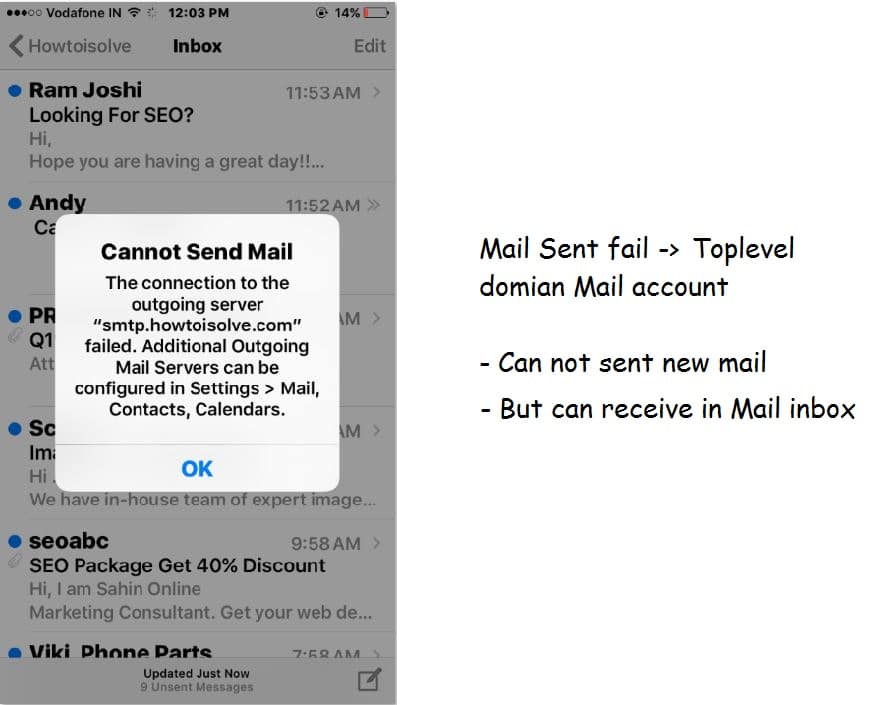 Troubleshooting stepson cannot send Email from iPhone, iPad: iOS 11/10, iOS 9, iOS 8
For the re-verification your entered detail you need SMTP details for incoming server or our going server. Username and password for our mail account, Port number used for mail.
Use Cellular Data for Setup And Send/Fetch/Get Email from iPhone mail App
Might be slow or blocking port of mail server by your router.
Last time I get fixed and successfully setup my mail in mail app using Cellular Data. Disable WiFi from control center or settings app on iPhone, iPad or iPod Touch.
Enable Mobile Data plan and try again.
iOS 11 or later
Go to the Settings app on iPhone > Accounts & Passwords > Add Account.
Or Tap on Existing mail account name > Update Mail Server details or Delete account and re-add account in iPhone Mail app.
Enter correct mail Account details under Mail setting app
Username and password must be same as you use on webmail. (Without misspelled)
Incoming or outgoing SMTP mail address depends on your Mail hosting Provider Company (iPage, Siteground, Bluehost, Hostgator, Godaddy, Fatcow, eHost, SiteBuilder and many others). Default format should be mail.yourdomain.com, smtp.yourdomain.com – for incoming/ outgoing mail respectively.
For iOS 10 –
Step 1: Go to the Settings > Mail, Contacts and Calendars > Tap on your Account > Account.
Step 2: Update Mail Server address and Details
Incoming Mail server: Remove Host Name, User Name (Email Address) and Password. Re-Enter updated details.
Outgoing Mail Server: Primary Server, Enter only Host Name.
Test from your iPhone from sent sample mail.
Remove or Delete Mail account, Setup again
Delete account from your iPhone, Not erase all mail data stored on Mail server but only remove login details and server address.
Go to the Settings > Mail, Contacts, Calendars > Howtoisolve > Delete Account.
Check your Wi-Fi or internet data
An interruption in your Wireless network connection might be the possible reason for Cannot send Mail from iPhone mail app. Test connection on internet speed checker app.
Change Password
Make sure about you haven't changed or update your webmail password. That point you need to update old password with the new one.
Above are the possible reasons to fix Cannot send Mail from iPhone running on iOS 9 later or iOS 8, iOS 7, iOS 11, iOS 10. Any suggestions about what you have, and then share with us in the comment box.
Premium Support is Free Now
We are happy to help you! Follow the next Step if Your Solution is not in this article, Submit this form without Sign Up, We will revert back to you via Personal Mail. In Form, Please Use the Description field to Mention our reference Webpage URL which you visited and Describe your problem in detail if possible. We covered your iPhone 11 Pro, iPhone 11 Pro Max, iPhone 11, iPhone 8(Plus), iPhone 7(Plus), iPhone 6S(Plus), iPhone 6(Plus), iPhone SE, iPhone 5S, iPhone 5, iPad All Generation, iPad Pro All Models, MacOS Catalina or Earlier MacOS for iMac, Mac Mini, MacBook Pro, WatchOS 6 & Earlier on Apple Watch 5/4/3/2/1, Apple TV. You can also mention iOS/iPadOS/MacOS. To be Continued...
Jaysukh Patel is the founder of howtoisolve. Also self Professional Developer, Techno lover mainly for iPhone, iPad, iPod Touch and iOS, Jaysukh is one of responsible person in his family.
Contact On: [email protected] [OR] [email protected]