🗓️
November 24, 2023
By ✍️
Jaysukh patel
Are you exploring the best solution for iPhone Mail App not working on Cellular data (email not working on mobile data iPhone)? Here are the fixes. The Cupertino-based Apple. inc gives an integrated Mail app in its iOS and Mac OS X pack. Mail app allows login for multiple accounts under one roof. For instance, apart from Apple iCloud mail, you also can add different mail services such as Gmail, Yahoo, Outlook, etc. All mail accounts e-mail you can get into the Mail app and separate mail inbox.
Generally, there are two ways to runs mail on iOS either using Wi-Fi or via Cellular data. Most users preferred Wi-Fi service to Cellular data. While numerous users try to read a new arrived Mail or try to send a new email on iPhone/ iPad, but it can't work on cellular data, and sometimes Wi-Fi is not available. In the short term, the essential iPhone Mail app not working on Cellular data.
Mail doesn't send to the recipient or sending failed via cellular data. Sometimes issues occurred due to the little faulty settings for the Mail Clients. The parameters may be changed by other people or by yourself accidentally.
So I will help you to solve your problem and guide you in which critical points create panic for you and your iPhone Mail app. There are several fixes that I will recommend to you below. Is your iPhone Cellular data grayed out for apps?
Ways to Fix Email not working on Mobile Data iPhone
Read More – Yahoo mail not working on cellular data what to do?
Solution 1. Check Out Mail App is Allowed to Use Cellular Data
Step 1. Launch the Settings App from your iPhone Home screen.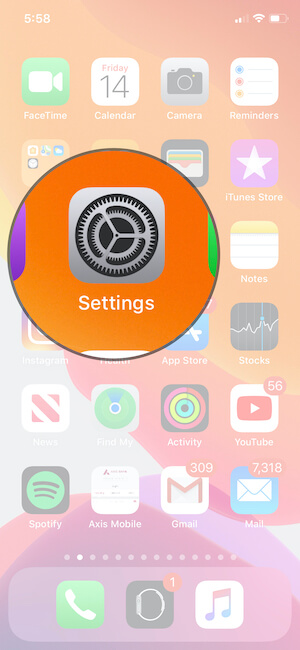 Step 3. Scroll down the screen and find the Mail app, now check out toggle is turned ON off Mail Settings.
After trying the above steps, however, the Mail app doesn't work then let's apply the given below way.
If your mail account or inbox doesn't appear in the Mail app, then you must follow the bottom given instructions. I hope this will help you to clear your problem.
Step 1. Open Settings App
Step 2. Tap the Mail tab.
Step 3. Now on-screen you can see accounts select an account and make a toggle turn Mail On/Green.
For example, If you have already added more than one mail account, choose your needed one and turn the toggle on the Mail App.
Solution 2: Make Sure Password is Correct or Update After Change
Generally, the Mail account password we have to change or Reset on forgot while we access the browser. So we recommend removing the Mail account and Setup again with the correct Email Username and Password.
Go to the Settings app > Tap Mail > Click Accounts > Tap on Email Account under the Accounts > Delete Account > you get a pop-up window to confirm Delete Account (Deleting this account will remove its data from your iPhone)
That's it.
Now, Add an Account in the mail App
Go back and Tap on Add Account > Select Email Provider and Enter correct login credentials. (

If Possible test with sign-in on Email Providers Website

)
That's it.
Solution 3: Update Software of iPhone
If you haven't already updated your iPhone to the latest software, then you must do it right now to avoid issues like the Mail app not working on Mobile data on iPhone.
Go to the Settings app > Tap General > Software Update.
Make sure you have installed the latest iOS, if your device runs on the beta version, kindly remove it and install the stable iOS firmware.
Solution 4: Update Carrier Settings
To update carrier settings, make sure to connect the iPhone to the Wi-Fi or Cellular Network. Carrier updates are responsible to enhance the calling services and fixed network-related issues.
Open Settings > General > About. If any update is available, the pop-up will ask you to update carrier settings.
Get more:
Why does my iPhone Email Says Network Offline?
Does iPhone email only work on wifi? Upon launching the Mail App, it shows Network Offline on iPhone. The Mail app works fine when the iPhone is connected to Wi-Fi, but while using Cellular Data, it goes offline. There are few possibilities to consider if you're stuck with a Network Offline error on your iPhone.
Check Cellular Data Settings for Mail App
To use the Mail App over cellular data, it must be turned on and of course, you would need an active Cellular Data plan for it.
Open the Settings App.
Tap on Cellular or Mobile Data.
Swipe down and make sure the Mail App is toggled on.
Alternatively, go to the Settings app and scroll down to Mail App, from here also you can turn on Cellular Data for Mail App.
Unable to send emails on cellular data on iPhone or iPad
if you facing any issue that you can use Cellular data for other apps but just the mail app not working over mobile data.
Since after iOS or iPadOS update. you only send and receive email over Wi-Fi. Don't worry.
try this short solution
First – Check out Celluar data toggle On for Mail App
Settings > Celluar or Mobile data > look for Mail app toggle Green.
it on, however, you can't send outgoing emails using cellular data. go with the next clue.
Second thing is, the input port that you have set for the SMTP server is maybe not valid for cellular data. Please check your mail provider for correct settings information such as the incoming and outgoing mail servers.
alternatively, You could also delete the mail account from your device completely and then re-add the email account back from scratch.
Kindly make sure that you match the settings from the mail provider.
Here's Apple's recommendation tool to check Mail Settings Lookup to make sure that your enter information is correct. Suppose, you don't get your email account setting on the Apple tool page then you will have to contact your email provider.
POP3 Email account not working Over Celular Data on iPhone or iPad
Users can check one and only one device at a time. So close all other email apps or programs and sign out of webmail service websites that you have currently open on the device.
Steps to your email is a POP3 account
Go to Settings > Mail > tap accounts > now tap tap email account to look for the label POP Account Information.
in more, there is an alternative option to check email settings for your POP3 email account using the Mail Settings Lookup tool.
Note:

If your POP3 email provider requires your account to use port 25, then you can only send an email when you're connected to your email provider's network. Let's Check with your email provider for settings and possible availability.
iPhone Email-only works when connected to Wi-Fi
I can't connect to my email unless my iPhone is connected to Wi-Fi. When on LTE I get an error message saying CAN NOT GET MAIL – the mail server is not responding, one of my colleagues told me. If you're the one with a similar issue, read on.
I've already mentioned the basic solution when your iPhone email not working without wifi in the above section, which is to enable the Cellular data for Mail App. Following the same, if it still didn't go well, and can't receive email on iPhone when connected to Cellular data, here are few tricks to try.
Note: If you're connected to a carrier network other than your own service provider. then you will have to turn data roaming on.
Check APN Settings
APN Settings plays a major role when it comes to Cellular Data, incorrect settings might increase the bill, or won't let you use Cellular Data at all. Editing the APN settings could be a problem if you don't know the right way to do it.
Go to the Settings App.
Tap Cellular/Mobile data > Cellular Data Options. If you see Mobile data instead of Cellular Data, then consider Mobile data in place of Cellular Data.
Select Cellular Network.
Here you can see different fields regarding the APN settings. Tap on each field to make changes one by one. Or ask the Carrier about the same.
Reset Network Settings
This will reset the Wi-Fi Settings, Cellular Data Settings, paired Bluetooth devices, VPNs, and APNs to their default settings.
Steps to Reset Network Setting in iOS 15 and later Version
Step #1: Open up "Settings".
Step #2: Open "General" and then tap "Transfer or Reset iPhone".
Step #3: Lastly, tap "Reset" > "Reset Network Settings"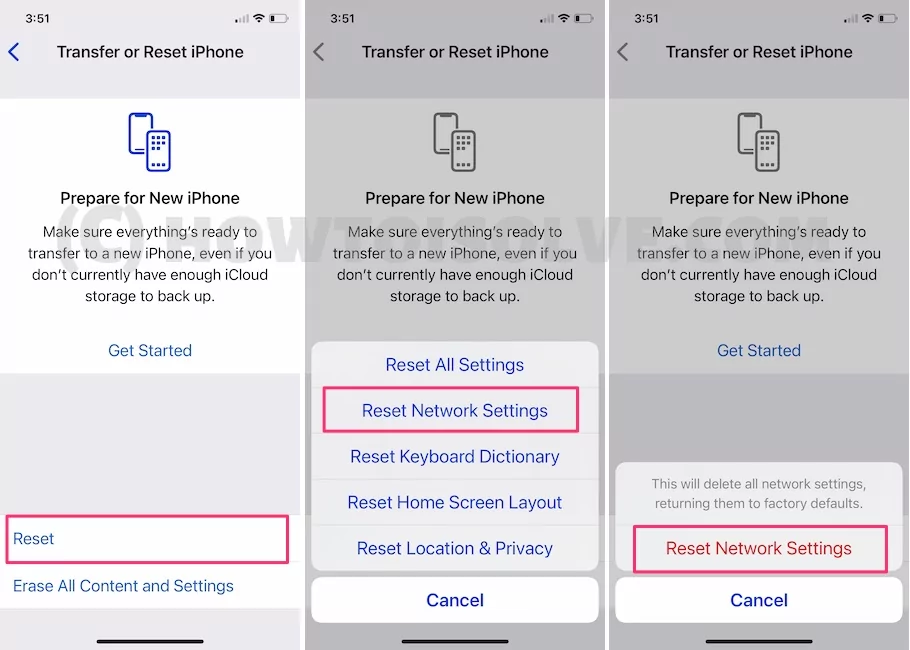 > Enter your iPhone Lock passcode and Try after Reboot once. This Process won't erase other important settings, Media, Messages, and more.
Steps to Reset Network Setting in iOS 15 and Earlier Version
Go to the Settings app on the iPhone.
Tap General.
Tap Reset.
Select Reset Network Settings.
Enter the iPhone passcode and complete the process.
The iPhone will reboot
Re-Add Email Account
If the problem is associated with your email account, then deleting and re-adding the email account on the iPhone would do a trick.
To delete an Email Account,
Go to Settings App.
Swipe down and tap on Mail.
Tap Accounts.
Select the account that you want to remove.
Hit Delete Account.
And confirm the action.
To re-add the Email Account,
Open the Settings App.
Tap Mail App > Accounts.
Tap Add Account.
Follow the on-screen instructions and set up the Email Account.
Factory Data Reset
Last but not the least, before visiting the Apple Genius Bar, you can reset the iPhone to factory data. Meaning, it will completely wipe out the iPhone. Back up the iPhone before factory data reset, as there is no way to retrieve the data once the iPhone is the factory reset.
Navigate to the Settings App.
Tap on General.
Select Reset > Erase All Contents & Settings.
Enter the iPhone passcode and reset the device.
That's it.
Check these More 10 Solutions Mail app not working iPhone.
Keep in mind; all iOS users have the powers to enable or disable cellular data for an individual app or all apps at a time.
So if you turn mobile data for limited apps and after a long time, you tried for the disable app. At that time, your iOS device app won't open successfully with Cellular data.