Last Updated on Jun 27, 2023
Permanently Delete All Emails on iPhone is boring for all techie guys. And that's the correct way to manage all spammy and Flooded marketing emails in your mail account within the app. This option also helps to erase unwanted space from the online cloud (iCloud, Google, Yahoo, and Other Mail services). Here is the step-by-step guide on how to delete all emails in the latest iOS mail app. Also new, in iOS mail filters all unread mail, So there is no room for missing any unread mail or essential mail when deleting emails in bulk by the Trash it/ Delete all mail option.
Ensure your iDevice is updated with the latest iOS version. Still, some users have a question about missing the "Trash" option [Follow step 5] from the bottom mail app screen. Unfortunately, the UI for different mail platforms should be changing, but here is the trick: go with it.
Remove/Delete all Emails in Mail App at Once: iPhone/iPad
1→ Launch Mail app on iPhone/ iPad with the latest iOS.
2→ Tap on iCloud or Other Added Mail account > Inbox. (List of mail Reading Read and unread blue dot icon will appear on the list). The below image helps to filter only delete all read or unread emails at once. Skip this step if you want to delete all emails at once.
Note: Once new additional features for filtering read/ unread emails in just one tap. From the screen's bottom left corner, Tap on the rounded fill with three horizontal lines icon. That's it. Inbox only filled out unread emails. Read all emails carefully. Also, Useful Tips: Increase the mails Previews line in the mails list, for easy reading. (Go to the Settings > Mail > Preview)
3→ Load all the emails By Swipe down, to select Thousands of emails at once. Next, Tap on Edit from the Top right corner.
4→ Select All emails by a tap on Select All from the top of the iPhone screen.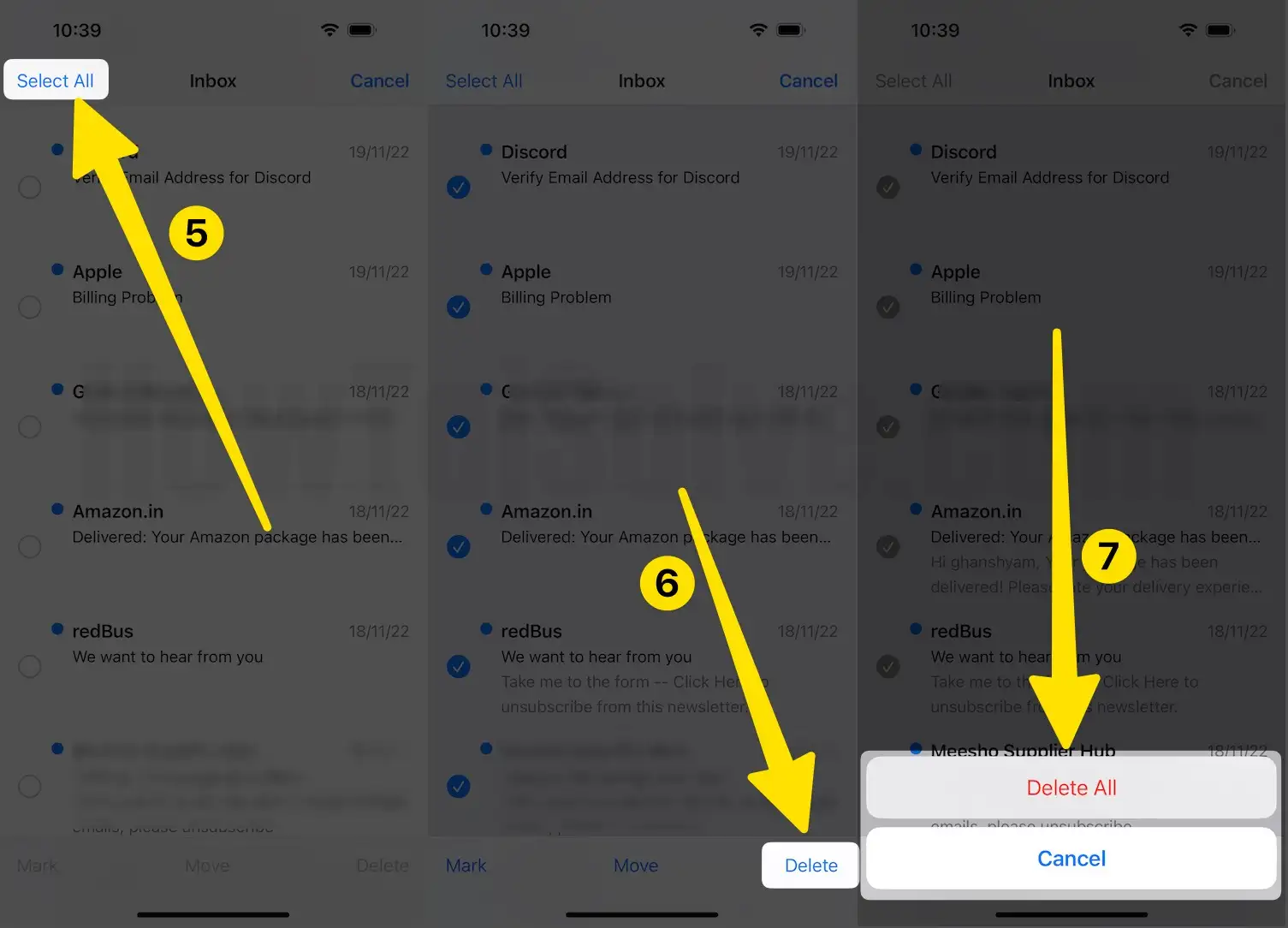 5→ Then, Tap "Delete" or "Trash" from the bottom right corner tab. [Trash Option is missing, Showing Archive option instead of Trash option. Follow this, Settings app on iPhone > Password & Account > Select Mail Account from that you want to delete app emails > Again Tap on Email Address > Tap on Advanced > Select Deleted Mailbox under the Move discarded messages into]. Now Go back and Open Mail app and Try to Delete all Emails at once permanently.
6→ Next, tap on "Trash Selected Messages" from the verification popup.
7→ Unfortunately, or accidentally deleted/ moved emails into the trash folder, you will get inside a separate trash folder in the mail app.
You might like: Enable Raise to wake iOS.
Keep your Apple cloud clean by Deleting all mail in the iOS mail app at once and easily. Don't miss sharing it with your friends.