The 3D Touch is included in the iPhone and iPad Pro, due to this interface of the latest iPhone model has improved a lot, and we are enjoying it. Sadly with this new feature, people are facing difficulties in deleting the app. In my experience when I try to press and hold on the app icon, the 3D widget triggers automatically instead of bouncing effect with (x) symbol. At time to go Deleting app process change just like the evolution of iOS/iPadOS. So, Keep your Device Up-To-Date and Follow the tutorial to delete the app in latest ways.
Deleting unnecessary applications from the iPhone is mandatory because low storage can affect your device in many ways. And after iOS 11 update we have two quick and easy methods to delete the applications on iPhone. Here's how to delete apps on the iPhone.
we are happy to help you, submit this Form, if your solution is not covered in this article.
2 Ways to Delete Apps on iPhone and iPad All Models: 3D touch and No 3D touch Devices
---
Way 1: How to delete apps on the iPhone and iPad, a quick method
In your iPhone with having 3D touch or no 3D Touch, deleting applications is quite simple and quick. You just have to Soft Touch and hold on the particular app that you want to delete. "Don't Press hard on app icon otherwise 3D touch popup option will see" After that Select "Delete App" That's it, ⇒ See Below the image,
In Old iOS/iPadOS, You will find that all the apps are jiggling on the screen. Select the app and tap on (x) to delete the app.
Press "Done" from Top right corner of your iPhone's screen.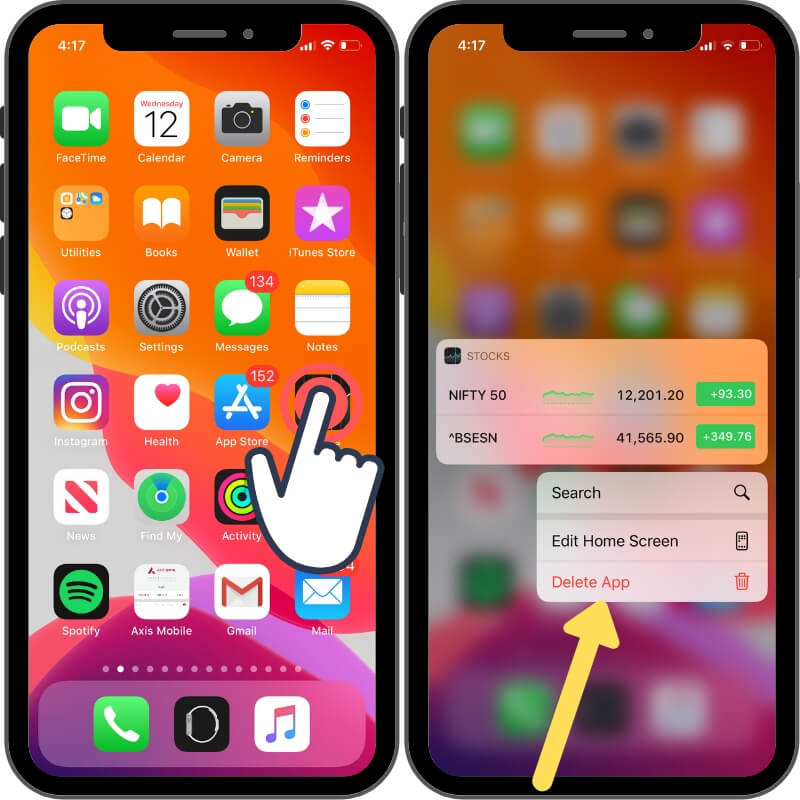 Apps Won't Delete from iPhone
Check the Restrictions settings, Apple Deleting restriction might be enabled on your iPhone or iPad.
Go to the Settings app > Screen Times > Enter Passcode and then iTunes & App Store Purchases > Set to Allow.
---
Way 2: How to Delete Applications in iPhone and iPad via the Settings app
An alternate way to delete the applications in iPhone XS Max is via the Settings app.
Step #1: Open "Settings" app.
Step #2: Tap "General."
Step #3: Select "iPhone Storage."

NOTE: You cannot delete the applications directly, you have to open each app and then select an option whether you want to Offload the app or Delete the app.

Step #4: Select and tap on the app that you want to delete.
Step #5: Choose "Delete App" or "Offload App."
Delete App: When you tap Delete App, the application will be removed with all the Data & Documents of it.
Offload App: When you opt to Offload App, the app will be deleted from the iPhone, but the Data will not be deleted. So when you download that app again from App Store, the previous data will be restored.
Premium Support is Free Now
We are happy to help you! Follow the next Step if Your Solution is not in this article, Submit this form without Sign Up, We will revert back to you via Personal Mail. In Form, Please Use the Description field to Mention our reference Webpage URL which you visited and Describe your problem in detail if possible. We covered your iPhone 11 Pro, iPhone 11 Pro Max, iPhone 11, iPhone 8(Plus), iPhone 7(Plus), iPhone 6S(Plus), iPhone 6(Plus), iPhone SE, SE 2(2020), iPhone 5S, iPhone 5, iPad All Generation, iPad Pro All Models, MacOS Catalina or Earlier MacOS for iMac, Mac Mini, MacBook Pro, WatchOS 6 & Earlier on Apple Watch 5/4/3/2/1, Apple TV. You can also mention iOS/iPadOS/MacOS. To be Continued...
Install the new app and Deleting the app on iPhone/iPad is easy. But sometimes it creates a problem and needs to learn for unknown iPhone users. Share your feedback and query that you are facing on deleting the app.