Learn here how to fix animated wallpaper not working on iPhone 6S. Apple's new 3D touch iPhone 6S and iPhone 6S Plus comes with worth features and out of them, one is a live photos and they allow set as a live wallpaper. So this built-in feature is attracts more users. But, you can also use live wallpaper apps for your iPhone.
The Animated/ Live wallpaper is gives awesome experience and it's also the best option for those folks who don't like to set the static wallpaper. Generally, set live wallpaper concept is very easy. However, there are many users reporting their problem as animated wallpaper not working on iPhone. Therefore, It must be some software glitch. Actually, the live wallpapers are not "animated" by themselves, you have to push a bit with 3D touch to see them moving on the iPhone screen. Notwithstanding, you are not satisfied, then refer following instructions carefully to resolve Animated wallpaper not working on iPhone 6S or iPhone 6S Plus.
The single line solution for all and it's a
''Press on the Screen to see the wallpaper animate''.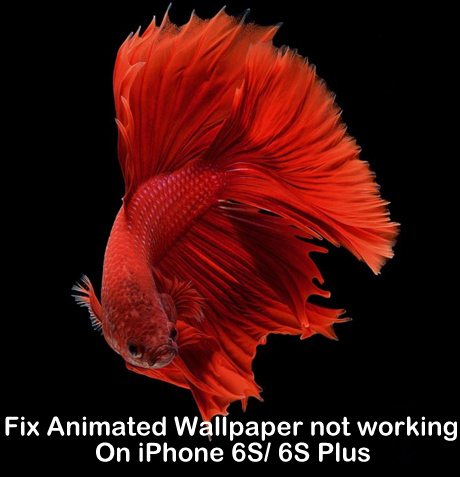 Ultimate clues to fix Animated Wallpaper not working on iPhone 6S
Clue 1. Try to Change Animated Wallpaper
You should try once remove animated wallpaper and set still wallpaper after that try again to set animated background. In almost case, this fix works well. Get more here how to change wallpaper on iOS 9. After tried it, however, animated wallpaper showing you same issue, then you should go with next troubleshooting.
Keep in mind: Animated background only works on the iPhone 6S/ 6S Plus look screen, not on the Springboard (home screen).
Clue 2. Make sure Low Power Mode is turned Off
First check out, Low Power mode toggle is turned off, if Low Power Mode feature is turned on, then it could temporarily stop many features on your iPhone. Affected features including dynamic Wallpaper (live background, animated wallpaper) and Perspective Zoom are switched off, mail fetch, background app refresh, automatic downloads, and some visual effects are reduced or turned off. You can read more about low power mode from here.
Steps to check low Power mode on/ off
Step 1. Go to Settings
Step 2. Tap on Battery
Step 3. Check now the toggle of Low Power Mode on/off.
So if the animated background does not working due to low power mode, then hope above fix would be help you.
Clue 3. Make Sure that your iPhone 3D touch is enabled
Please share your feedback in the comment, be helpful for other by sharing the fix way of Animated Wallpaper not working iPhone 6S.