🗓️
September 12, 2023
By ✍️
Jaysukh patel
After iOS 16, Apple unveiled iOS 17, which is a next-generation operating system for iPhone, iOS 17 and iOS 17 developer or public Beta was also released, so users upgraded their devices in advance to test new features and functions. But they have come to mind many glitches. Among all bugs, the Apps crashing in iOS 17 is a primary issue it. Also, follow the same tips while Apple's Utility app is crashing like Voice Memos, Compass, Measure, Calculator, Stocks, Home, Maps, Weather, News, Activity, Reminder, FaceTime, Messages app, and Third-Party Social Apps are banking apps, Instagram, Twitter, Spotify, Facebook, Messenger, Snapchat, WhatsApp, Line – Shopping apps Are Amazon, Letgo, eBay.
We will offer some flagship bug fixes that will help you quickly. For example, suppose your iPhone Apps frequently crash, and you face a battery drain problem. So to get the ride on all annoying bugs, follow the below given possible debugs step by step.
---
Troubleshooting for All iOS 17 compatible devices, including iPhone 15 Series, iPhone 14 series, iPhone 13 Series, iPhone 12 Series, 11, iPhone 11 Pro, iPhone 11 Pro Max, iPhone X, iPhone XR, iPhone XS Max, iPhone XS.
Troubleshooting for iPhone Apps Keep Crashing after iOS 17 Update
Before getting started, verify that the issue is not from Apple's Server side. Often, users encounter app crashes or other matters when Apple tries to release updated software or apps. You can check Apple's current System status.
If all system services show the green signal, then the server side is okay. Even though maybe the bug is on your iPhone or iPad. Don't worry. Keep continuing to fix the problem.
---
Fix 1: Should Wait: App is not Compatible with iOS
Apple Release First iOS developer beta for Developers only, and iOS Beta for Beta testers only. But Teche people are installing new iOS as come in market Either that's Developer or Publick. The reason is people are testing new features first on their Own Apple devices as soon as possible. But that's not right.
Because App Developers are rebuilding new updates for the new iOS, most of the app will not work on the new Updated iOS version.
Have you installed a new iOS Developer or Beta version on Primary iPhone & iPad devices? You can downgrade iOS to an Earlier public iOS version.
Are you facing a problem with the Public iOS version? Then, follow the below fixes that help mostly.
Fix 2: Reboot Your iOS device
First of all, you should reboot your iPhone, iPad (iPad Air, iPad mini, iPad Pro), or iPod touch. The rebooting procedure for the Apple iOS device is not hard. Even if you haven't an idea, you can take the help of this stepwise post. After rebooting it, your iPhone apps keep crashing issue can be resolved.
Hard Reboot Reboot Your iPhone.
iPhone 8 or later:
Press and Quickly Release Volume up and Volume down button one by one.
After Quickly Press and Hold only the Side/Power button until the screen goes black.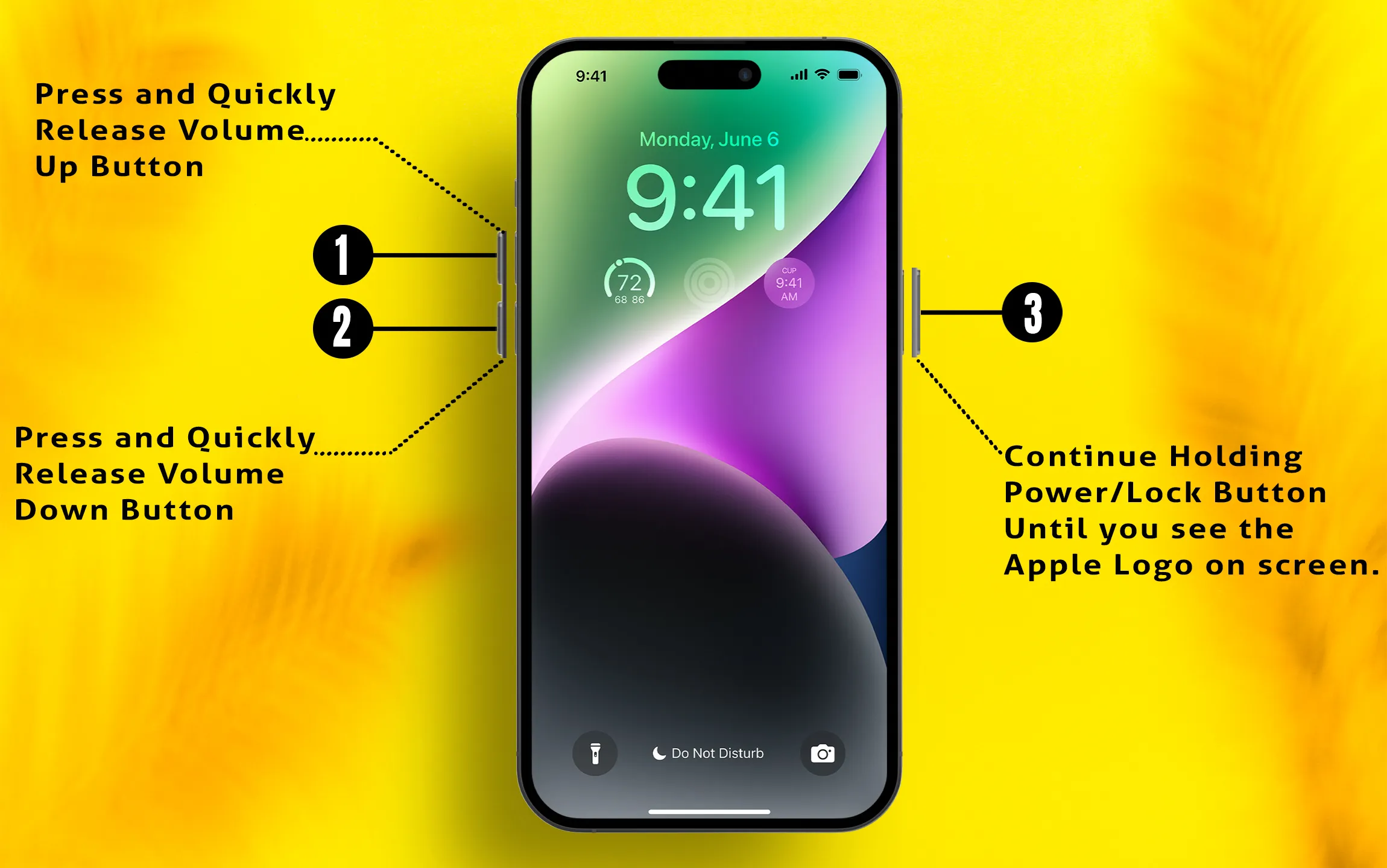 iPhone 7 or 7 Plus: Press and Hold Volume down button and Side power button at once until the screen is black.
iPhone 6S/6S Plus & Earlier: Press and hold the Side/Power button and Home button simultaneously.
---
Fix 3: Quit and Reopen your App Device
Typically, all iOS/iPad users are well-known about Force close apps that run on an iOS device but are not in use; these types of apps we can say background apps.
We try different ways to force close the app other iPhone models basically divided into the Home button iPhone and No Home button iPhone. No Home button iPhone users use the gesture "Swipe finger up from bottom bar to up and lift up finger on the center of the screen."
Now all the apps are shown in-app switcher screen. To close those apps, Swipe up to close the app completely.
Check out the image to force close the app on the iPhone without the Home button.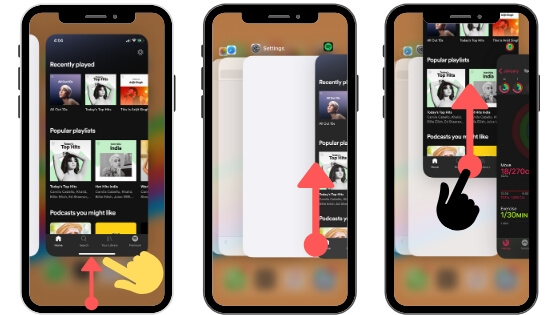 Home button iPhone users: How to Force Close app
Press the Home button twice to summon the multitasking screen, then swipe the app upside to completely close.
Now again, launch an app and get enjoy. We hope the above listed both are systematic solutions; perhaps it's not working in your case, take the help of the given next feasible fixes.
Get More: Force Quit App in iOS
---
Fix 4: Update the App or Delete the App and Re-install
Verify your iPhone app is up to date; if it's not the latest version, you must update it. For example, if Safari Crashing is in iOS 17, then verify for an update.
Launch App Store from iPhone home screen – Tap on Update – on the screen, you can be seeing available Update app, if you appear crash app update button, please update it.
To delete an app in iOS 17– Press and hold on to the app icon on the home screen – now tap on "X" on the app icon, you will be prompted to tap on Delete. That's it.
To re-install – Go on App Store – tap on Update– Choose Tap on your Profile – Now Tap Purchased – Hit on Not on This iPhone – Now tap on the Cloud icon next to the app name. You're done.
Note: if you've 3D Touch iPhone, then force touch on the App Store icon, then tap on Purchased, then tap on Not on this iPhone.
---
Fix 5: Apps Crashing Constantly- Ultimate Solution for iOS 17 Users
After trying the above listed all ways, however, you persist the same issue regarding Apps Crashing in iOS 16 all the time. Though a top solution is, that you needed to downgrade the operating system from iOS 17 to iOS 16.5 until you get the notification update for the next iOS 17 Beta release. We challenged that downgrade is the all-time best solution.
The final idea is that you should contact the App developers and report to them, or you can send feedback to Apple via the Feedback App on the developer's installed device.
Fix 6: Restore iPhone/iPad [Fix All Types of Software issues] or Downgrade to Earlier Version
The restoring process is the ideal solution that Apple also recommended for some severe software issues that are only happening with you after all the answers have been tried out but no success. In this process, we need to care about Data saved on iPhone/iPad: Media Files [Photos, Videos], Apps, Notes, Contacts, Reminders, and all other settings and setups like mails and others. So follow me in sequence to clean install new iOS on iPhone/iPad without Data lost.
You have an

IPSW file for your iPhone/iPad

[You have Lateset iOS Firmware file for Restore Device that means clean install or use Earlier Version of iOS Firmware for Downgrade to Most compatible Version with your app].
Apple ID and Password that you are using on iPhone/iPad.
Turn off Find My iPhone/iPad Activation – Settings app > Profile name > iCloud > Find My > Turn off Toggle and Enter Verification Apple ID password.
Now Mac Have Enough Free space to backup your iPhone/iPad
Connect your iPhone to Mac using Cable.
Launch Finder on Mac running macOS Catalina. [Apple Removed iTunes]
Your iPhone/iPad will show in Finder Sidebar.
Click on the Device's name to get the summary page.
Under the Backup section, click on the Backup Now button to start backup before restoring start.
Once Backup is complete, Use Options + Restore iPhone/iPad button [Mac] and Shift + Restore iPhone/iPad Button [Windows].
Browser ipsw file that downloaded at first from your computer.
Click on open to start the restore process.
it will take time depends on the Data saved on iPhone/iPad.
Stay connected to your device, you will find an option for restoring the latest backup using Finder. Select the backup file and click on the restore button. Check out the video tutorial below,
Fix 7: Contact App Developer
You can find the contact of App Developer [On App Store where the app listed]. So that can help what you should do?
Find More Troubleshooting tips on App Keeps Crashing On iPhone
Free Up Storage
Clear RAM Cache
Downgrade iOS 17 Beta To iOS 16 or later Public Version [Watch bottom video]
Do you find any other ways to fix iPhone Apps keep Crashing after iOS 16 Update issue? Would you please share it in the comment box?