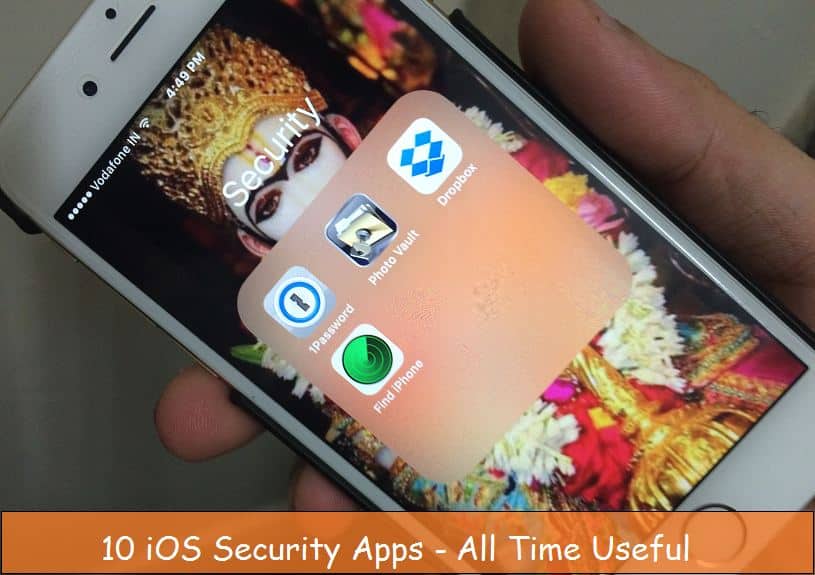 Last Updated on Dec 28, 2019
Built your identity and personality all time smarter in your business or professional life with full features privacy protected best Security Apps for iPhone and iPad. Feel safe from cheat not just on Apple iPhone, iPad or iPod Touch but also from another mobile/ desktop platforms and devices. I'm not talking about single privacy like passwords but also for Document Files and Folders, Bank cards, installed app cover, Device safety, and many others. Apple announcement on iCloud Drive now also for new macOS Sierra, therefore below are top protection options.
we are happy to help you, submit this Form, if your solution is not covered in this article.
Get Review for all valuable free, and Pro features iOS security app for iPhone, iPad or iPod Touch. keep secure your iPhone X, iPhone 8/8 Plus, iPhone 7/7 Plus, iPhone 6/6S/6 Plus, iPhone 5S and iPad or iPod Touch.
Might be useful: Best private cloud storage for iPhone/ iPad/ iPod/ Mac/ PC in high storage capacity.
Top best Security Apps for iPhone iPad: iOS 10/ iOS 11 or later
Track Device: Pray or Find my iPhone
Remotely keep your all device from single app or source just from Find my iPhone or Pray device tracking system. Gets alert notification or other possible tracking ways for iPhone/ iPad/ Laptop or Tablet, this Pre-installed app continuously tracks your device position to a server in the background that's easy to see a report from other devices in your secure account.
Find my iPhone/ iPad from apple official is limited to your Apple device, have you another platform's devices? You must go for Pray, read more about pray.
Download Find My iPhone App or Pray
Surf Easy VPN – Security Apps for iPhone
Change the way of your information data packet under security and Encrypted. Keep searching anywhere for any device on unsecured internet connection, Wi-Fi or Private hotspot. Private Ultra fast VPN servers shell your privacy by hiding your current location, identity, Privacy and online presence. Own 1000+ servers in 13 countries choose you're any that you want to see to others.
Trusted by most teach medias, Part of Opera software company gives an option to real power in subscription option.
Virus Security and Backup
Provide protection roof to your device or save local data under the safety protection for no data loss or Recovery option for accidentally deleted from backup. No risks of anti-theft or device cheat by tracking it under lookout.com. Lookout free app has limited Features, but the pro is excellent for auto renewal yearly (Auto photo backup, Notification alert on Wrong behave).
Lookout now also on Apple watch, for remotely control.
Password Protection: 1Password
1Password all-time best power manager keeps secure all sensitive or mind note under the bullet anti proof protection. Single master password remembers only; the even company has no option for recover master password for you. More improvements day by day benefits to all.
360 Security – Security Apps for iPhone
Improve speed and duplicate data that's make no more conjunction in search or device searching process. Free up space and Optimize iOS device in a single tap. Hope, Future time apple gives the option for space optimization techniques also in iPhone just like macOS Sierra optimization.
Private Photo Vault-Hide pictures, and videos from photos app, Passcode protection prevent or saves you from the open, accessible photos app. Unlock device, See all photos or videos. Open any photos then save it to the photos app. Get App and know more hide photos on iPhone
Dropbox – Save all types of data by easy folder management and Share or Save it from another source
Duo Mobile: Two-factor authentications for more secure login also called one tap authentication.
Premium Support is Free Now
We are happy to help you! Follow the next Step if Your Solution is not in this article, Submit this form without Sign Up, We will revert back to you via Personal Mail. In Form, Please Use the Description field to Mention our reference Webpage URL which you visited and Describe your problem in detail if possible. We covered your iPhone 11 Pro, iPhone 11 Pro Max, iPhone 11, iPhone 8(Plus), iPhone 7(Plus), iPhone 6S(Plus), iPhone 6(Plus), iPhone SE, SE 2(2020), iPhone 5S, iPhone 5, iPad All Generation, iPad Pro All Models, MacOS Catalina or Earlier MacOS for iMac, Mac Mini, MacBook Pro, WatchOS 6 & Earlier on Apple Watch 5/4/3/2/1, Apple TV. You can also mention iOS/iPadOS/MacOS. To be Continued...
Google Authenticator – By Google before login or wrong behave by ta hird-party app, which steals your Google Gmail login data.
Above nine are very essential and the real heroes for full iOS Security app for iPhone over many years to till. Also, let's know your mind story on more one remaining for you in the comment box.