Last Updated on Oct 18, 2022
One of the common issues that arises probably with the new release of an update is the lousy iOS battery life of iPhone and iPads. Since updating iOS 16 Beta, some iPhones are trying to fix their lousy iOS 16 battery life and search for a potential solution. People are also asking my iPhone to get too much heat on the backside while using the internet [WiFi or Cellular Data], Watch Live videos, YouTube, Record Cameras, Downloading, and Installing new Updates in iOS 16.
Several users will downgrade the iOS 16 beta version, but it's not indeed a proper solution. Instead, it would help if you tried some troubleshooting tips to fix iOS 16 battery life because it will take a few minutes, and you will get positive results instantly.
Let's a close look at my given recommendation and follow it for your iOS device doesn't matter it iPhone, or iPad 2022.
Does iOS beta drain battery?
Yes, in 85% of cases, beta iOS kill the battery very soon because it completely runs on developer mode. Some apps are to be perfect to run with beta iOS while certain apps do not have proper code to execute, hence it makes it hard to run on beta iOS.
As a complete Answer, I suggest that users must install the iOS beta on a secondary device, instead of a daily driver, the main reason some apps not working and so your work will be stuck.
Users should wait until available the perfect iOS beta instead of the initial release.
Fix iOS 16 Battery Life on iPhone, iPad, and iPod Touch
Ideally, you will get a noticeable change in battery life while apple releases a Brand new Software update every year. At that time your Device's file system manages all the data according to the new iOS Pattern and This will use your Device's processor at the optimum level. So, it could consume more power compared to normal days. But keep your eye on the new iOS update. or Download and install new Buggy iOS that's for testing purposes on a spare device.
Fix 1: You should Restart your iDevice
At the very first instance, when you encounter battery drain after iOS 16 update, then you must reboot the iPhone before performing other techniques. After restarting, observe your device, and still, it is draining the battery, then follow the next trick.
Fix 2: Check Your Apps
After updating iOS 16, some applications might don't compatible with the new iOS version, and as a result, they are causing battery draining fast. To check battery usage of particular applications visit,
Settings and then tap Battery
You can check which app is eating most of the iPhone's battery and if you found something unusual delete and reinstall the particular app.
Fix 3: Disable unnecessary Widgets to Save Battery on your iPhone
Widgets are handy to give instruction and to receive information with just a single swipe. But if your iPhone contains more active widgets on the sidebar, then they can suck battery quickly because the widgets are the one that creates a load on the processor the entire time.
If your widgets are no longer helpful for you, then disable all of them. Just tap on the red circle and remove it. Here's how to add or remove widgets on iOS
Fix 4: Enable Low Power Mode in iOS 16
If none of the above solutions does respond, enable low power mode to fix iOS 16 beta battery draining. To turn on low power mode on iOS is very straightforward. Check out.
Step 1: Go to "Settings" and click "Battery."
Step 2: Now, Tap on "Low Power Mode."
Although, you can add a shortcut to the control center to access Low Power Mode faster.
Fix 5: Turn on Airplane Mode when you don't need a Cell Phone
When you enable Airplane mode, it will disconnect your iPhone from all the wireless services and save enough battery. Wireless services consume most of the battery in our device. So try this tip and fix the iOS 16 battery draining issue.
Fix 6: Customize Display on your iPhone or iPad
The auto-brightness feature is helpful until it responds correctly; otherwise, it is just a waste of battery. For example, if you found the sensors are not responding and the brightness is at the top even in darkness, you must disable Auto-Brightness. Then you can adjust brightness manually as per requirement.
Step 1: Launch the "Settings" app on your iOS device screen.
Step 2: There click on "Display & Brightness" and then turn off "Auto-Brightness."
iOS 11 and later iOS devices will have to follow this tutorial to set up a customized display screen.
watch the video to turn off auto-brightness on iOS 16
Fix 7: Disable Raise to Wake to Fix iOS 16 battery life
This function gradually absorbs a certain amount of battery. But if you turn it off, it can improve the battery life of the iPhone.
Step 1: In the "Settings," open "Display & Brightness."
Step 2: There, disable the "Raise to Wake" feature.
Get More: How to Disable Auto-Brightness in iOS.
Fix 8: Reset All Settings to Improve iOS 16 battery life
None of the tricks is helpful in fixing the iOS 16 battery drain problem; the last option is to reset all settings and give a new start to the iPhone.
Go to the "Settings" app > Tap "General" > Find and open tap "Transfer or Reset iPhone"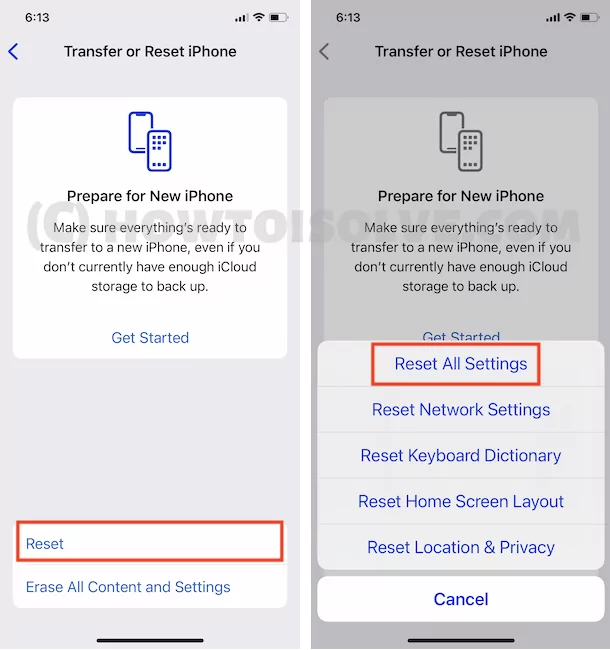 > Tap "Reset" > Lastly tap on "Reset All Settings" > For security reasons, you will be asked to enter the iPhone Passcode. >Tap Confirm Reset All Settings. > After that iPhone will reboot.
If required, then enter the passcode and process it further. It will remove all your Wi-Fi passwords and a few settings that you have made on the iPhone.
Do you have any feedback? Let me know in the comments. You also send a detailed iOS 16 battery life issue report to Apple via Feedback App.
You also Don't miss out –