Last Updated on Sep 27, 2023
What we are now about to tell you might surprise you a little bit. Well, the fact is iPhone 13 has more than a single microphone. Yes, you heard that right. You will find a series of microphones embedded on your phone's front and backside as well, built for different purposes like Live Recording, Film Shooting, Short Video, News Media like External microphones.
We will have a conversation about this topic too, about the purposes. But first, we want to tell you about the whereabouts of these microphones on different iPhone 13 models.
Below, we mention iPhone 13's microphone whereabouts, which applies to all four iPhone 13 Models, i.e., iPhone 13, iPhone 13 mini, iPhone 13 Pro, and iPhone 13 Pro Max.
Get More: Where is the Microphone on iPhone 15
Where is the microphone located on iPhone 13 and their purposes?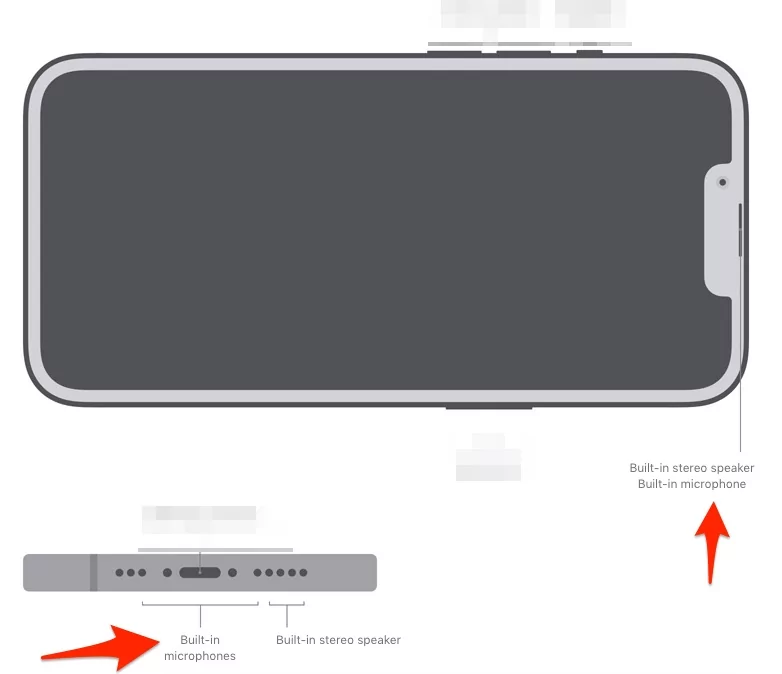 As we have mentioned earlier, your iPhone 13 comes with more than a single Microphone, despite the fact of the model that you are using at present. These microphones have been built on several different sides of your phone.
They are quite capable when it comes to recording your voice on a call during a video call or a regular (Audio) call as well as recording sound while shooting a video in an effective and efficient manner in order to provide clear audio to the users. So, what are we waiting for? Let's delve into the subject more thoroughly.
1. Built-in microphone (Front Side)
The notch on the iPhone 13 is smaller than the other iPhones Apple has launched before. But, that doesn't mean Apple has removed some of the components. All they have done is to make the Microphone more compact by improvising the tools and its capabilities. The notch is still visible as you can see on the top of your iPhone, and it also contains the built-in stereo speakers just like the other iPhone series have and the built-in Microphone.
The main purpose or the goal of the front-side Microphone is to pick up your voice when chatting via FaceTime. In case you are not using earphones or earbuds, it catches your voice clearly and relays it perfectly to the other side.
It plays a crucial part when you command Siri to perform some task. It also works simultaneously with other Microphones when the necessity arises.
2. Bottom side microphone (Bottom Edge)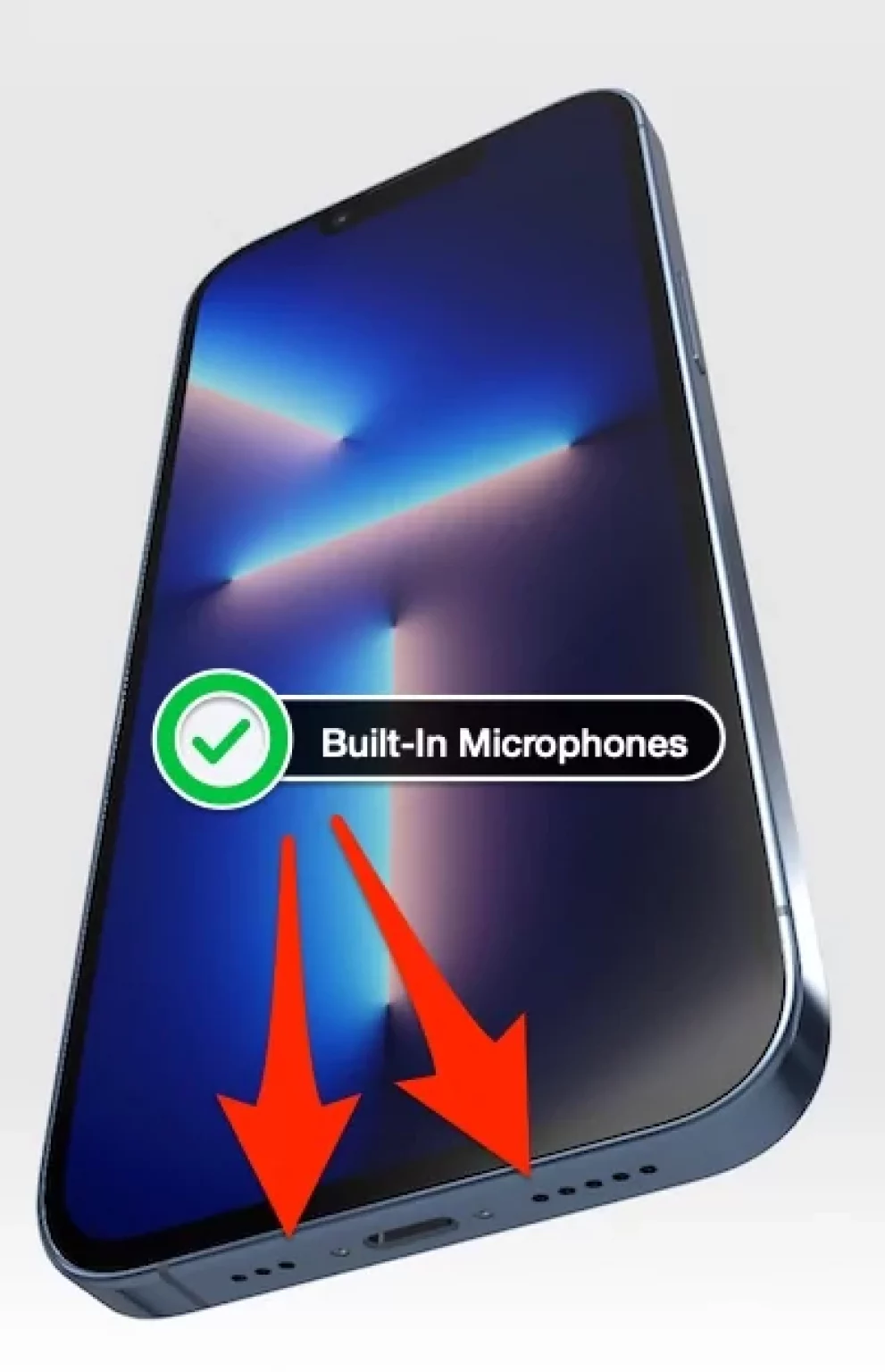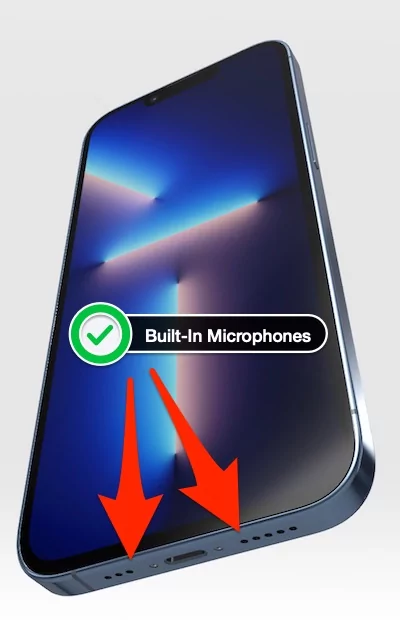 On the iPhone 13 models, there is another microphone on the bottom of the iPhone, to be more precise at the edge of your device. If you aren't sure where? Take a look at the bottom of the iPhone. There you will see that on the bottom edge of your phone, there's a series of holes in it. Just behind those holes is where the microphones are located.
There are two different microphones located on both sides of The lightning connector. The primary role of these microphones is to catch your voice during your regular audio calls. And they also work simultaneously along with other microphones to catch your voice during your facetime calls and While catching Siri-related commands as well.
Read More – How to Turn off Microphone on iPhone
3. Camera Microphone (Backside Near to Camera)
Finally the rear side microphone. Apple doesn't mention the whereabouts of their Microphone or the function of these Microphones in their technical manual. However, after much teardowns, it has been surfaced that iPhone 13 models do have a backside Microphone.
The backside microphone is part of your iPhone camera system. Its primary role is to record audio while recording video. It also works simultaneously with other Microphones on the device to record audio during video recording. Due to this very reason, you can get crystal clear, smooth audio on iPhone 13 series.
Here is our total breakdown of the Microphone's location on the iPhone 13 models, along with their primary role. We hope you are satisfied with our answers.
Q/A
Q. Should I use an External Microphone with iPhone 13?
A: Yes, you can use an External Microphone with iPhone 13 if you want to use one. Just plug in and play from these best External microphones for iPhone. However, you need to keep in mind that in order to plug in a microphone, you may need a few more adapters to efficiently connect with the device, such as a 3.5 Millimetre TRS-TRRS adapter or a 3.5 Millimetre Jack to Apple Lightning adapter.
You can also connect an XLR Microphone to your phone by daisy-chaining multiple adapters. We would also like to give you a piece of in-house advice. Don't ever use a Chinese adapter or a third-party adapter.
It's not that a cheap product doesn't provide quality, but the truth is the Lightning Connector port is quite a delicate spot. And most of those adapters aren't designed to be bi-directorial. So, it might cause your problem if it doesn't fit in and damages the port. You might end up losing a lot of money while trying to save it.
Q. Should I Clean Microphone on iPhone 13?
A: In general, you don't have to clean Microphones on iPhone 13. However, there's no problem in doing so. You can use tools available online to Clean your microphones. Our suggestion is you can choose to clean the bottom and backside Microphones of your iPhone on an occasional basis to keep the function running smoothly.
However, you can also take the help of the nearest Apple Store or Apple Authorized Service Provider to Clean your iPhone. In case you don't know or are uncertain about what you are doing, it might cause more harm than good.
So, it's always better to take help from an expert, or you can also follow the guidelines available on Apple's official support domain.