🗓️
May 1, 2023
By ✍️
Jaysukh patel
Get a guide for Reset Network Settings on iPhone, iPad with smart understanding. Apple iOS has hundreds of important features like iMessage Screen effects, Emergency SOS, and much more, but after the update comes issues such as Wi-Fi and Bluetooth connectivity problems.
If you face these kinds of problems, then you're in the right place because resetting network settings through you could solve your iPhone, iPad issues. You can also get a guide on after Reset Network settings which kind of data your device will erase, as listed below.
Previously connected Wi-Fi Networks and Passwords
VPN on iPhone and APN Settings
Recently Used Bluetooth accessories
You can attempt the Reset Network action to solve every kind of problem with your iPhone or iPad or iPod.
iOS devices like iPhone, iPad, or iPod doesn't detect Wi-Fi network, or
Wi-Fi and Bluetooth connectivity issues on the latest iOS or iPadOS.
Probably you've no idea how to do that. So follow the given below steps on how to Reset Network Settings.
Also, Read – How to boost network signal in iPhone [increase signal – Solved]
What Happens When you Reset Network Settings?
Anytime when you face difficulties using Wi-Fi, or Bluetooth; reset network settings are highly recommended, and it is available on both Android and iPhone.
You might have already read somewhere to reset network settings, but before doing so, you should know what happens when you reset network settings on iPhone and Android.
To be clear, reset network settings restore all the Wi-Fi, Bluetooth, Cellular, VPN, and APN settings to default, and remove all the saved Wi-Fi passwords, along with paired Bluetooth devices.
Steps to Reset Network Settings on Apple Devices for iOS 15 and later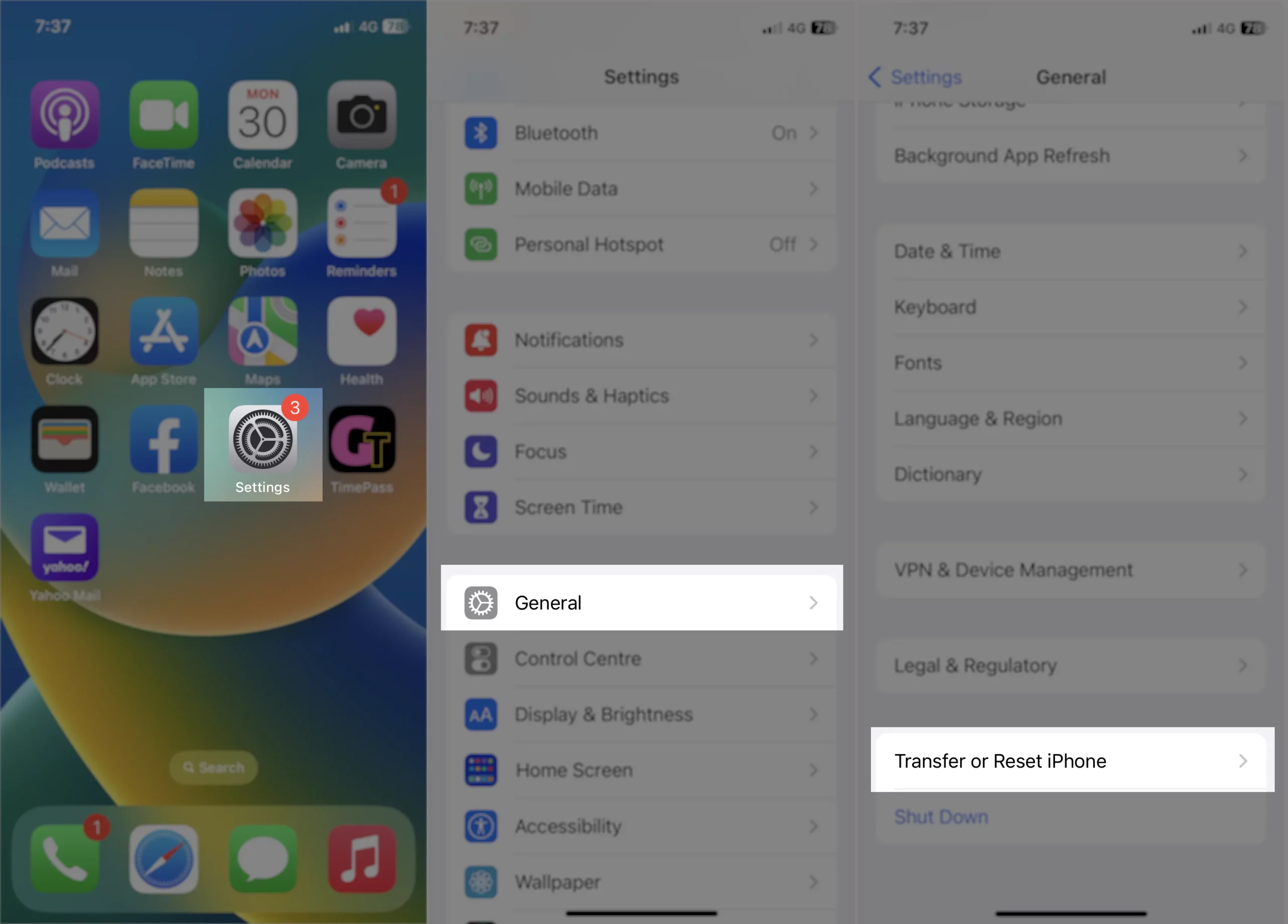 Head to "Settings" App
Open "General"
Scroll the screen till the end, and tap "Transfer or Reset iPhone".
Choose Reset
A pop-up screen appears with various settings reset options, tap Reset Network Settings
You'll be asked to Enter your iPhone Lock passcode, (after that if you have the screen time passcode activated, then it will be asked enter the screen time passcode) to go next, if you haven't enabled then you will get a final pop-up screen which is same as mentioned in next step.
Tap Reset Network Settings – What happens? This will delete all Network Settings, returning them to factory defaults. it means previously used router's Wi-Fi networks and VPN (Virtual Private Network) settings that weren't installed by a configuration profile or mobile device management (MDM) are removed.
So your Phone will reboot with showing Apple Logo and Loading bar. Please wait for a while till the lock screen is appear. After this, Enter your Phone unlock passcode to access the Phone's home screen. (Note:- Your Passcode is required when iPhone restarts)
What Is Reset Network Settings Passcode?
The Reset network settings passcode is the same passcode you used to unlock the iPhone. It could be a Custom Alphanumeric code, Custom Numeric Code, or four-digit or six-digit passcode.
That's it.
Way to Reset Network Settings for iOS 14 and Earlier User

s
Launch the Settings app on your iPhone Home screen.
Tap on General.
Scroll down the screen to Reset, tap on Reset
Tap on, Reset Network Settings and you'll prompt Enter your Phone unlocking Passcode.
in last, choose Reset network settings.
That's it.
You'll prompt ''this will delete all network settings, returning them to factory default''. As I explain above. But don't worry if you've finally decided on Reset Network settings then go without worrying.
This option will reset network settings to Delete Anything like Password, Saved From Default Settings.
FAQ:
What happens if Accidentally Reset Network Settings on your iPhone?
When you reset network settings on your iPhone, it erases all the Wi-Fi Passwords, Bluetooth Devices, APNs, and VPNs, settings to default. Since you've accidentally reset network settings on iPhone, there is no going back; once it is reset, you can't revert back the changes.

However, there is nothing to panic about; network settings like Wi-Fi, Bluetooth, and others can easily be customized, and most importantly, your personal data is safe.
Instead of looking for different ways to fix accidentally reset network settings on iPhone, search for the Wi-Fi passwords because that's our priority; other than that, everything is safe.
Will Resetting Network Settings Delete anything iPhone?
No! It doesn't affect your personal data like Images, Contacts, Videos, Documents, etc., but it surely resets all the network settings like saved Wi-Fi passwords, Bluetooth devices, APN, and VPN settings; apart from that, everything is safe and sound.
Usually, when one of these programs stops responding, we recommend resetting network settings on iPhone to refresh the settings.