Thread to fix iMessage games not working on iPhone. Nowadays Apple is continuously trying to reduce the need for third-party applications on the iOS device by making them available as default apps. Let's talk about iMessage app in which recently a new feature is added. In iMessage app, you can play games by downloading from App Store with your friend or colleague or family members.
But recently I have encountered the problem that games are not working in iMessage app. Yeah, it is evident that some users might face this situation because it is a newly added feature in iMessage. But we can solve this by some preventive measures which are given below.
we are happy to help you, submit this Form, if your solution is not covered in this article.
Troubleshooting to Fix iMessage Games not working on iPhone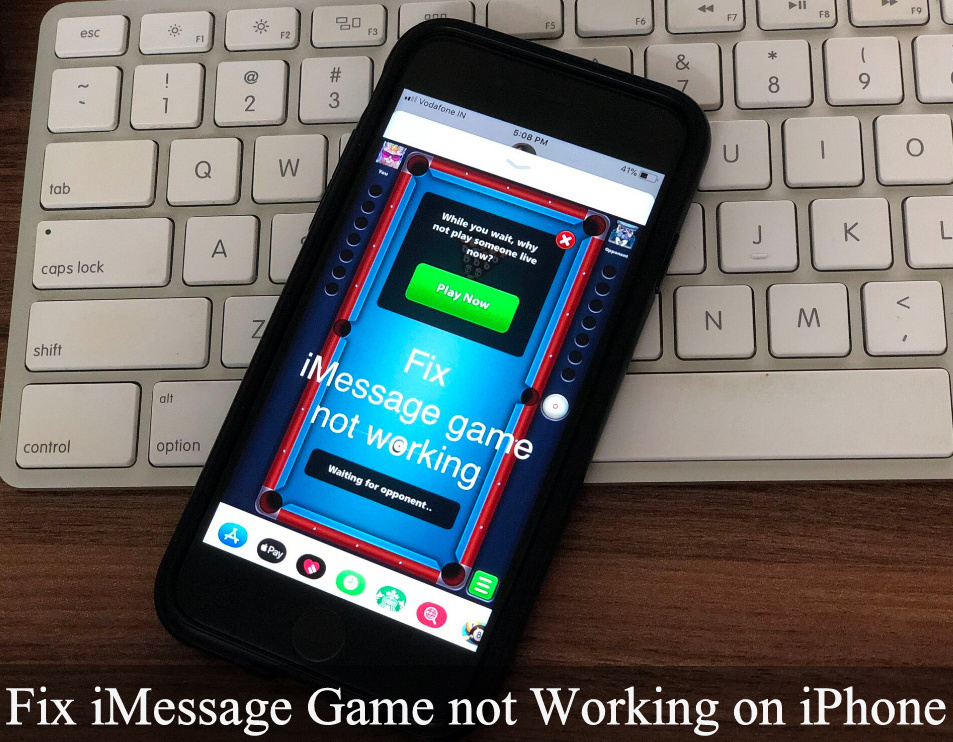 After each following step, just go and check either the games is working or not. If it is not, then try next tip.
Fix #1. Check for iOS update
This standard measure you have to take when an error occurs on your iOS device. iOS updates releases with some new improvements in default apps and previous bugs are fixed.
So now we will see how to check update on iOS:
Step #1: Go to "Settings" App on an iOS device.
Step #2: Then open "General."
Step #3: And there tap on "Software Update."
After tapping on a software update, you will come to know whether an update is available or not.
Fix #2. Check Games update – Do Games version update first then try again
If you are playing the game on an older version, then you can't take advantage of improved graphics or update and because of this old version needs to be updated. You have to update game by visiting App Store.
Step 1: Go to "Home Screen."
Step 2: Launch "App Store."
Step 3: On the bottom the icon of "Updates" is present.
Step 4: There you will find all the apps which are currently installed on your iOS device
Step 5: Tap on the game app to "Update."
Fix #3. Force Close Message App and reopen
When your processor iOS gets overloaded with excessive applications, which may result in crashing or not responding to an application. So at that moment, you should go for force closing of application and again launch it.
Fix #4. Force Restart your iPhone or iPad
Resetting iOS device is the best option if your machine is running slowly or applications are frequently crashing. After rebooting device iPhone and all the apps will work smoothly.
Now follow the steps to force restart the iOS device.
For iPhone X/ iPhone 8 Plus/8 Plus users:
1: Press and Quickly Release Volume Up button, then
2: Press and Quickly Release Volume Down Button, then
3: Press and Hold Side Button until you see the Apple logo on Screen.
To Start iPhone, Again press Side button until startup apple logo on the screen.
For iPhone 7/7 Plus users: Sleep/Wake + Volume Down button at the same time
For iPhone 6S and Earlier: Sleep/Wake + Home button
Fix #5. Uninstall-reinstall Games Back to iMessage Games not working on iPhone
Uninstalling the game and again reinstalling is another way to troubleshoot this problem. But from messages app, we can only install a game cant delete. To delete a games, you need to visit home screen.
Step 1: Press and hold a particular app until (x) appears on the app.
Step 2: After that, on the pop-up confirm to delete the app.
Now again Install the app:
#1: Launch "iMessages" app.
#2: Select the chat with whom you want to play the game.
#3: Next, on the bottom tap on the symbol of the App Store and search the game and download it.
You're Done!
Get More: How to use iMessage App Drawer on iPhone
Let 's share your feedback in the comments and tell us what clue worked in your case to fix iMessage games not working on iPhone.
Premium Support is Free Now
We are happy to help you! Follow the next Step if Your Solution is not in this article, Submit this form without Sign Up, We will revert back to you via Personal Mail. In Form, Please Use the Description field to Mention our reference Webpage URL which you visited and Describe your problem in detail if possible. We covered your iPhone 11 Pro, iPhone 11 Pro Max, iPhone 11, iPhone 8(Plus), iPhone 7(Plus), iPhone 6S(Plus), iPhone 6(Plus), iPhone SE, iPhone 5S, iPhone 5, iPad All Generation, iPad Pro All Models, MacOS Catalina or Earlier MacOS for iMac, Mac Mini, MacBook Pro, WatchOS 6 & Earlier on Apple Watch 5/4/3/2/1, Apple TV. You can also mention iOS/iPadOS/MacOS.
Don't Miss- 6 Fix iMessage Screen Effects not working on iPhone
Jaysukh Patel is the founder of howtoisolve. Also self Professional Developer, Techno lover mainly for iPhone, iPad, iPod Touch and iOS, Jaysukh is one of responsible person in his family.
Contact On: [email protected] [OR] [email protected]