🗓️
January 2, 2023
By ✍️
Jaysukh patel
Find what you can do if Youtube you're offline check your connection on Mac in this article.

One of the most issues Mac users are currently facing is when using Youtube; it notifies them with the notification "You are offline. Check your internet connection". And the worst part of this is even when Youtube is online.

Nevertheless, it's a universal problem. So if you are facing a similar situation, in this article, we will guide you to perform the proven troubleshooting steps that will instantly make you release from Youtube errors on Mac.
Youtube You're Offline Check Your Connection Mac
Has YouTube stopped working, or not working at all on your Mac? Follow these troubleshooting guide to get YouTube working normally again.
Solution#1. Ensure Safari Or Chrome Load Other Websites
Obviously, Youtube on Mac requires a fast and stable internet connection, giving a type of high-quality content it streams. So the first villain you must consider for Youtube says I am offline Mac is Wi-Fi. In case Youtube on Mac keeps loading the connection tray if there is a connection problem.
Hence, you might try surfing different websites; if it works, there is no issue with the internet. However, if the problem lies, Try Troubleshooting Wi-Fi On Mac.
Note: Stop Known networks will be joined automatically. Enable "Ask to join networks" from WiFi settings, otherwise your Mac auto connect nearby (Not Active) internet connection. Apple Logo > System Settings > WiFi > Enable "Ask to join networks". That's it.
Also check Screen Time Content restrictions, set to Access to Web Content > Unrestricted Access. On Mac, Apple Logo from the top menu > System Settings > Content & Privacy > Content Restrictions > Access to Web Content > Unrestricted Access. That's it.
Solution#2. Check The Internet Speed
Ever since, the internet is working, but there might be an issue with its speed. And slow internet can cause you are offline check connection Mac. So go to Speed Test on Safari or Chrome and check internet speed. If it's poorer than the average speed, youtube will not work correctly.
Test internet speed on: "fast.com" by Netflix
All is fine, Only Youtube won't open then contact your (ISP)Internet Service Provider.
Solution#3. Is Youtube Down Today?
Server outrage isn't a common issue with Youtube. But this takes place on rare occasions. If you check the internet and it still shows youtube you are offline, check your Mac connection; the Youtube Server might have gone down in your region. Everything is alright with Youtube; move to the next troubleshooting trick.
Solution#4. Force Stop Safari Or Google Chrome
A minor glitch within Safari or Google Chrome can be a probable reason for Youtube error. Force quit Safari or Chrome can fix the issue on Mac. To do so, select Apple Menu, choose Force Quit from all application search, and select Google Chrome or Safari. Lastly, tap Force Quit. And now check for issue.
Solution#5. Restart Mac Computer
The most effective solution yet ignored solution. Simple restarting can fix the minor bug encountered during regular usage. To restart, click on the Apple Logo, next select Restart…
Once the restarting procedure finishes, check for the problem. Ever since a simple restart didn't fix the problem, you must try luck with force restarting the Mac computer. To force restart, press the Control + Command + Power Button.
Solution#6. Restart Router
The possibility behind no internet on Mac can be due to a bug within the router. However, with a simple restart, it can fix the bug. First, you need to disconnect the router from the primary power source. Hold for a few seconds, and reconnect the router to the primary Power Source and check for internet. In case the internet isn't found to be the culprit, you can ignore this trick.
Solution#7. Disable VPN
Is your Mac connected with VPN? However, VPN isn't as strict as other streaming websites, yet it is always recommended to keep VPN disabled to prevent such possibilities. Open System settings on Mac > VPN and Disable VPN toggle. Here's more about Turn off VPN on Mac.
Solution#8. Disable Plugin In Web Browser(Safari)
The array plugin in the browsers can create conflicts within the Youtube Player, eventually resulting in Youtube videos not playing on Mac. However, you can disable it by following the steps below.
Open Safari and then select Safari from the menu bar.
From the dropdown, choose Settings…(Preferences…for macOS Monterey And Earlier)
Select "Extensions" > Uncheck the Extension or Plugin installed on your Mac.
Solution#9. Use Repair Disk Permission
From now on, you can use Repair Disk Permission on your Mac to fix permissions to verify whether folders and files within the Mac are perfectly configured.
Press Command + Space to open Spotlight.
From the spotlight search, enter Disk Utility and then press enter.
Now choose the desired drive from the left side panel.
Click on First Aid from the top menu of Windows.
Solution#10. Update Date And Time
The wrongly configure date and time on the Mac can also be the reason for Youtube error. Configuring it to Set Date And Time Automatically will be a better option.
macOS Ventura And Later
Go to Apple Logo > System Settings…
Click General.
Choose a Date And Time.
Click Set Date And Time Automatically Or Manually.
Automatically: Enable "Set Date And Time Automatically," click Set up next re-write network time server for your region.
Manually: Disable "Set Time And Date Automatically" enter date and time, then choose Set.
macOS Monterey And Earlier
Go to Apple Logo > System Preferences…
Select Date & Time > Date & Time Menu.
Click on the Lock Icon at the bottom and then enter your Password And ID to make a change.
Uncheck the box next to "Set Date And Time Automatically" and then manually set up date and time. That's It!
Solution#11. Clear Youtube Cache And Cookies
To fix the issue, try clearing cache and cookies of Youtube. Here are the steps you need to follow.
For Safari Users
Open Safari. Choose Safari from the menu.
Select Settings…(Preferences… for Mac Monterey And Earlier).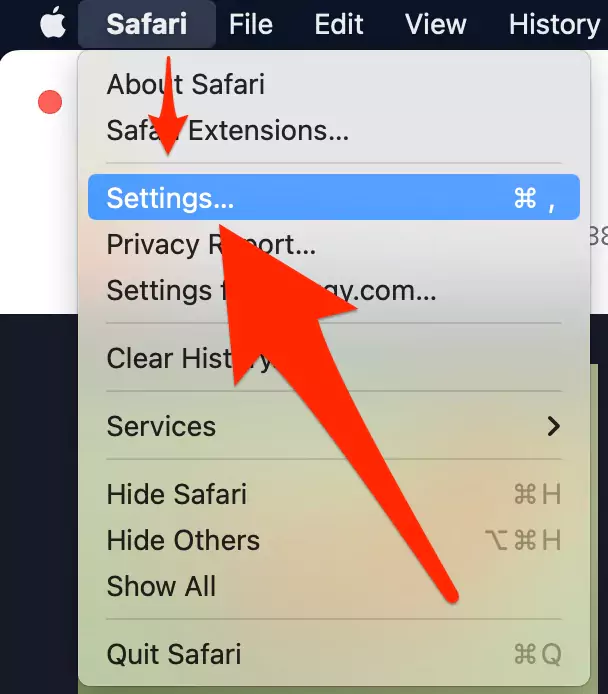 Next, click on Privacy from the menu.
Select Manage Website Data. Search for Youtube.com in the search bar and then click on Remove and Done.
Search with the Domain name and see the list of Cache, Cookies, Databases, Local Storage, and HTTP Alternative Services. > Remove. > Click on Done and Try after Close & Re-open your Browser.
For Chrome User
On your computer, access Chrome.
Choose Three Vertical Dots in the top right corner.
Select More Tools and choose Clear Browsing Data.
From the top, configure time range. To clear out everything, click All Time.
Next to Cookies And Other Site Data" and Cache Images And Files" select the boxes, and lastly, click Data.
Once you do so, you must log in to Google Chrome.
Solution#12. Disable Safari Content Blocker For Youtube
Content blocker in Safari is always helpful in preventing pop-ups like banners and ads. However, it can also sometimes prevent various websites from working usually. So assuring the content blocker isn't the reason for the Youtube error on Mac, try disabling it by the steps below.
Open Safari and go to Youtube.com. It doesn't matter, even if Youtube won't load the content.
Now choose Safari from the menu bar and select Settings For This Websites. Disable "Enable Content Blockers". Quit Safari, hold for a few seconds and try surfing Youtube.
Solution#13. Enable JavaScript In Safari
If you are still going through Youtube Videos not playing on Mac, verify JavaScript in Safari is turned on. Since it is found that disabling JavaScript can prevent some websites from working normally.
Open Safari, and then press the Command +, (comma)
You now have to select Safari from the top menubar.
Then choose Settings…(Preferences…for macOS Monterey And Earlier). Now enable JavaScript.
That's It!
Solution#14. Update Safari Or Chrome
Outdated Safari or Google Chrome can be why Youtube you are offline. Keep a note there is no official way to update Safari, but the version of Safari is correlated to the version of macOS.
So if the macOS is outdated, it eventually means Safari is outdated. So update the macOS if an update is available. And for Google Chrome users, follow the steps below.
For Chrome Users
Select Three Vertical at the top right corner of the screen.
From the dropdown, select Help > About Google Chrome.
If an update is available, there will be Download Now; click to update.
Otherwise, you will receive your Google Chrome Is Updated.
Bottom Line
This is how you can resolve the issue of Youtube you're offline; check your connection on Mac. If you haven't yet gotten rid of it, you can Contact Apple Support. Finally, if nothing can resolve the issue, consider using a different browser for temporary work.