Last Updated on Jun 22, 2022
Several Mac users have too many questions in their mind, Like, how to Disable VPN on Mac to make get the precious search result or Some secure website and app not working with VPN. Or Some Mac users have a problem with the VPN Configuration file, So they need to delete VPN Profile from Mac system preferences. or Trying to Uninstall VPN from Mac completely or Switching to another VPN Service from these are the best VPN For Mac, That's Easy to manage from the Top Mac menu.
we are happy to help you, submit this Form, if your solution is not covered in this article.
This tutorial tests and works for Most of the VPN Mac Apps like Norton VPN, ExpressVPN, NordVPN, CyberGhost VPN, PureVPN, IPVanish, Hotspot Shield. Running on MacOS High Sierra, MacOS Sierra, MacOS Catalina, MacOS Big Sur or Later..
Tips for Use VPN Settings on Mac, MacBook [M1 & Intel] Ventura & Earlier
Reported VPN issue on 2nd Nov 2021
Forticlient VPN stopped working no macOS Monterey installation – Connection Error Problem! VPN connection terminated unexpectedly! (Error Code: -121), at that point uninstall Old VPN and install the latest version of VPN on Mac, also you can Contact App developer for report the compatibility issue with macOS Monterey update.

Try alternate Best VPN on Mac for Temporery unit you get fix.
---
1: Disable VPN On Mac
As of need, Disabling and Re-enable VPN on Mac is the best practice for all users. Disable VPN from your computer, you can use your own IP and location that might be shared with the internet service provider and That could be used by the online service that you are accessing.
Mac users can quickly Enable or Disable VPN from the Top Mac menu, VPN App Shortcut icon.
Click on VPN icon > Start/Stop the VPN on Mac.
if the Option is not correctly working then Open the VPN app on your Mac from the launchpad and Turn off VPN.
Don't pass your internet traffic through a VPN IP address.
Sometimes VPN users are having issues with VPN Profiles installed on the Mac system. that's blocking the internet connection even if the VPN is turned off. follow the next solution on Uninstall VPN from Mac.
2: Uninstall VPN profile from Mac
Uninstall VPN profile, which means that we can reconfigure when we launch VPN app again on Mac or Reinstall VPN App on Mac computer. Follow the below steps for Remove VPN Profiles only.
On MacOS Ventura
Go to the Apple Logo from the top menu > System Settings.
Next, Click on Network > See the VPN.
Click on (i) button next to the installed profile.
Now, Click on "Remove Configuration". That's it. A profile will be removed from mac system settings.
On MacOS Monterey
1. Go to the Apple logo from the top Mac Menu. And Click on System Preferences.
2. Click on the Network option, See Active or inactive VPN Profile > And Click on Minus sign.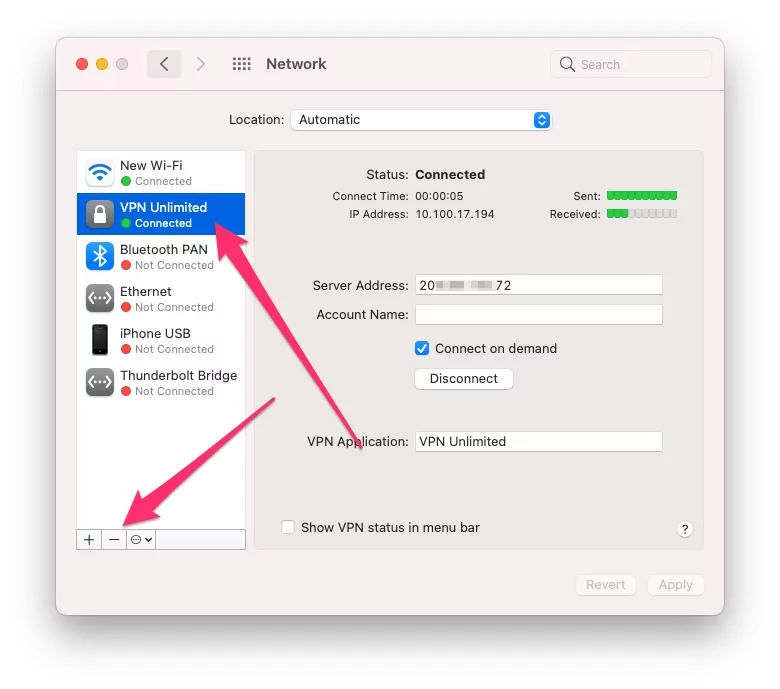 3. Click on Apply Button. That's it.
VPN profile will be removed from mac settings.
3: Delete VPN from Mac Completely
Delete VPN app from Mac will be removed VPN profile, VPN folders, and App Settings from your Mac, That's can't be undone. Follow the below steps,
Way 1: From the Applications folder, open the Finder on Mac > From top mac menu, Go > Application.
Find the VPN app that you want to delete, Right-click on the app icon, and Select Move to Bin.
And your app will uninstall and Delete from Mac.
The app is Running in the Background, Won't Delete from the application folder.
But still, you are getting errors on the Delete app like "The item can't be moved to the bin because it's Open", For this solution, Close app's background process on Mac using Activity Monitor.
Open Activity monitor on Mac From Spotlight Search or Launchpad > Search your VPN name that's open in the background.
And Select the Close button to stop all services and Force quit.
Again, Move to the Applications folder and Right-click on the VPN app name > Move to bin > That's it.
Way 2: We can directly uninstall App from the launchpad if the app is downloaded from the Mac app store. Select the app using your Mouse or Trackpad, Click and Hold it until all the app icons jiggle on-screen and Will shows the Close button to delete the app from mac.
---
4: Remove VPN from Mac Menu Bar
Mac allows users to Show VPN status in the Top Mac Menu Bar, With Connected Time. This custom setting we can manage from mac system preferences.
Click on the Apple logo from the top Mac menu > System Preferences.
Next, Click on Networks > Select VPN profile from the left side of the window and Uncheck "Show VPN status in the Top Mac Menu Bar".
That's it.
5: Remove VPN Shortcut from Top Mac Menu
This VPN is Shortcut is for own app, As we open the VPN app, Run on Startup Mac or Start VPN, Mac will see the VPN icon on the top Mac menu bar.
Some Mac VPN app allows settings in-app for Hiding and Show VPN app shortcut for the Mac menu.
Stop VPN Run on Mac Startup
are you Mac launch VPN on Startup and Showing VPN icon on top Mac menu bar? Let's stop keeps opening VPN app on Mac in Two Ways.
From VPN App Settings.
Open VPN app on Mac Using Launchpad or Spotlight Search.
Go to App Settings, Menu > Disable Run on Startup Option.
That's it.
Also, check into Mac's login items on Startup Mac settings. Given in next step.
From Mac System Preferences login items
On MacOS Ventura:- Go to the Apple Logo from the top Mac menu > System Settings > General > Login Items > Remove VPN from the list under the Login items, Select the item and click on minus button to remove it.
On MacOS Monterey:- Go to the Apple logo from the top Mac menu > System Preferences > Users & Groups > Login items tab > Select VPN app is it's there and click on the minus icon to Remove from Startup Programme list.
If none of the solutions are working for you then connect the App developer from the website or App's Details page on the Mac app store.
6: Cancel VPN Subscription on Mac or Restore Purchase
Your active VPN subscription we can manage from your Apple ID account if it's purchased from the Mac app store. Otherwise, Subscription can manage from VPN's company website or From a VPN account in-app.
Manage Subscription from Apple's Account
For your Mac's In-App purchase, Follow the below steps,
1. Open Mac App Store > Click on the Profile name icon at the bottom left side of the window.
2. Click on View Information.
3. Scroll until you see Subscriptions and Click on manage Option,
4. Cancel Active Subscription.
5. That's it.
Another Way,
Restore VPN Subscription from VPN app on Mac: Open VPN app on Mac, Go to App Settings > Find Restore Purchase or Cancel Subscription from mac app.
Shutdown FortiClient Mac
According to Different VPN service settings and customization, we can log out or Shutdown the VPN service on your Mac. Here's How to Shutdown Forticlient VPN on Mac to stop background Processes on your Mac startup.
Right-click on the FortiClient VPN Shortcut icon in Top Mac menu.
Shutdown FortiClient,
That's it.
Conclusion:-
There are too many VPN services available for Mac users. In some cases some VPN app settings might be changed, So you have to go through a different workaround. Share your problem with us if any VPN app is not working on Mac or MacBook Pro/Air [M1 or Intel], Apple's Silicon M1-series, M1 Pro (MacBook Pro), M1 Max (MacBook Pro & Mac Studio), M1 ultra (Mac Studio), M2 chip of 2022 (MacBook Pro & MacBook Air) Or Intel chip Mac computer.