Fix QuickPath not working on iOS 15 and iPadOS. After the Update of your iPhone, iPad Every one is eager to know how QuickPath typing works on iOS and iPadOS. Before that People are using Third-Party Keyboard app on iPhones such as Gboard and other Alternatives. Now Time to uninstall or Switch Third-Party to Apple Keyboard, However, now if you own iPhone and iPad updated with iOS 15 then, it is quite easy to use a swipe keyboard on iPhone. Apple's Official keyboard is Very smart but Some times internet software issues creating a problem like Keyboard Won't understand the Quickpath Word or Low Accuracy.
Swipe type on iPhone allows us to type blindly and with double speed. No need to press alphabet on the keyboard, just swipe over and get done with your phrase. Recently, iPhone and iPad users have complained that the Swipe type not working on iOS 15 and iPadOS 15. If you belong to one of them, they probably should start troubleshooting with the following tricks.
QuickPath Not Working on iOS and iPadOS, How to use Smoothly?
Solution 1: Disable/Enable Slide to Type on iPhone and iPadOS
QuickPath Not working after iOS Update? Are you sure there is a problem with iOS update? I think you should re-check that you have enabled Slide to Type on your iPhone. without turning on Slide to Type, iPhone won't allow you to use QuickPath. Here's how to enable Slide to Type,
Step #1: Go to the "Settings" app on your iPhone/iPad.
Step #2: Tap "General".
Step #3: Open "Keyboards".
Step #4: Toggle on "Slide to Type".
For iPad option is "Slide on Floating Keyboard to Type"
That's it.
Solution 2: Use Apple Keyboard on iPhone, iPad [Relevent Settings]
To use the Swipe keyboard on iPhone in the latest iOS and iPadOS, you should be using Default Apple Keyboard only. Previously, we were using third-party keyboards to use swipe keyboard on iPhone, however, with the latest iOS the default Apple Keyboard allows you to use swipe keyboard. So make sure to use only Apple Keyboard on iPhone and remove all third-party keyboard applications to save storage.
How to Use Apple QuickPath Keyboard On iPad in iPadOS
In the latest iOS Update, Apple Added New Swipe Keyboard that named QuickPath. This Keyboard Function can work on iPhone, iPad running on iOS 15, and iPadOS or Later Version. But iPhone, iPad Users are quite confused about how to use it and What Should I do if QuickPath is disabled under the settings.
Some people don't like this feature, So we can enable and Disable QuickPath on iOS and iPadOS under the Settings app.
Here's is the Settings for iPadOS.
Once you enable it on your iPad, This QuickPath is only working on a Floating keyboard. So first convert the Normal big iPad keyboard to a Floating Keyboard like iOS Keyboard. The next Point is how to use a floating keyboard on an iPad.
First Convert your iPad Keyboard to Floating Keyboard
To use QuickType Keyboard or QuickPath on iPadOS keyboard, First, convert Normal Keyboard into the Floating keyboard. Using Two fingers, Pinch Zoom in and Pinch Zoom Out the Keyboard On iPad to Enter or Exit Floating keyboard respectively.
Pinch Zoom in using Two fingers on Keyboard collapse keyboard in to small like iOS, Check the below image. and move it on screen using Two fingers or Drage it using the Bottom Keyboard bar.
Now, Use QuickPath Type on Floating iPad Keyboard
To start Using QuickType on iPad Keyboard, Your iPad Keyboard must be float, and the Floating Keyboard to Type must be enabled under the settings app. Refer above Two points to understand more in deep. Now, Select the First key and Swipe the finger on the Keyboard keys that cover all the Characters in Word or line.
Solution 3: Hard Reboot iPhone
Since you have verified both the prerequisites to use QuickPath and still Swipe keyboard not working on iPhone after iOS updating? Sometimes our iPhone got stuck with minor glitches and basic functions like the keyboard not working on iPhone occur. To fix such problems, hard restart the iPhone and try your luck.
For iPhone 8 or later and iPad (Without Home Button),
Step #1: Press and quickly release the Volume Up button.
Step #2: Press and quickly release the Volume Down button.
Step #3: Press and hold the Side button, until the Apple logo appears on the screen.
For iPhone 7/7Plus,
Step #1: Press and hold the Volume Down button and Power button until the Apple logo appears on the screen.
For iPhone 6S/6S Plus, iPad,
Step #1: Press and hold the Sleep/wake button and Home button until the Apple logo displays on the screen.
Delete Third-Party Keyboard
Your iOS keyboard is lagging because of too much load coming while you wipe the finger on the keyboard. I recommend deleting or uninstall a third-party keyboard from an iOS device or iPadOS.
1: On your Keyboard panel, Touch on the Hold on Globe icon At the bottom left corner of the Keyboard. A keyboard will show a popup menu with the first option is Keyboard Settings, Just go through this option and directly jump into your device's keyboard settings.
2: On the Keyboard Settings, the First option is Keyboard, with a number of Active keyboards, Tap on it. and Find all Third-party keyboards installed and activated for use.
To Delete, particular keyboard, Tap on the Edit button option at the top right of the screen.
Now, Swipe to left for uninstalling and Delete the Keyboard app completely from your iOS device & iPadOS.
QuickPath to type crashing app on iOS and iPadOS
Most convinced reasons behind Quickpath on Keyboard keeps crashing app while you start typing. That means sometimes wrong with your particular app. Maybe the problem with App Development or Outdated IOS version. The app is compatible with the Latest iOS keyboard. I recommend updating your app from the app store.
Unluckily the problem is still not fixed after use on the updated app, Contact App Developer and Share your problem with them.
Solution 4: Reset All Settings
When you Reset All Settings on iPhone, it resets all the customized settings that you have made in your iPhone. In case, if you have created an issue unknowingly on the settings app, then also QuickPath will not work in iOS and iPadOS. For once, perform this action, you won't lose any data. Later, you can customize and change settings as per your convenience.
Steps to Reset All Settings in iPadOS 15 and later Version
Go to the "Settings" app > Tap "General" > Find and open tap "Transfer or Reset iPad" > Tap "Reset" > Lastly tap on "Reset All Settings"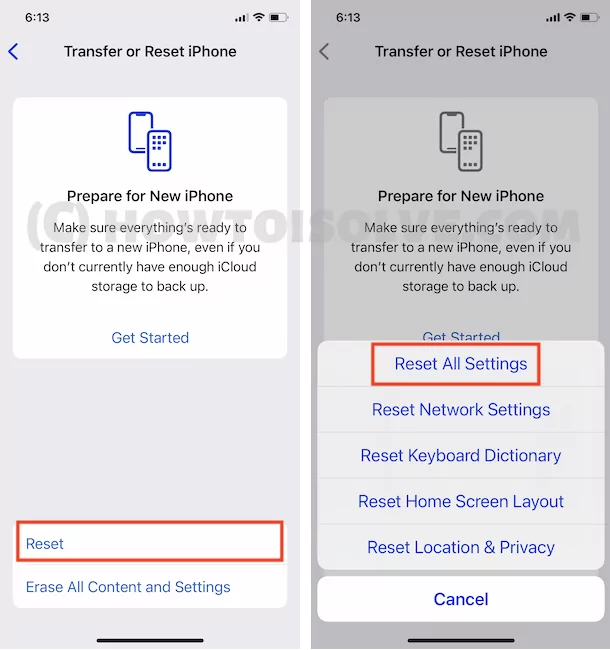 > For security reasons, you will be asked to enter the iPhone Passcode. >Tap Confirm Reset All Settings. > After that iPhone will reboot.
Step to Reset All Settings in iPadOS 14 and Earlier Verions
Step #1: Navigate to the "Settings" app.
Step #2: Tap "General".
Step #3: Scroll down to the last and select "Reset".
Step #4: Lastly, go for "Reset All Settings".
Solution 5: Update iPhone
To use QuickPath, it is necessary to update the iPhone and iPad to the latest iOS 2021. As you know, QuickPath is a newly introduced feature for iPhone users and it only comes with the latest iOS. Why don't you turn on auto-update on iPhone and iPad that will keep your iPhone up to date? Make sure to connect the iPhone and iPad to a good Wi-Fi network before updating.
Turn on Auto-Update on iPhone/iPad,
Step #1: Launch "Settings" app.
Step #2: Tap on your name.
Step #3: Select the "iTunes & App Store".
Step #4: Enable the "Automatic Downloads" for Apps, Updates and more.
How to manually update the iPhone and iPad,
Step #1: Open the "Settings" app.
Step #2: Then, tap "General".
Step #3: Lastly, select "Software Update".
If any pending update is available then you should be receiving a pop-up to "Download and Install" the update.
Solution 6: Check iPhone/iPad Compatibility
iOS 13 brings hundreds of new features, but also eliminating support for some iPhones and iPad. If you don't know what are the iOS 15 supported devices, then check it out the list.
iOS 13 compatible iPhone,
iPhone 6S/6S Plus
iPhone SE
iPhone 7/7Plus
iPhone 8/8 Plus
iPhone X
iPhone XR/XS/XS Max
Newer iPhone Models
iPadOS 15 compatible iPad,
iPad 9th gen (2021)
iPad Mini 6th Gen (2021)
9-inch iPad Pro
11-inch iPad Pro
5-inch iPad Pro
7-inch iPad Pro
iPad (5th and 6th Generation)
iPad Mini 4
iPad Mini (5th Generation)
iPad Air 2
iPad Air (3rd Generation)
Newer iPad Models
Hope you enjoyed the new QuickType on Apple Keyboard. Write Back us which solutions and suggestions are helpful that fixed the problem on QuickPath Not Working on iPhones, iPad.