🗓️
May 29, 2023
By ✍️
Jaysukh patel
Apple's Personal Assistance Siri is an excellent tool. Moreover, Using the ''Hey Siri'' command to invoke Siri is cool. Command Hey Siri summons needed only microphone nothing else because of does works without pressing iPhone home button. She does the job for the limited functionality that you are asking her. A great feature to use while you are working on other different tasks, cooking, carrying a child, or you interested. According to Apple sources, Hey Siri features supported only the latest iPhone and iPad including Newer iPhone models and iPhone.
While unlisted models are allowed Hey Siri command, but when iPhone/ iPad connected to Power. Wake Siri up by Voice is incredible. Even though, sometimes due to software glitches and lousy hardware the Hey Siri not Working on iPhone & iPad. Also, specific functions prevent Hey Siri command from invoking Siri.
Whenever Siri doesn't detect your voice command, then might problem occurs after a software update or any bug. Still hey Siri can't hear you. Don't worry. Here I'm going to describe several optimal troubleshooting to get the fix.
Note: To use Siri make sure that your iPhone/ iPad connected to Wi-Fi or cellular data network.
Solution on Hey Siri Not Working on iPhone
Most Common Problems and Clues that Fixed
Make Sure Hey Siri Accidentally turned off from the Settings. Settings app > Siri & Search > Enable Toggle for "Hey Siri". if it's Enabled then Toggle off and Re-Enable toggle. Now Setup Hey Siri, This will update your Voice and Batter Understand.
Update iOS To Latest iOS version: Check Into the Settings app > General > Software Update > Download and Install. That's it.
After Reset all settings of your iPhone, You have to Resetup Hey Siri from iPhone settings. or Some users get Hey Siri Disabled after Update iOS to Latest Version. – That might be bug from Apple.
Hard Reboot the Device works for many iPhone users.
Remove Third-Party Corporate Profile if it's installed on your iPhone settings. Settings app on iPhone > General > profiles > Select Profile if there is installed > Delete Profile >That's it.
If there is a hardware issue then Diagnose at apple Genious bar, Talk online and Book Appointment at apple Genius bar at last.
Fix 1. First of all, You should confirm that Hey Siri set up is correct and enabled on your iPhone or iPad Pro 9.7''.
Go to Settings App – Scroll down the Screen tap on Siri & Search – Next, verify Allow Listen for ''Hey Siri'' toggle turned ON.
Allow Siri when Locked: Also Enable this option for access Siri on locked iPhone screen.
Voice Feedback: We can customize this setting from Always On, Control with Ring Switch and Hands-Free Only.
Activate Siri using Side button on iPhone: Enable Press Side button for Siri toggle option. (See the screen below)
iOS 10 or earlier device can see the below screen,
It's already turned on. Nevertheless, hey Siri can't be hearing your voice. Keep continuing with next Fixes.
Fix #2. Don't Play Audio and Video, when you are invoking Hey Siri Command
When you are playing audio or video on your iPhone, and you are trying command ''Hey Siri'' can't detect your voice. Hence, verify you're not playing any video or audio when you are asking Siri.
FIX 3. is Low Power Mode Turned On Your iPhone 7/ 7 Plus?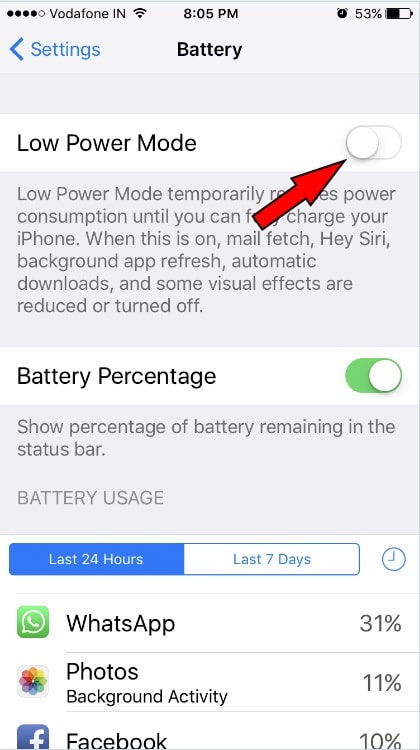 Low Power Mode is an iPhone battery preserve mode. When your iPhone reaches a 20% battery, then you will be getting a low battery warning. At that time, if you tap on low power mode or even accidentally tuned Low Power Mode ON then it closed specific functions of your iPhone. And among all of them, one is Hey Siri command. So you guys, check out that the Low Power Mode is turned off/ Gray.
Open up Settings App > Tap Battery and next, make sure Low Power Mode toggle turned off/ White.
FIX 4: Reboot Your iDevice
Hmm, sometimes restarting device fixes some kinds of software glitches. Press and Hold Volume Up Button and Side Power button until you see Slide to Power Off Slider on iPhone Screen. Let's try this Reboot iPhone 7/ 7 Plus tip and check it out again for Hey Siri.
For Hard Reboot:

Press and Hold Volume Up button and Side Power Button

until you see the Apple logo after the black screen.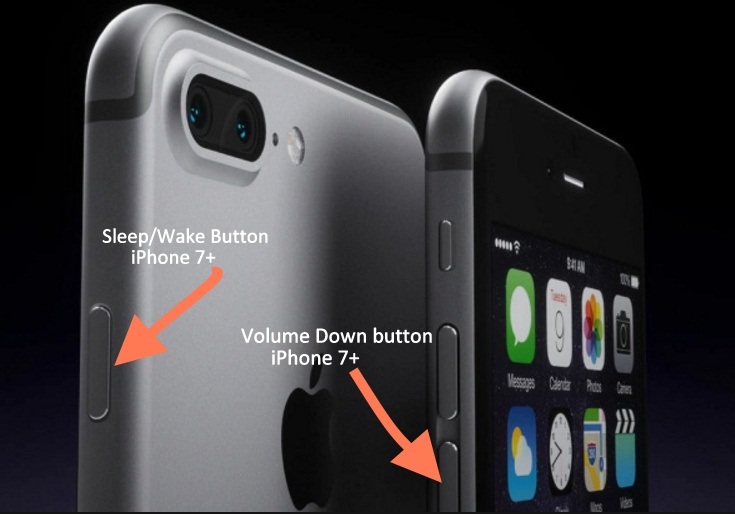 Get Here: How to Force Restart iPhone
Fix 5: Is Your Siri Microphone Working Well?
Your Hey Siri command is not hearing your iPhone X, iPhone 8 Plus/ 7/7 Plus. Please remove the thickness bumper case cover which covering the receiver like Otterbox, life-proof, etc.
Clean your phone microphone and try again. Do you know where the iPhone microphone located? In particular cases Siri not hearing you, because of the iPhone microphone not working or damage as like it before the job.
Fix 6: Restore your iPhone X, iPhone 8 Plus/ 7/7 Plus
Sometimes due to heavy glitches, Rebooting can't work. In such a case, you should do Restore your iPhone. Take the latest backup before restoring your iDevice.
Don't Miss– Latest Siri feature – Enable Type to Siri on iPhone (you can use Siri instead of talking)
If none of the above solutions worked for you, then you should contact Apple's authorized service center.
In Case, your device covered warranty; then you'll be able to get service in free of cost by the Apple. Enjoy.
Hello friends, we hope you got a complete fix to repair hey Siri not working on iPhone or iPad as you expecting before.